Deja View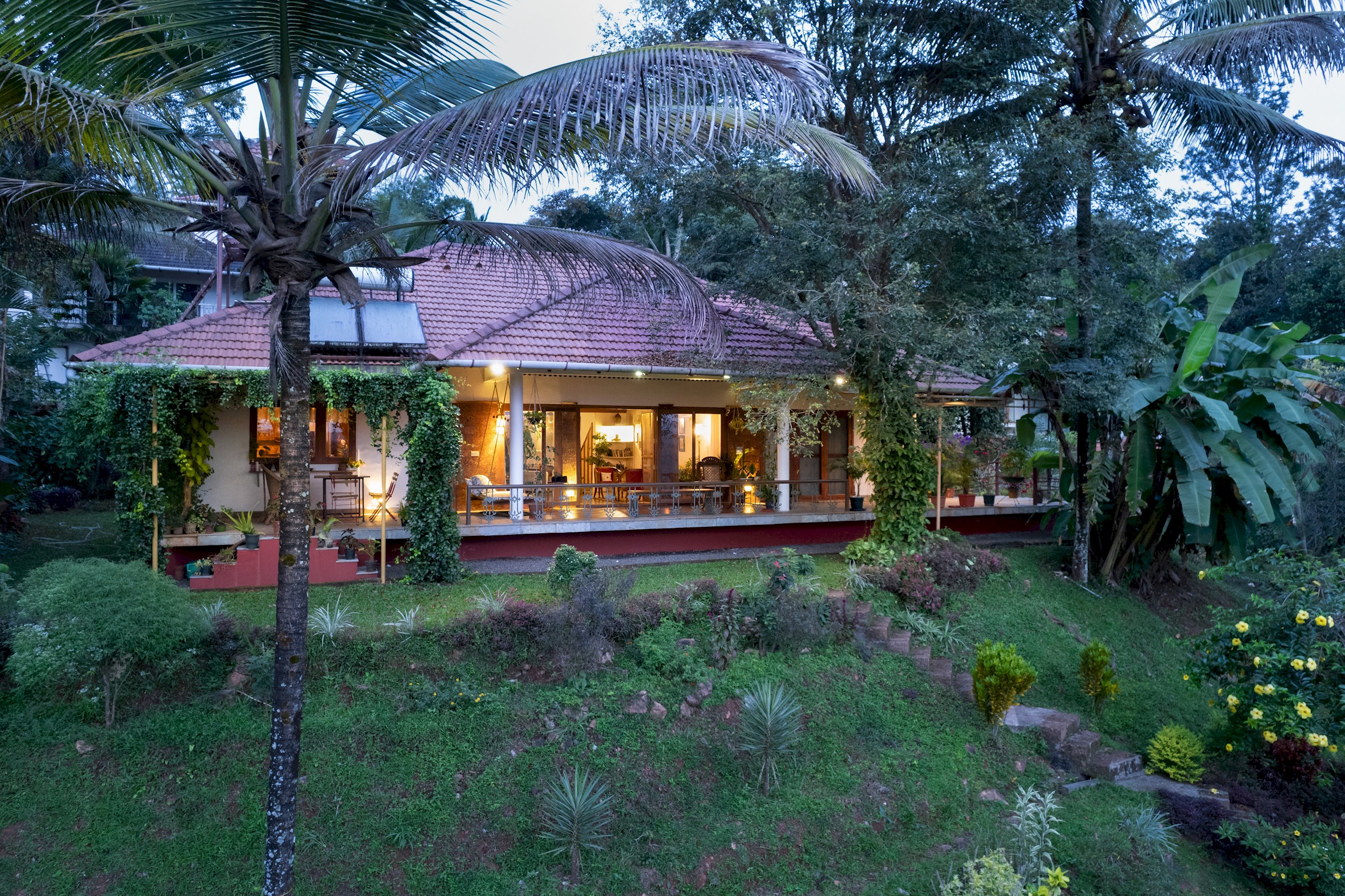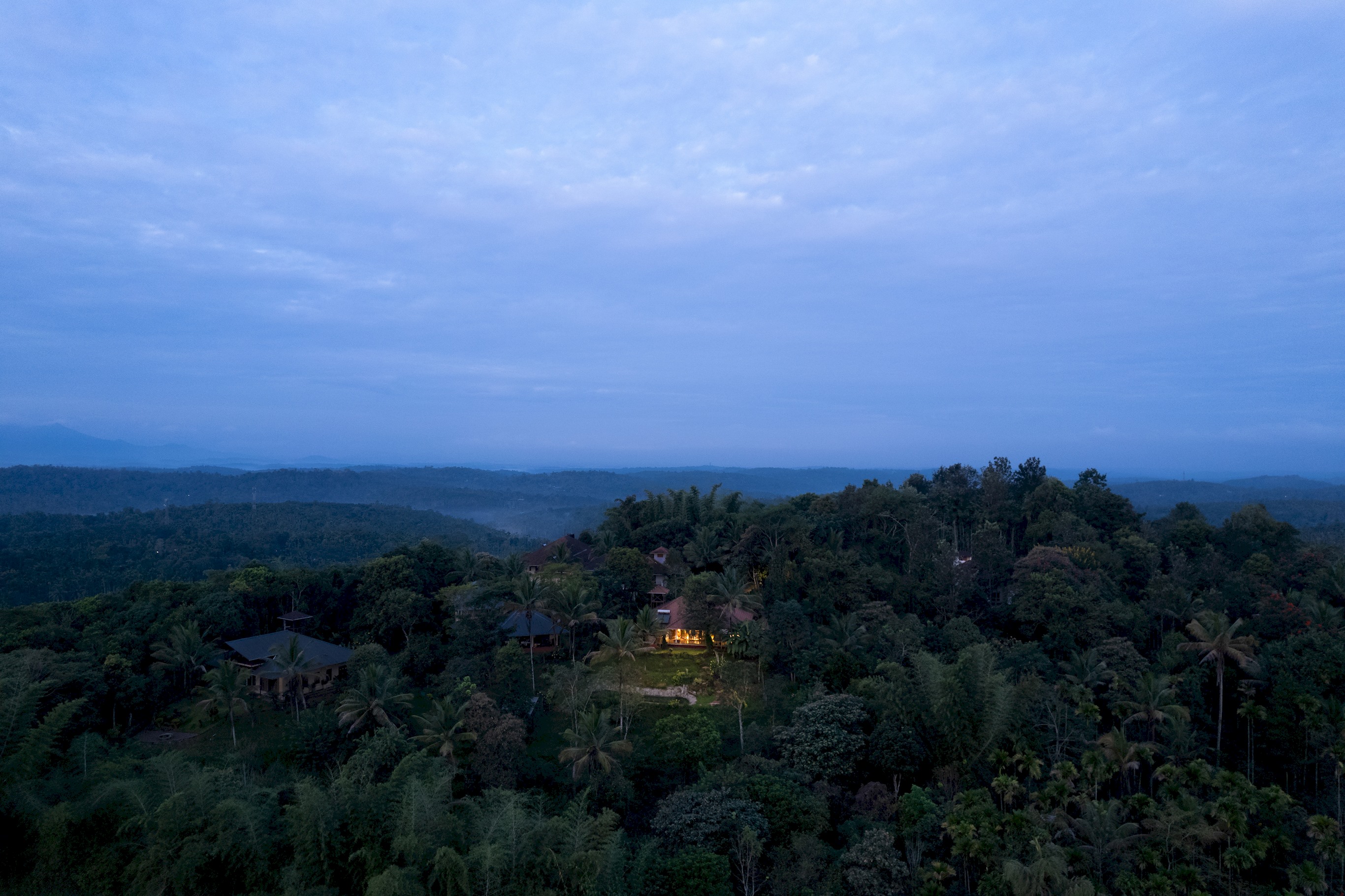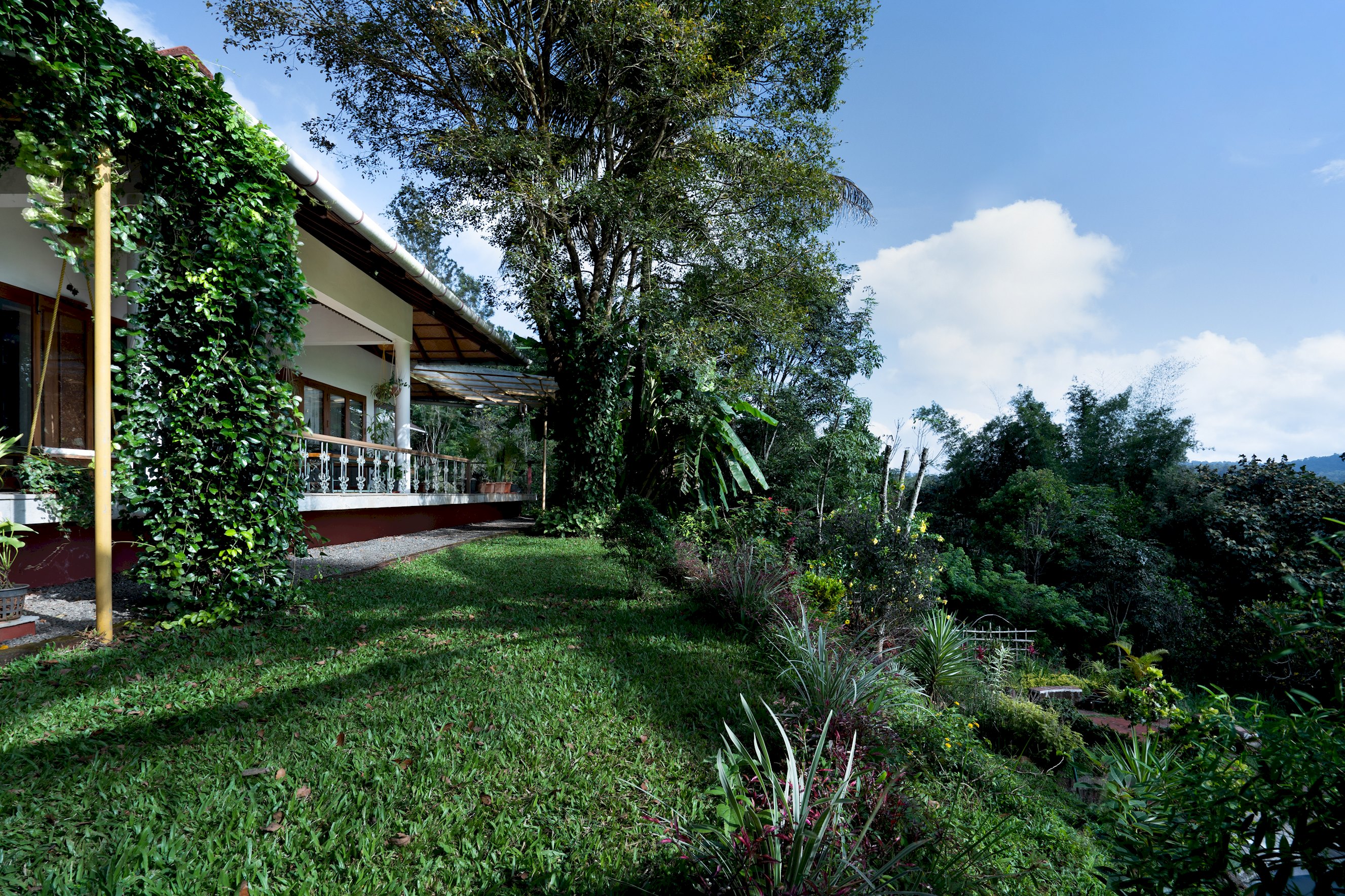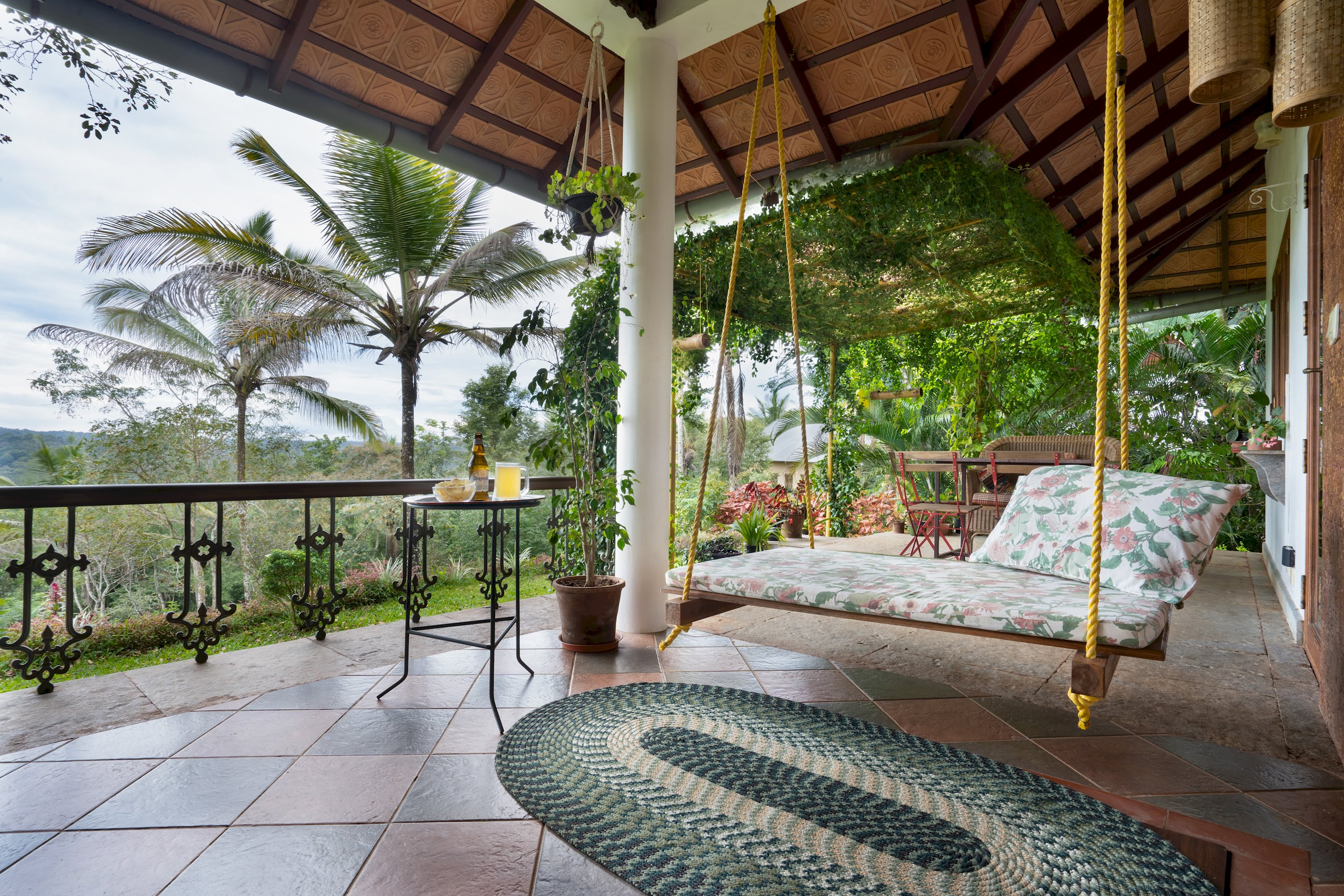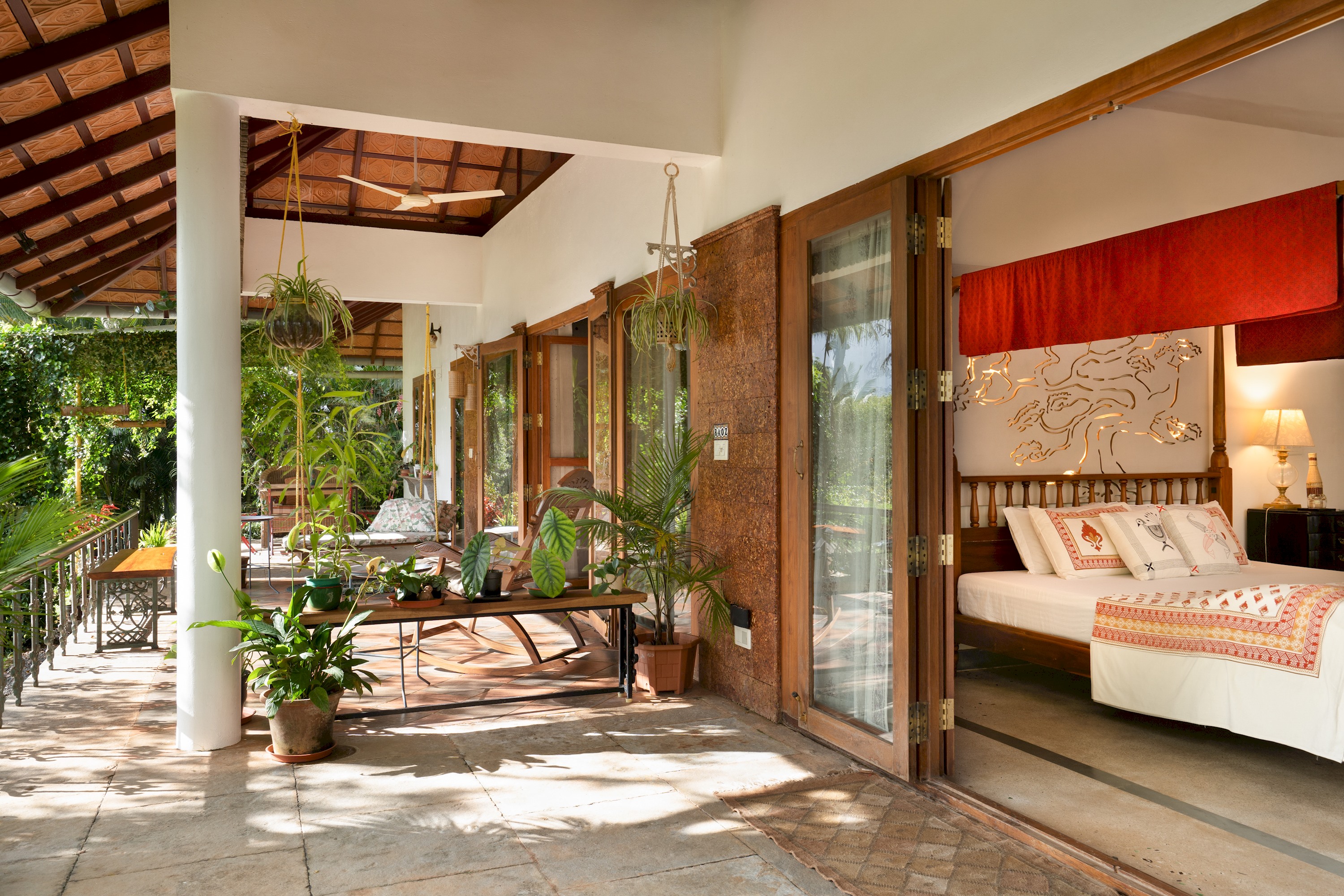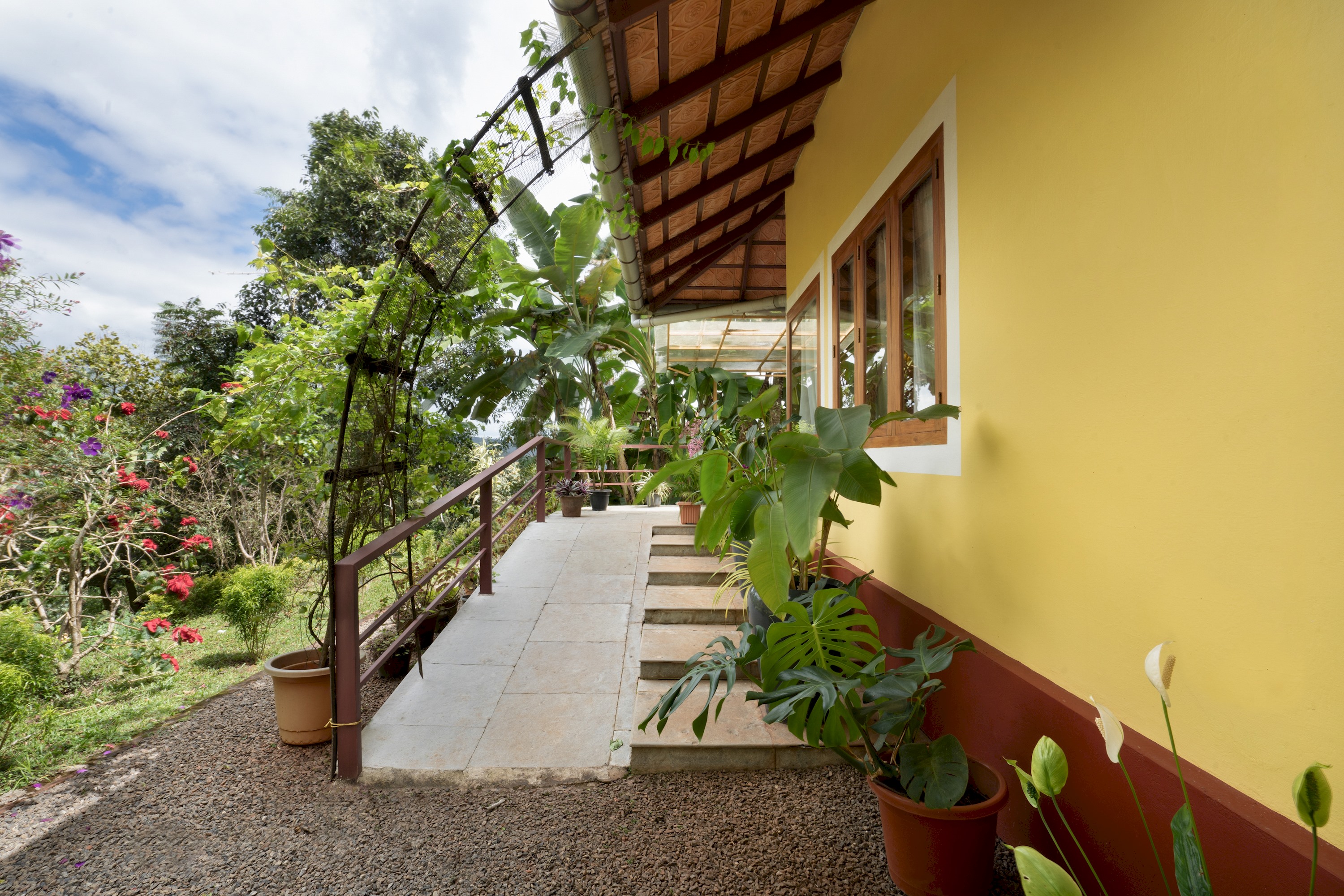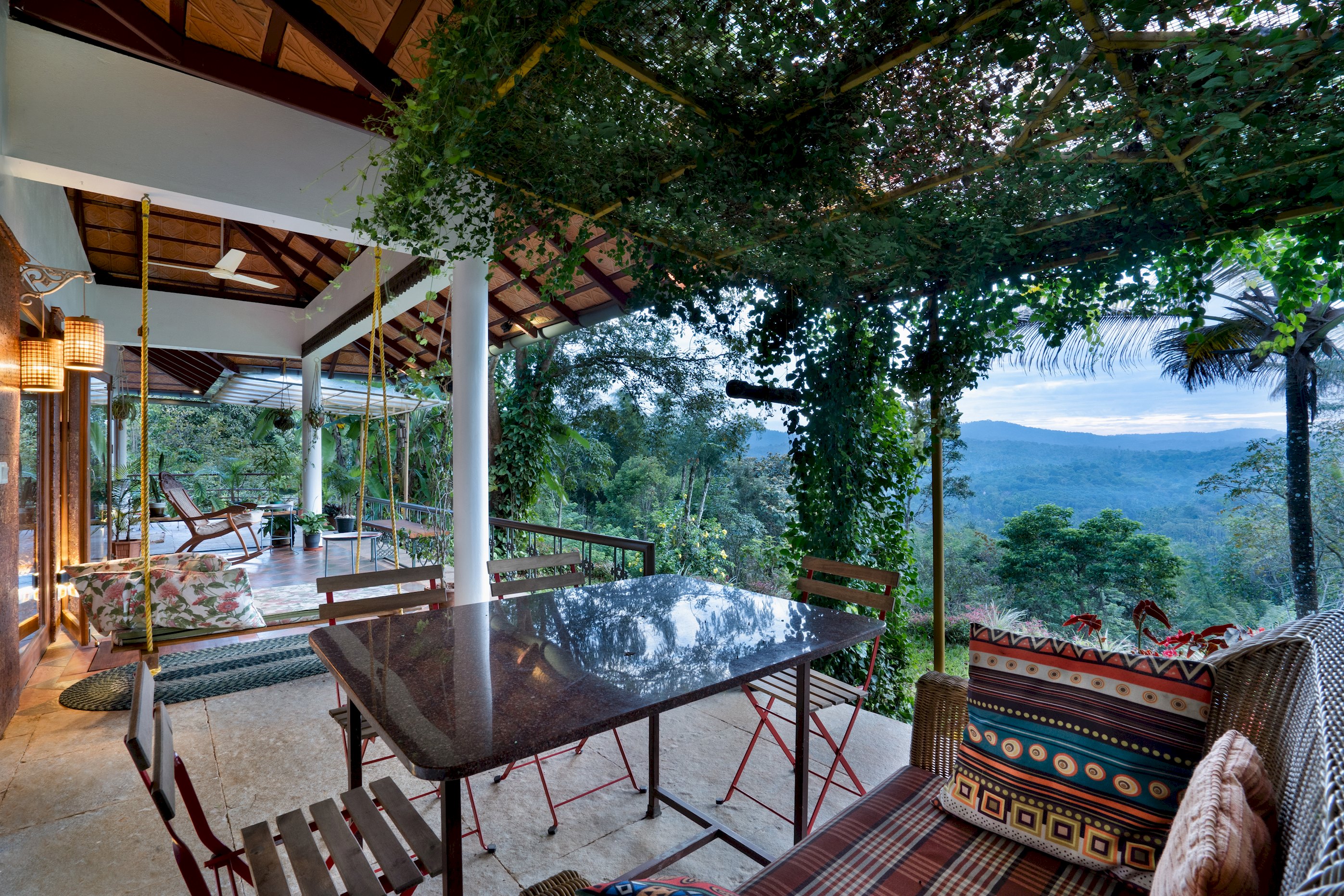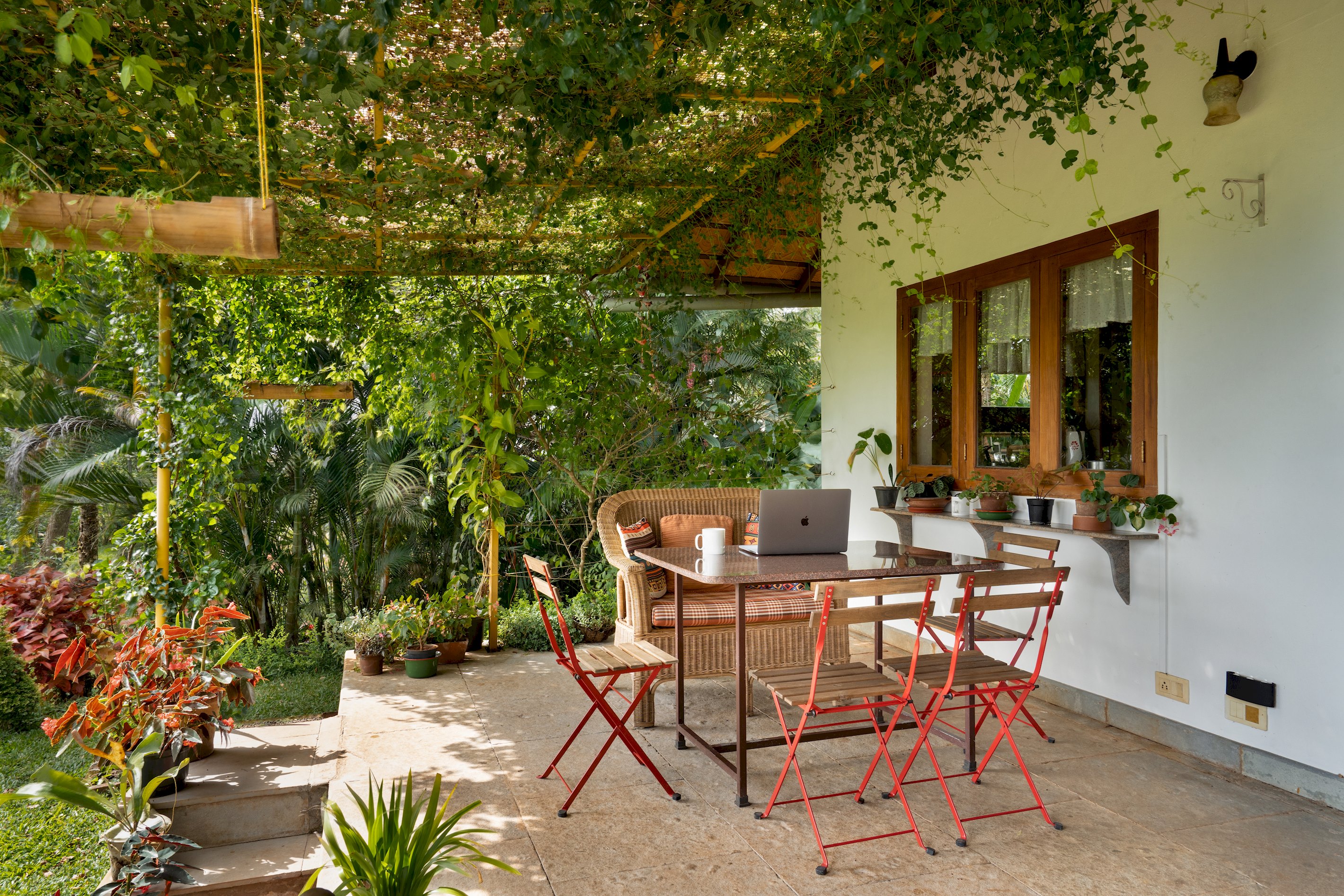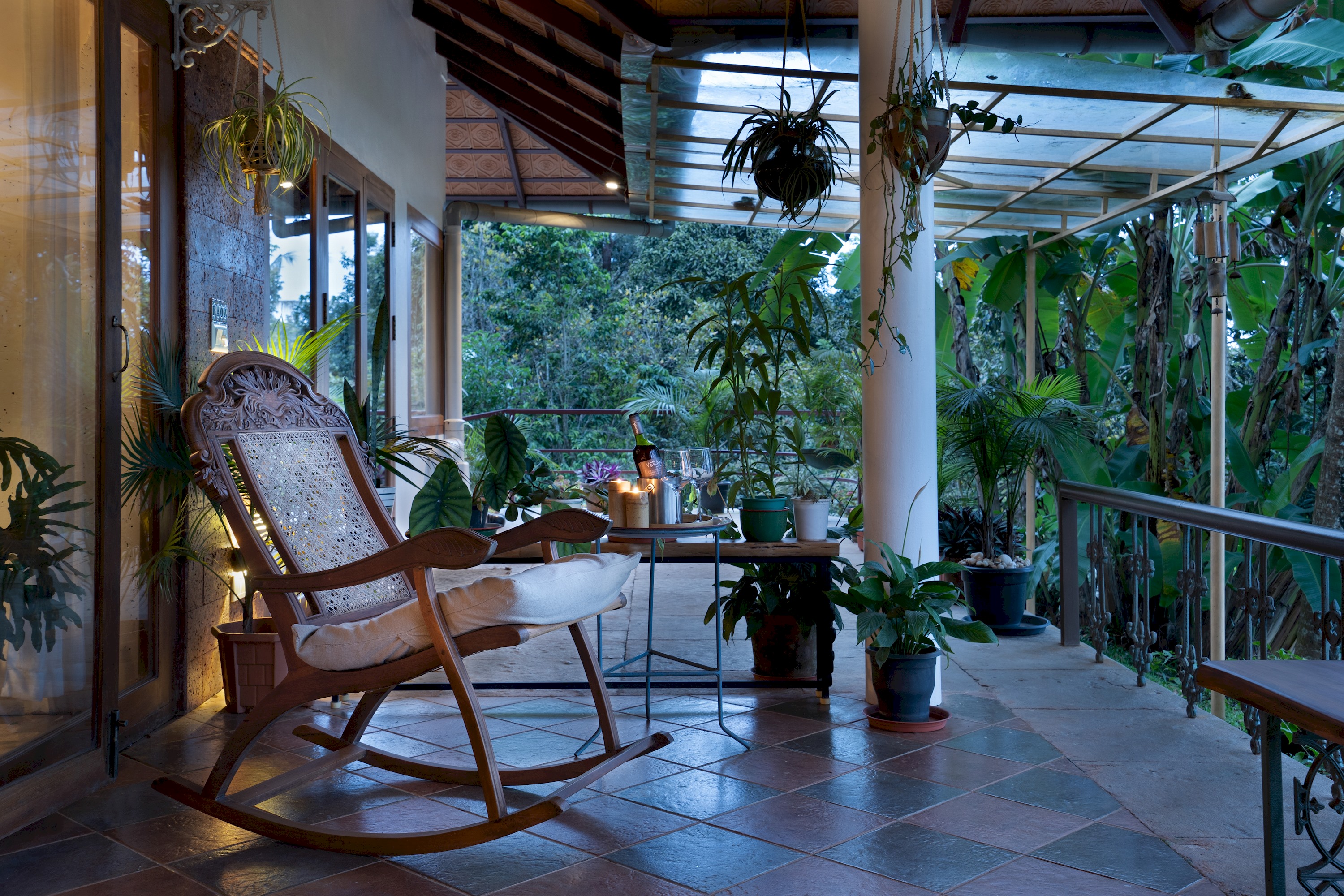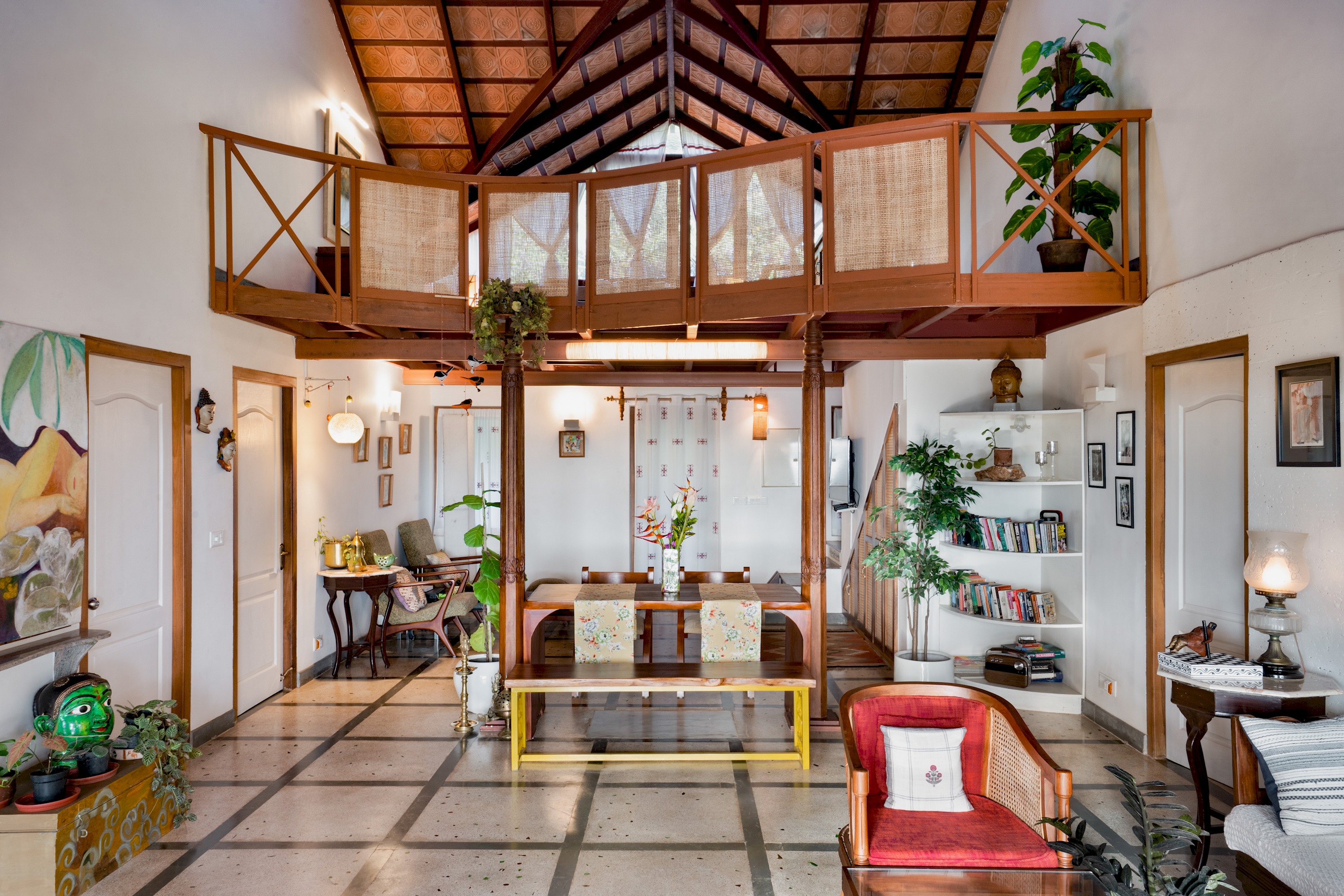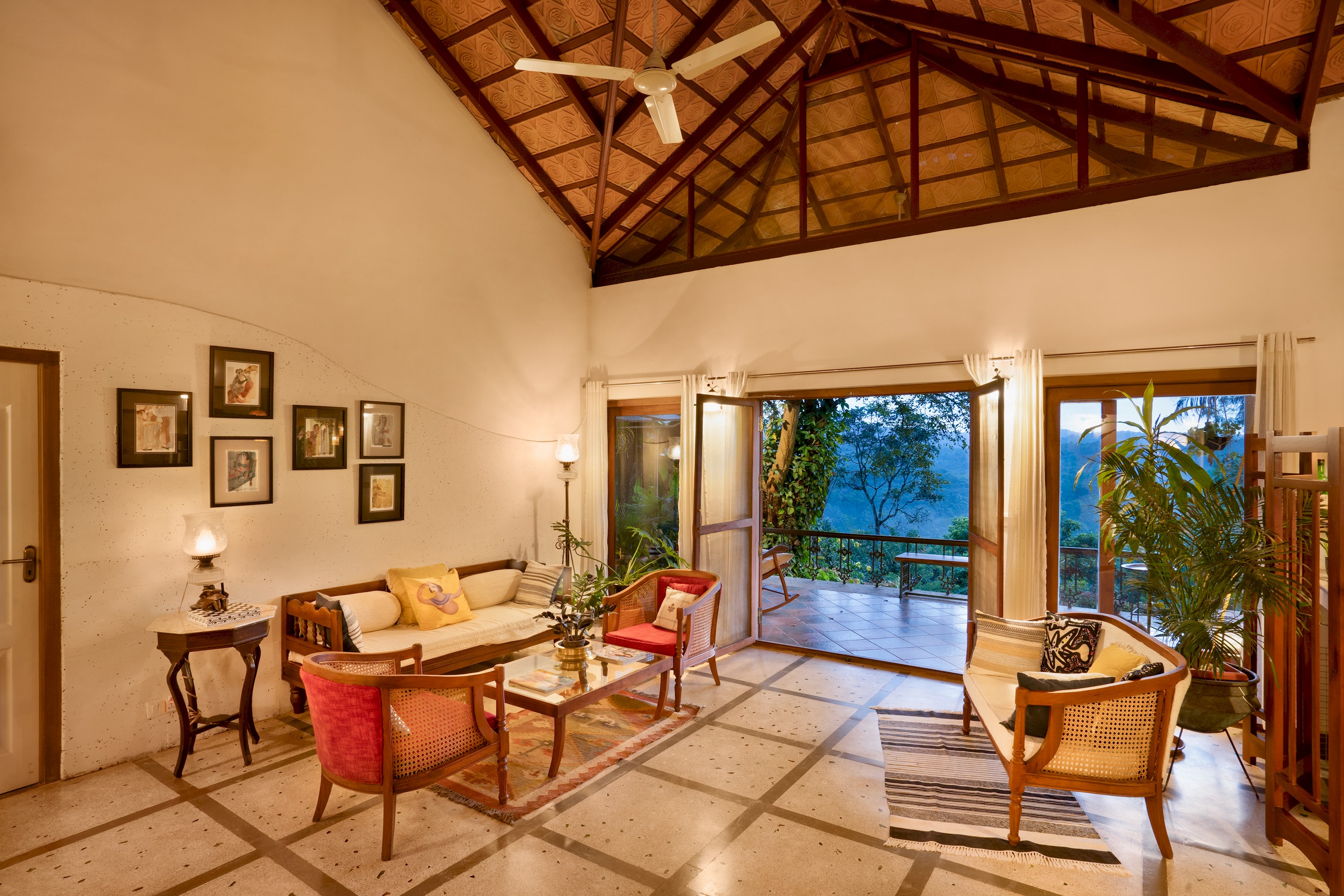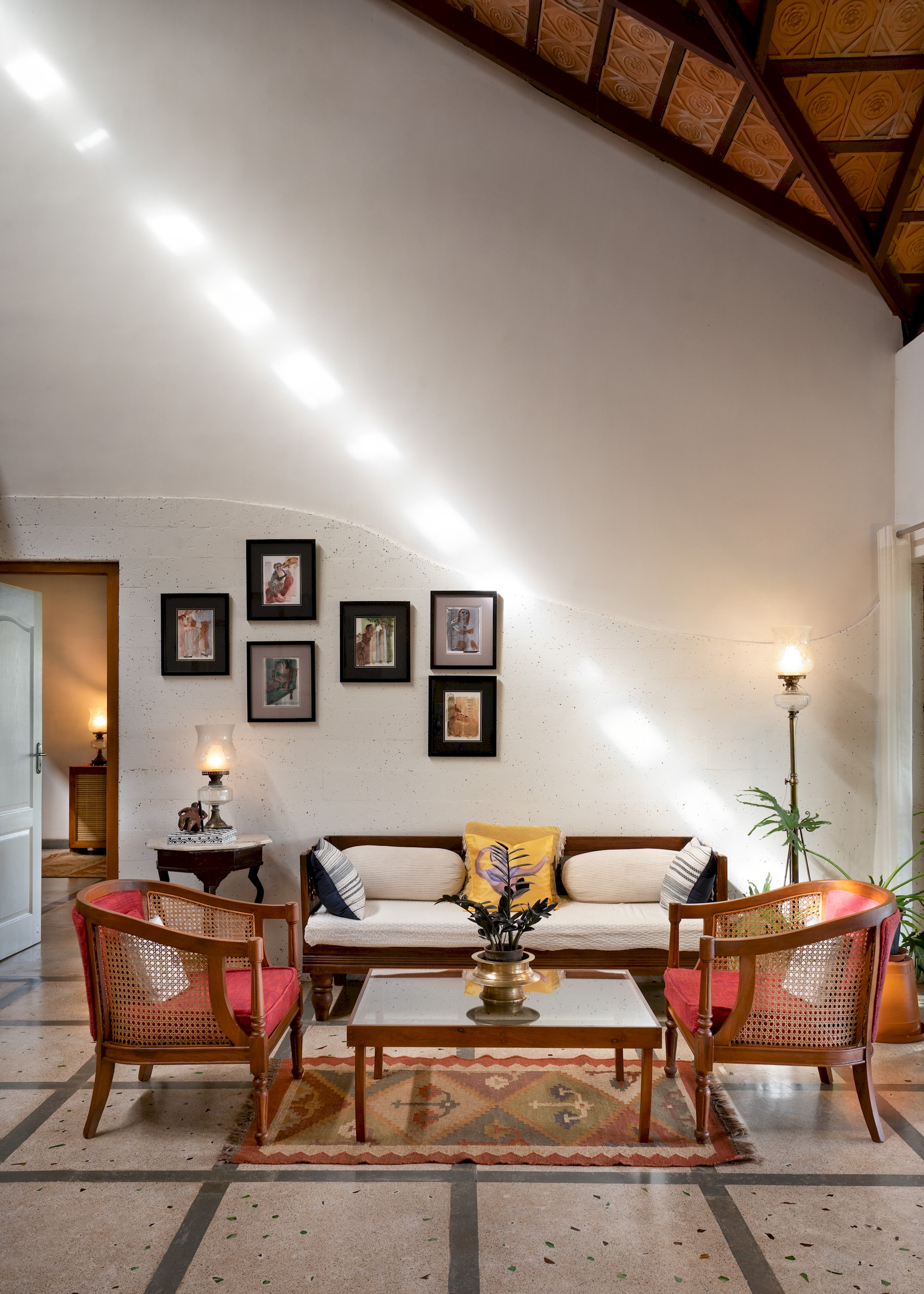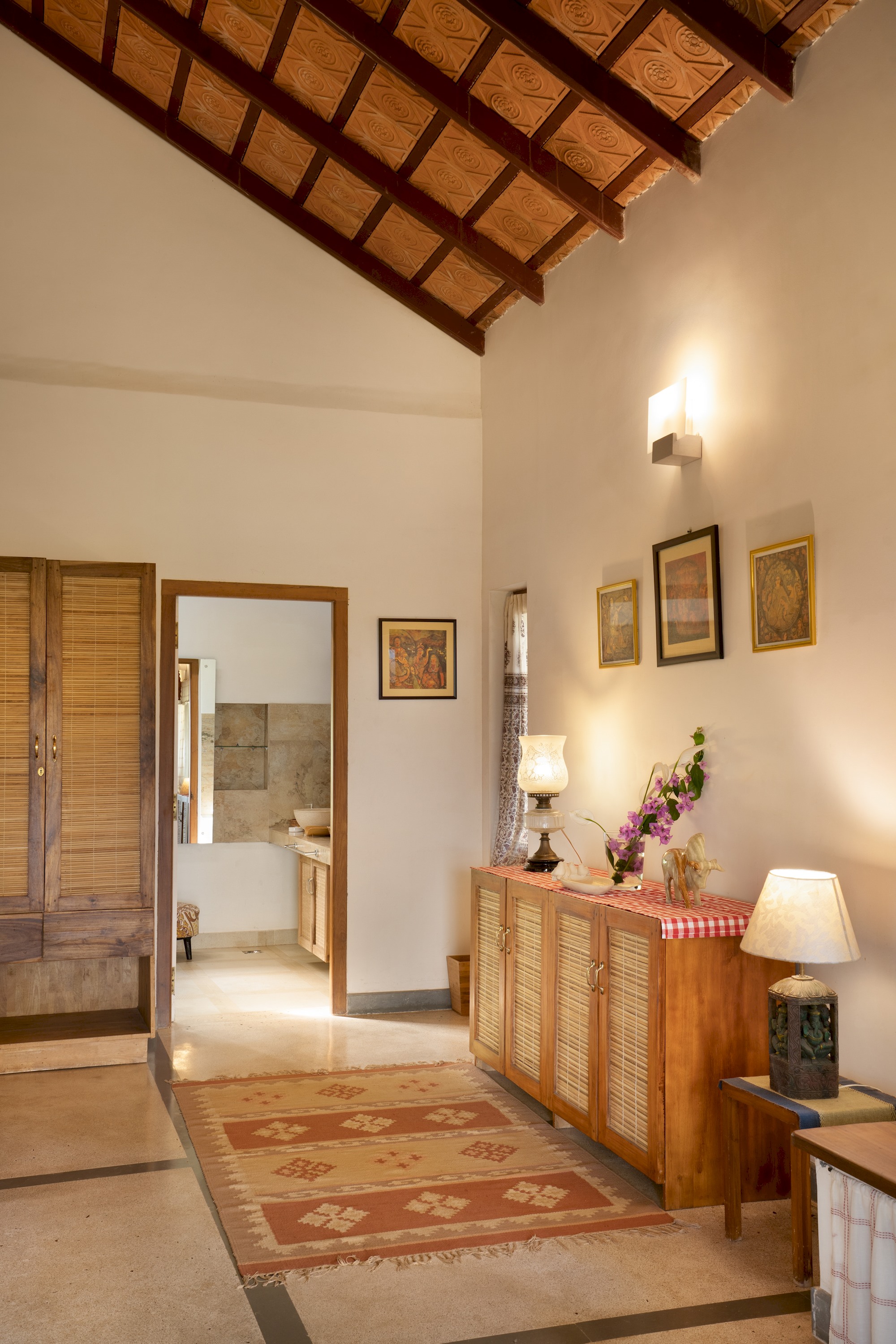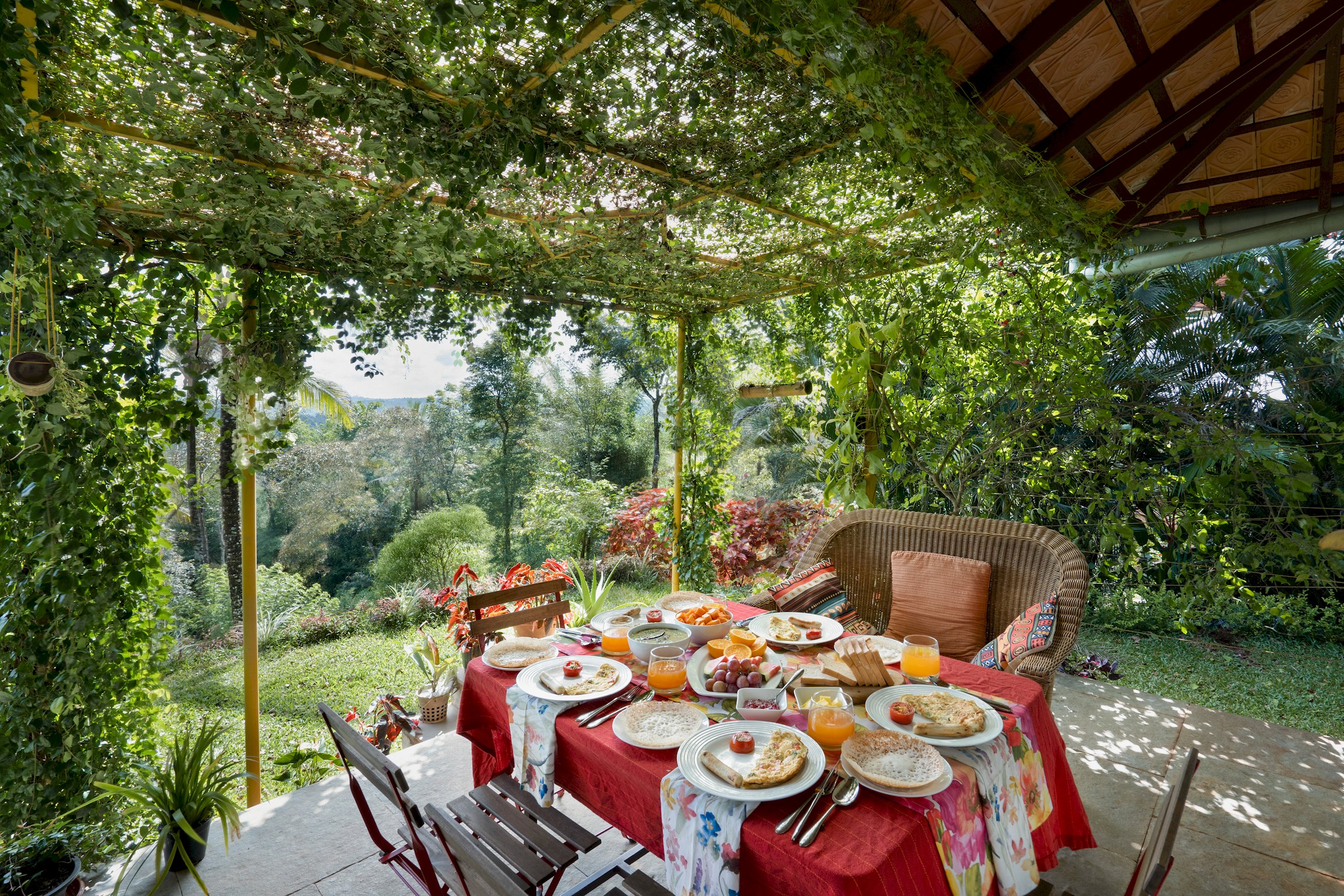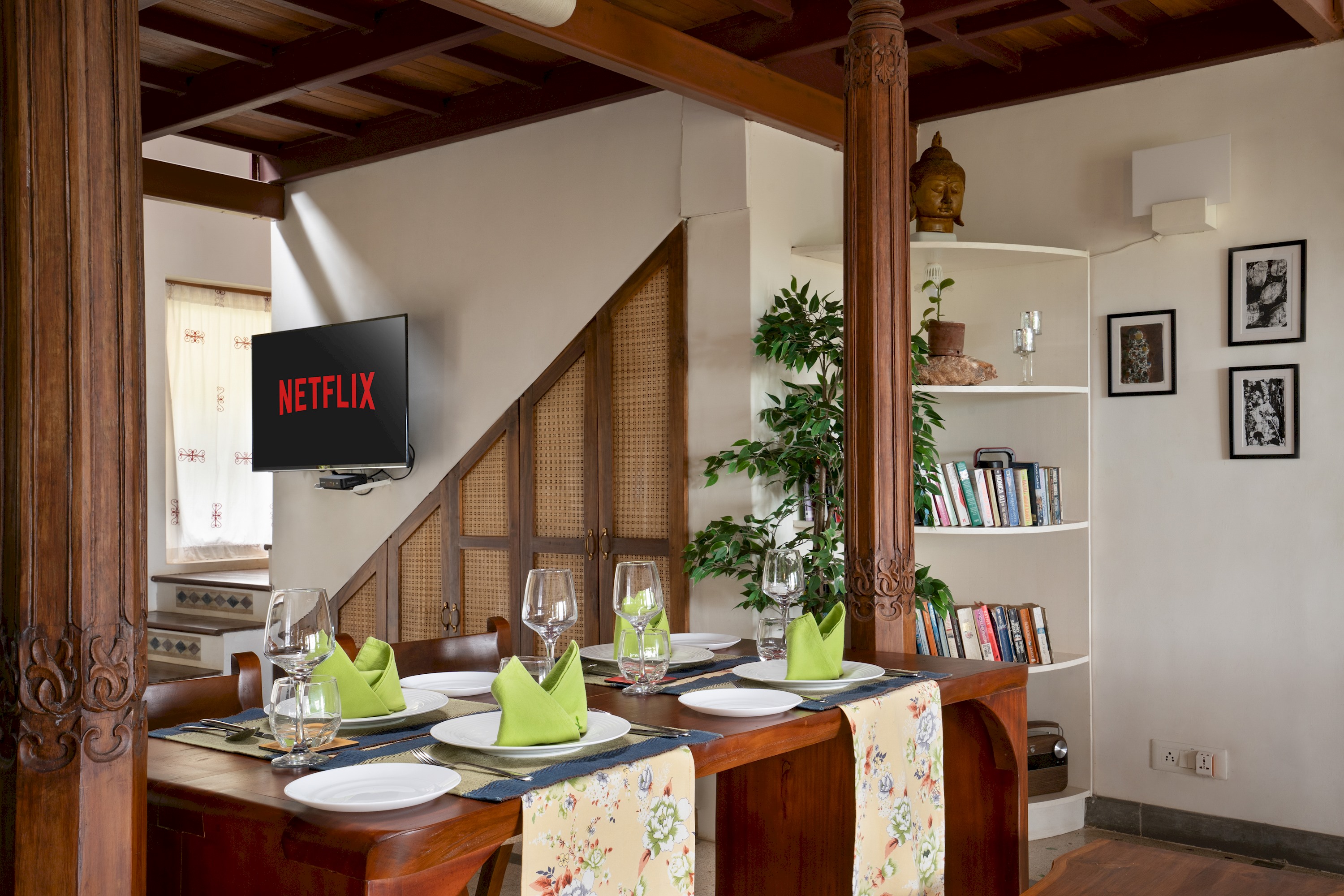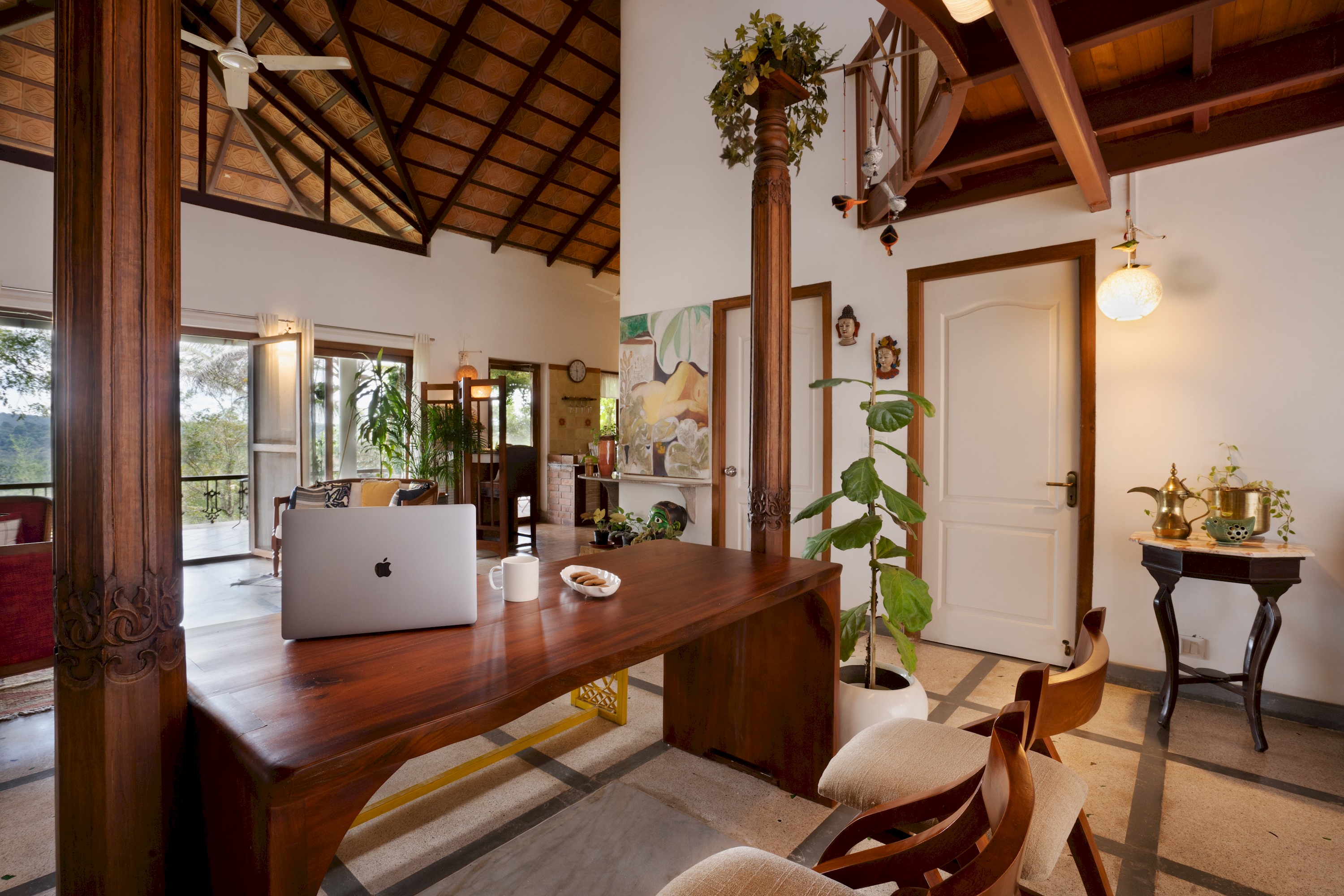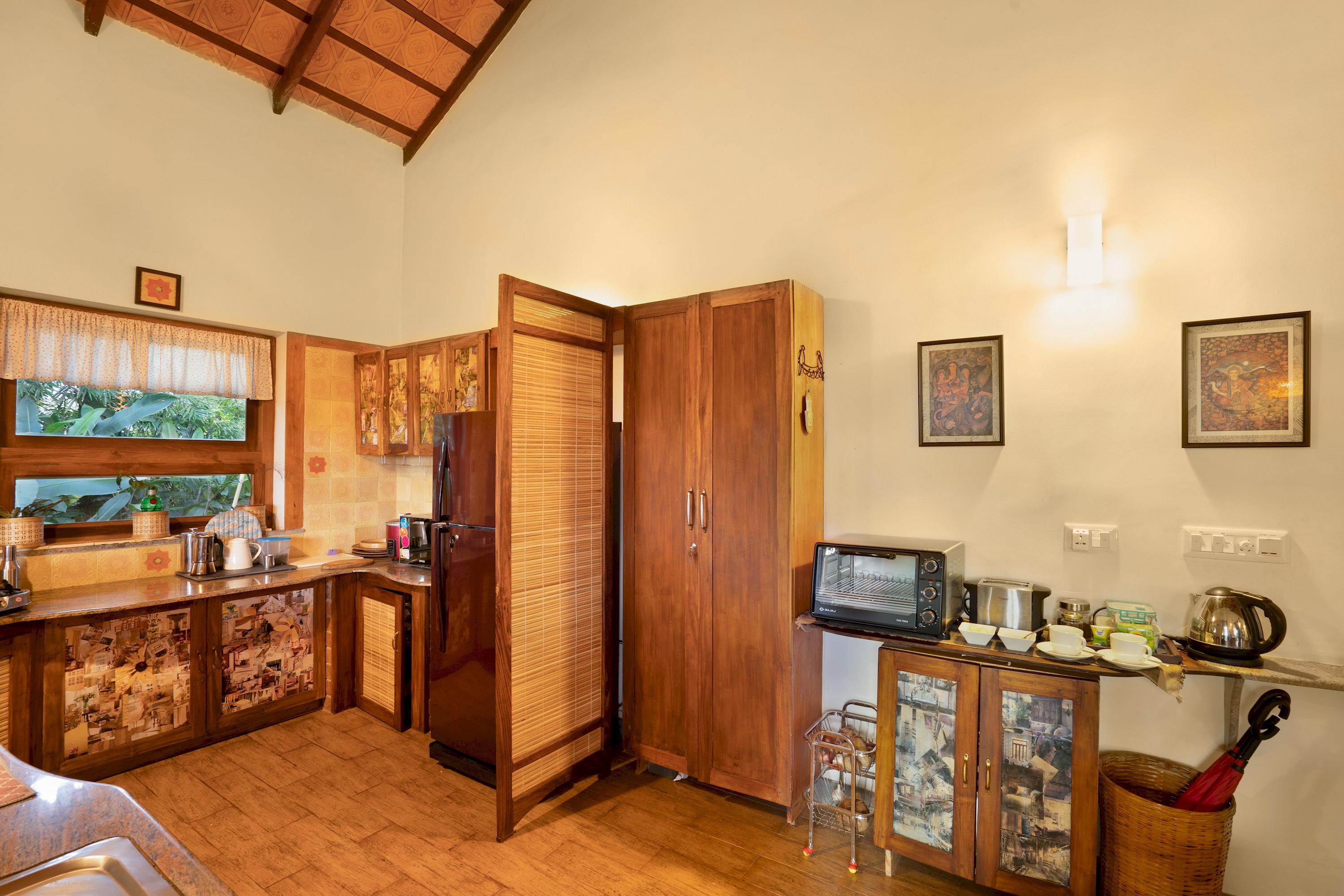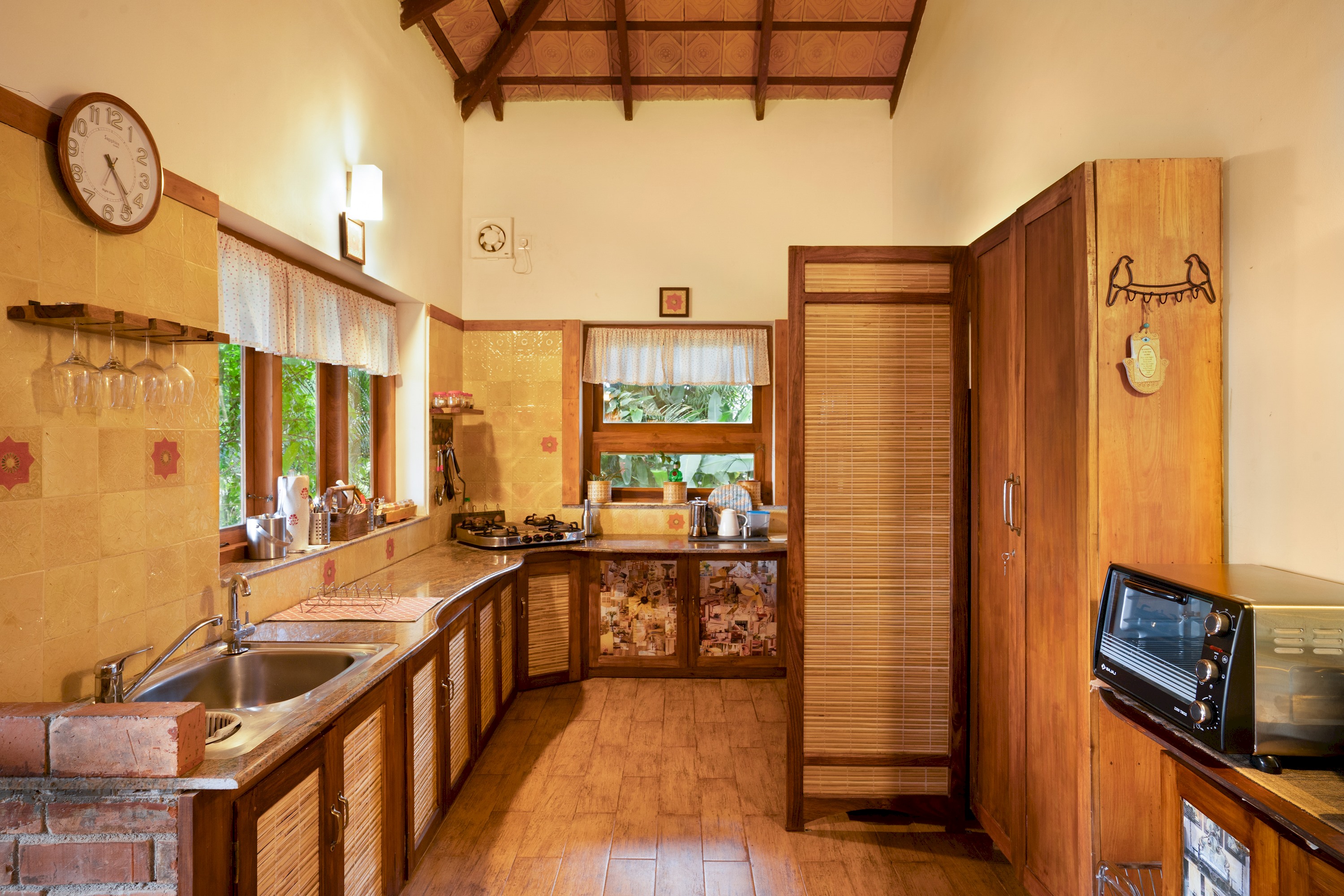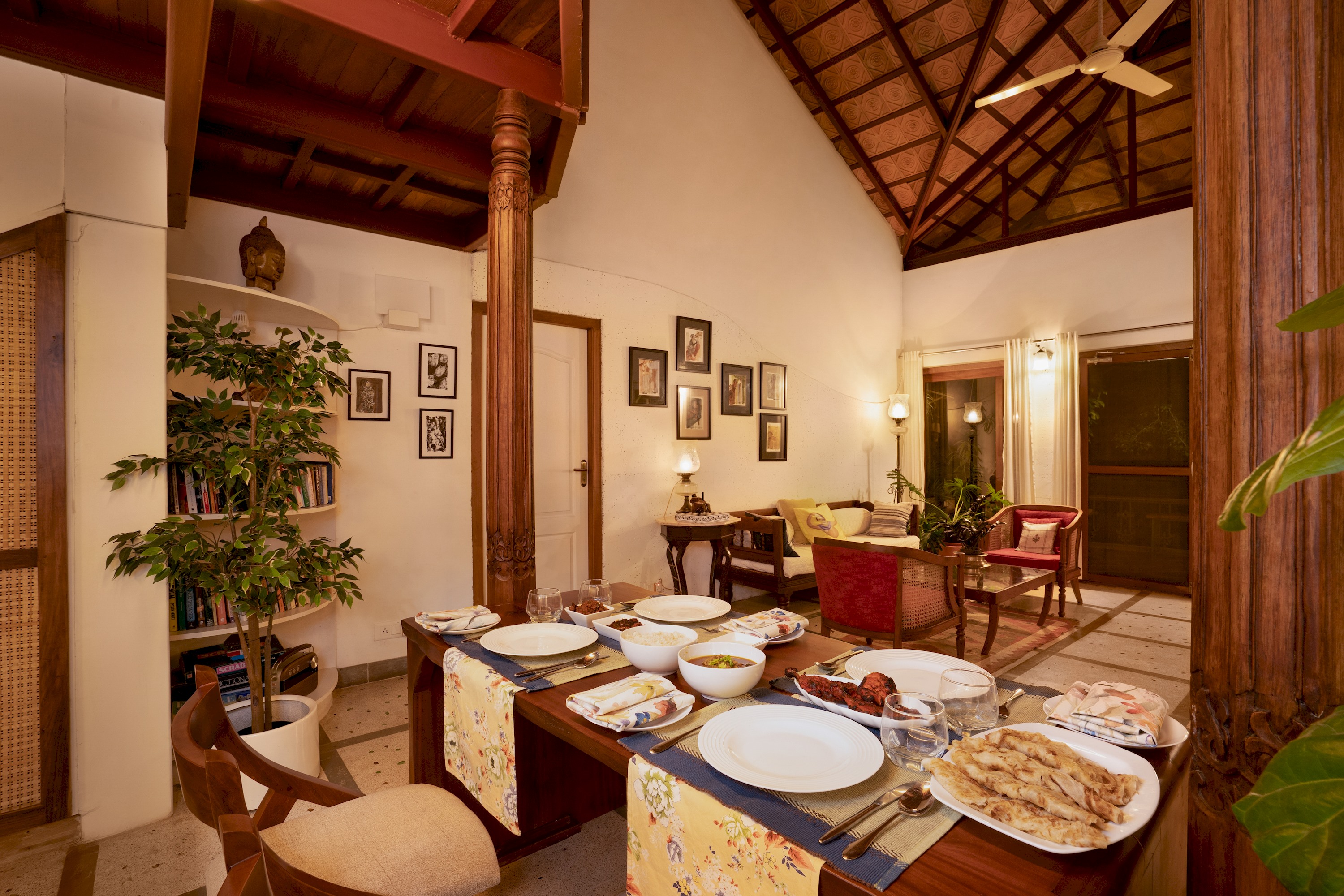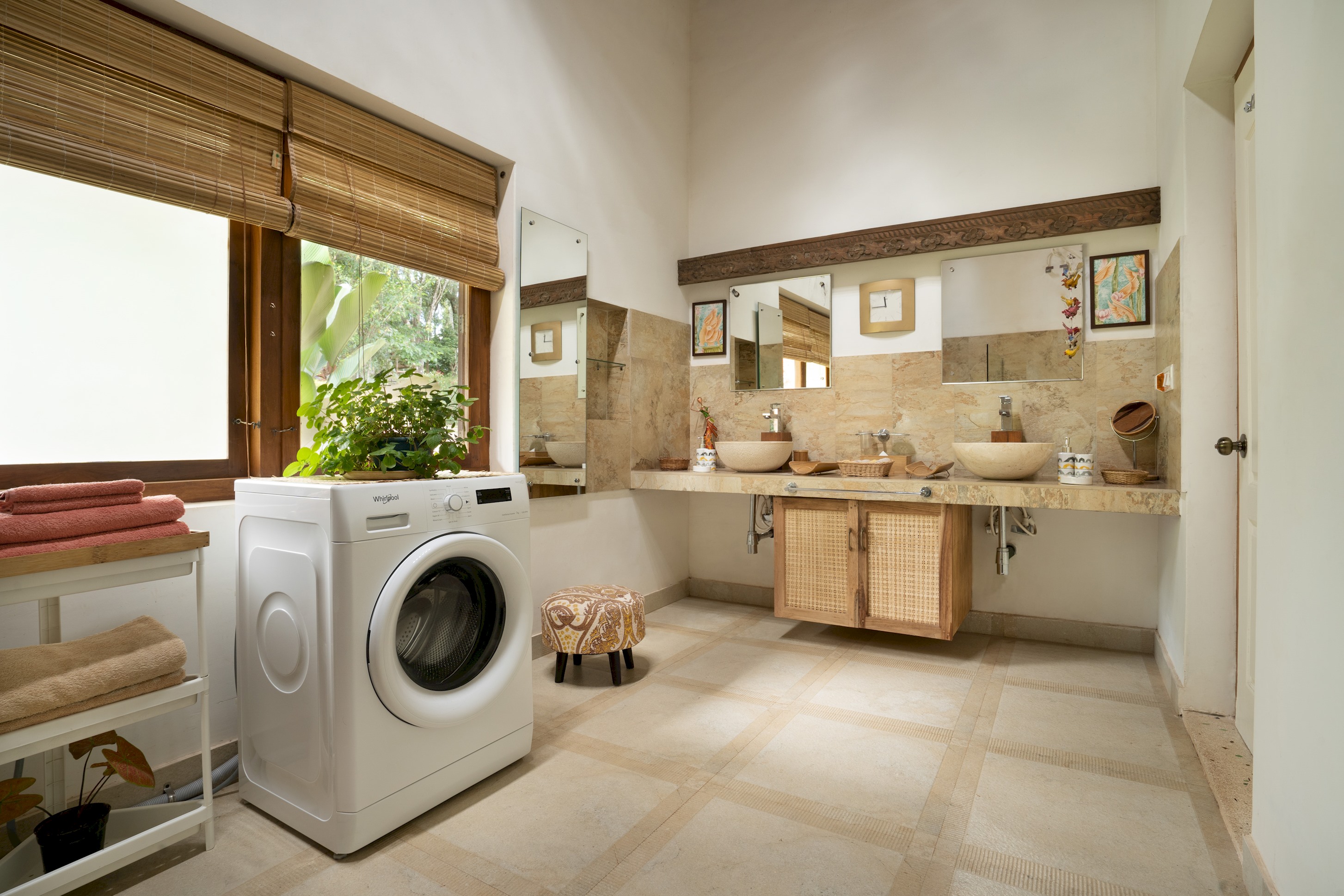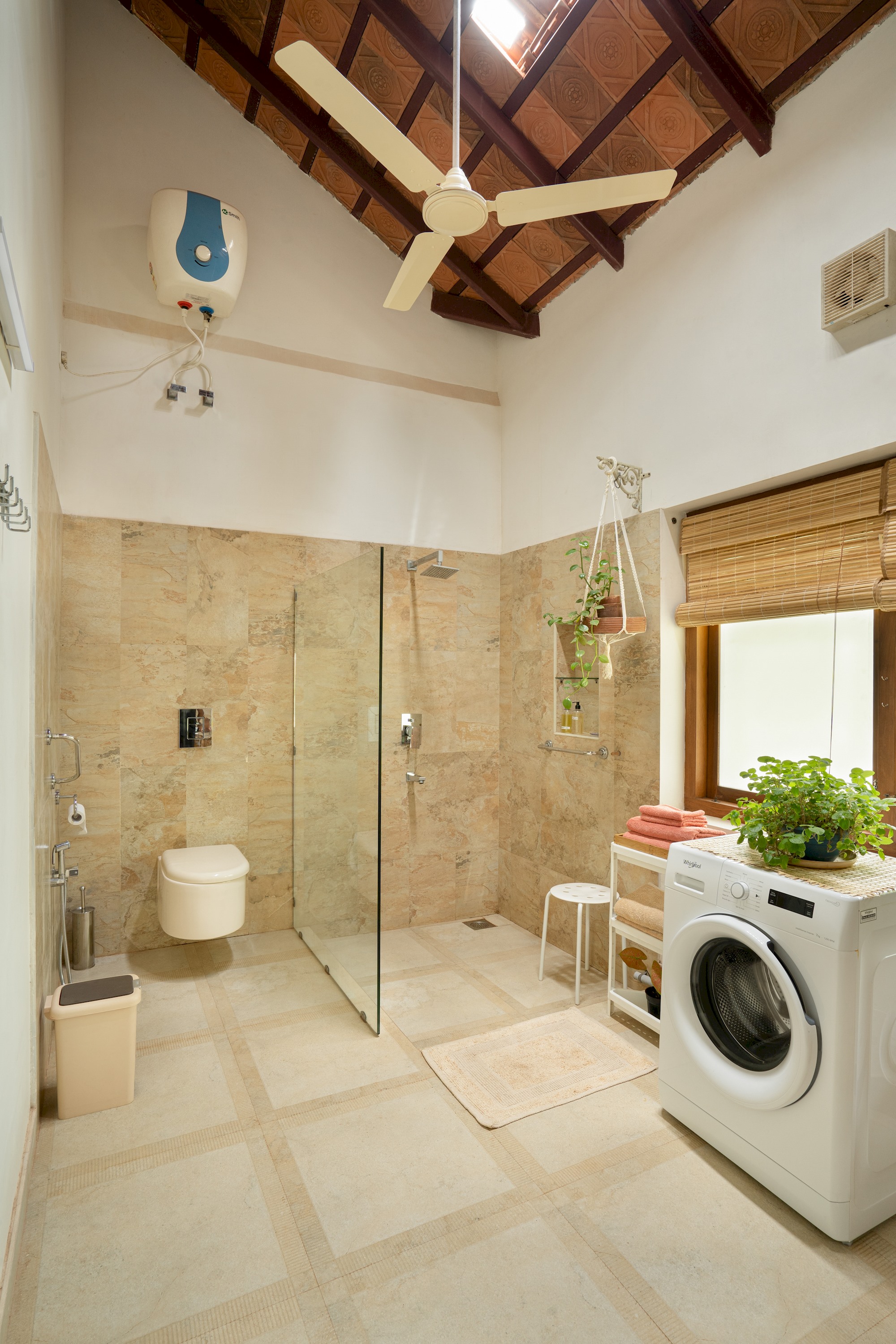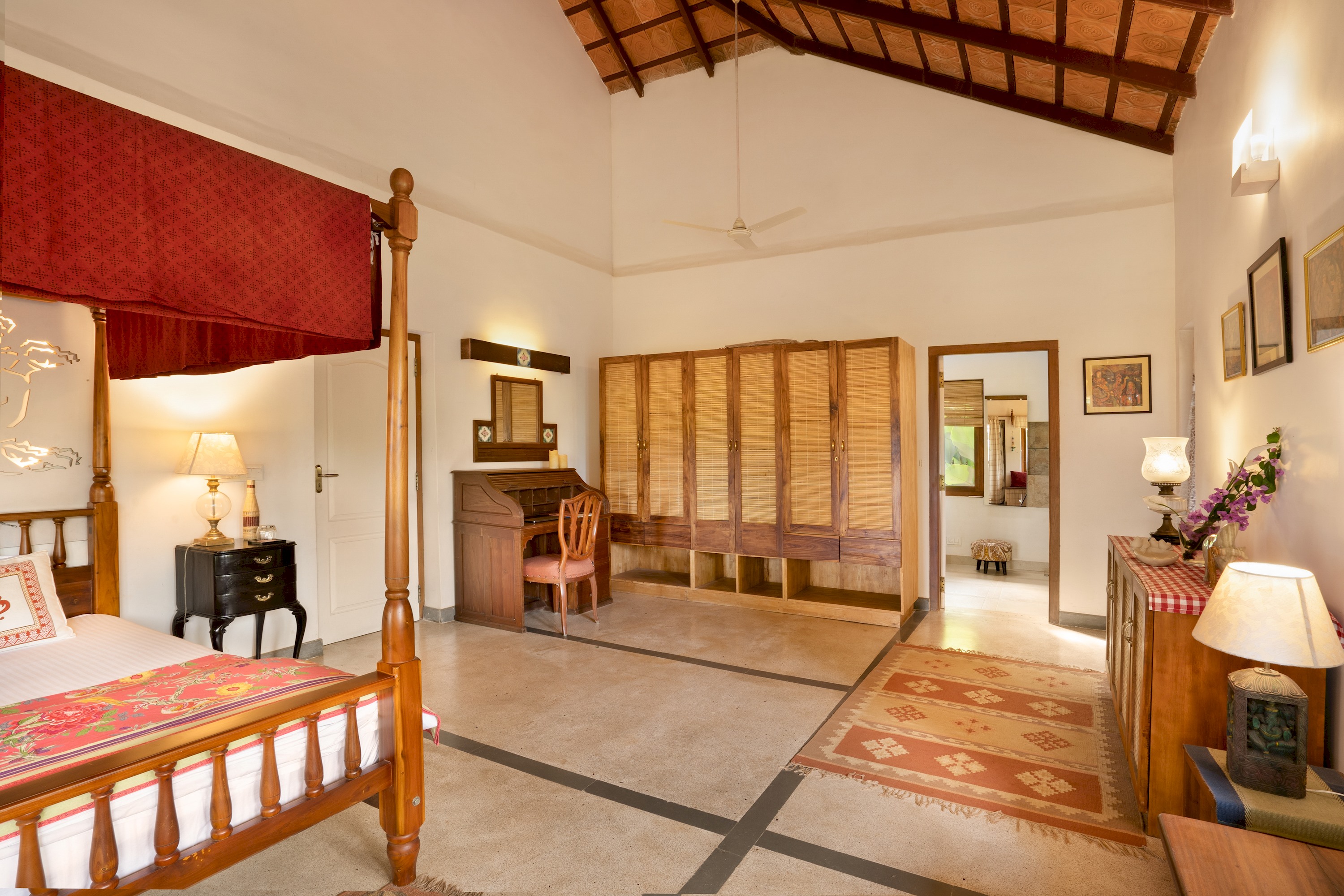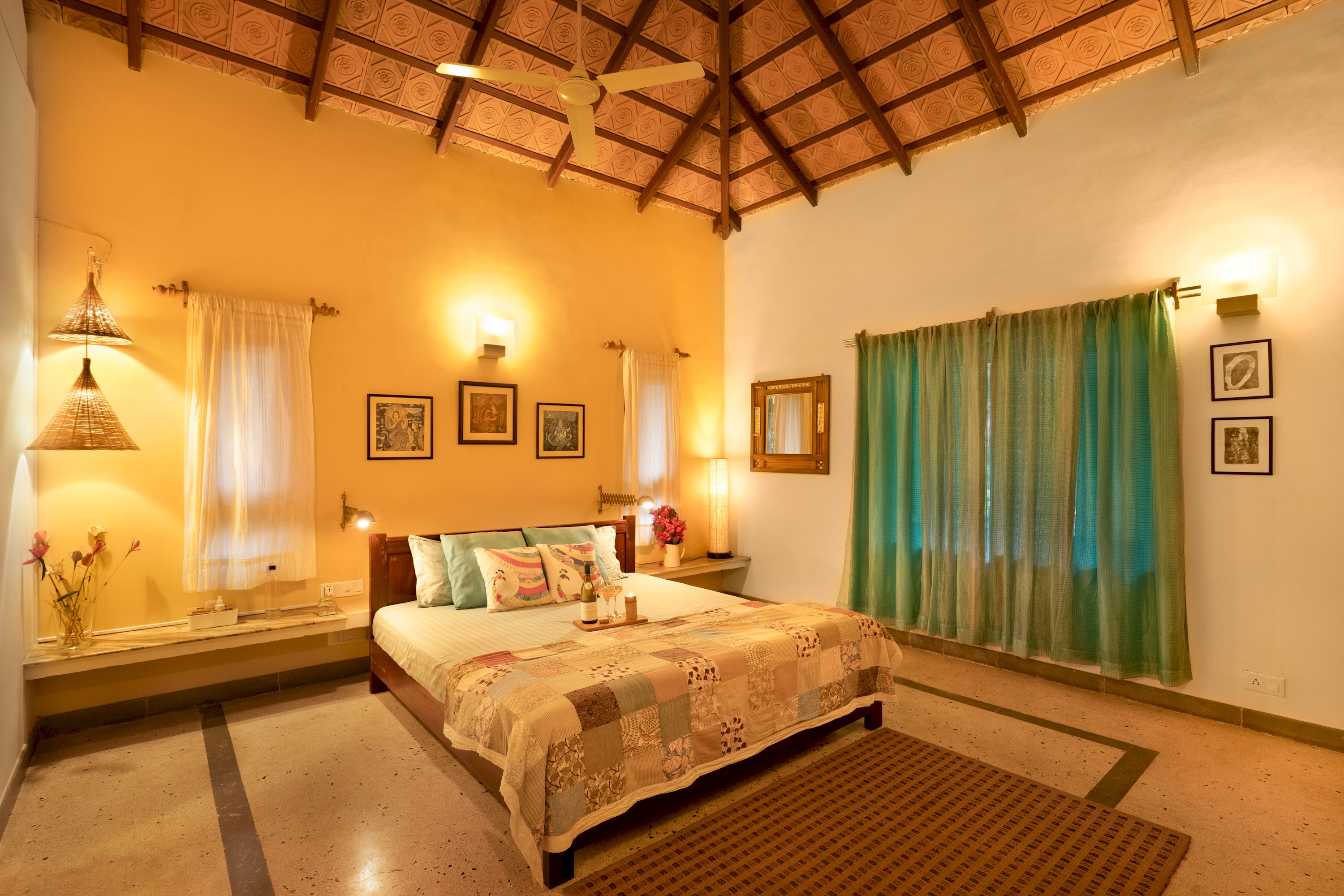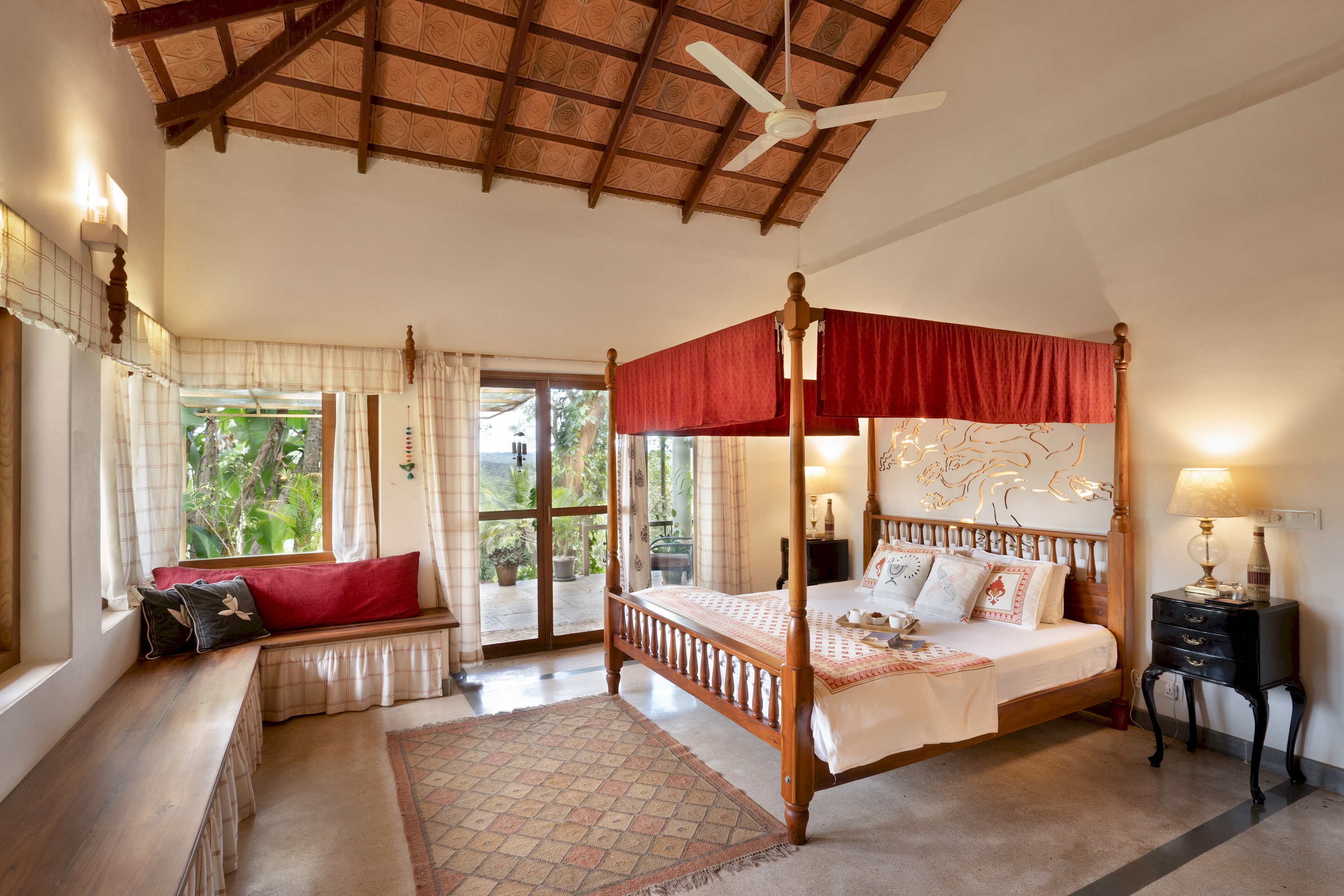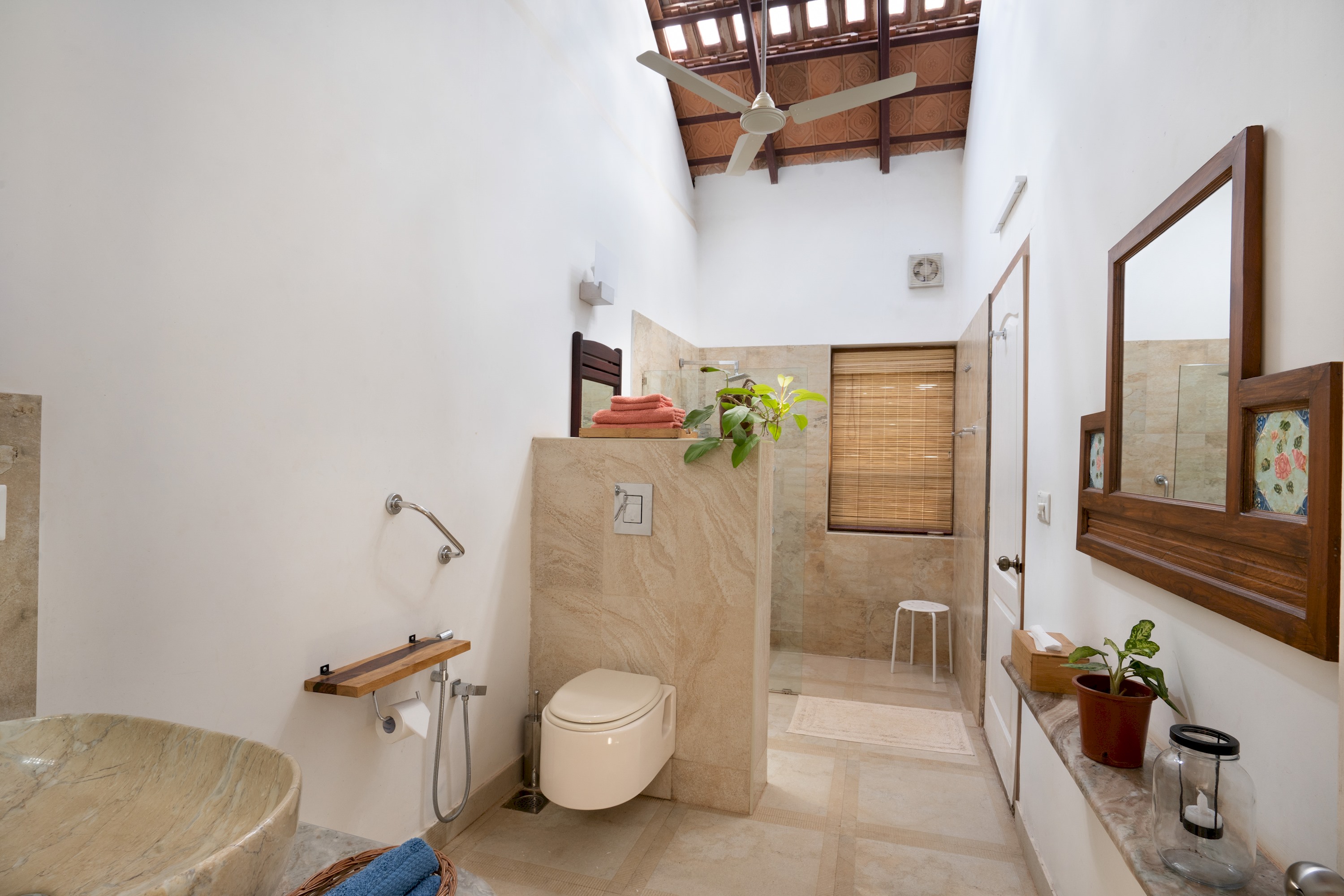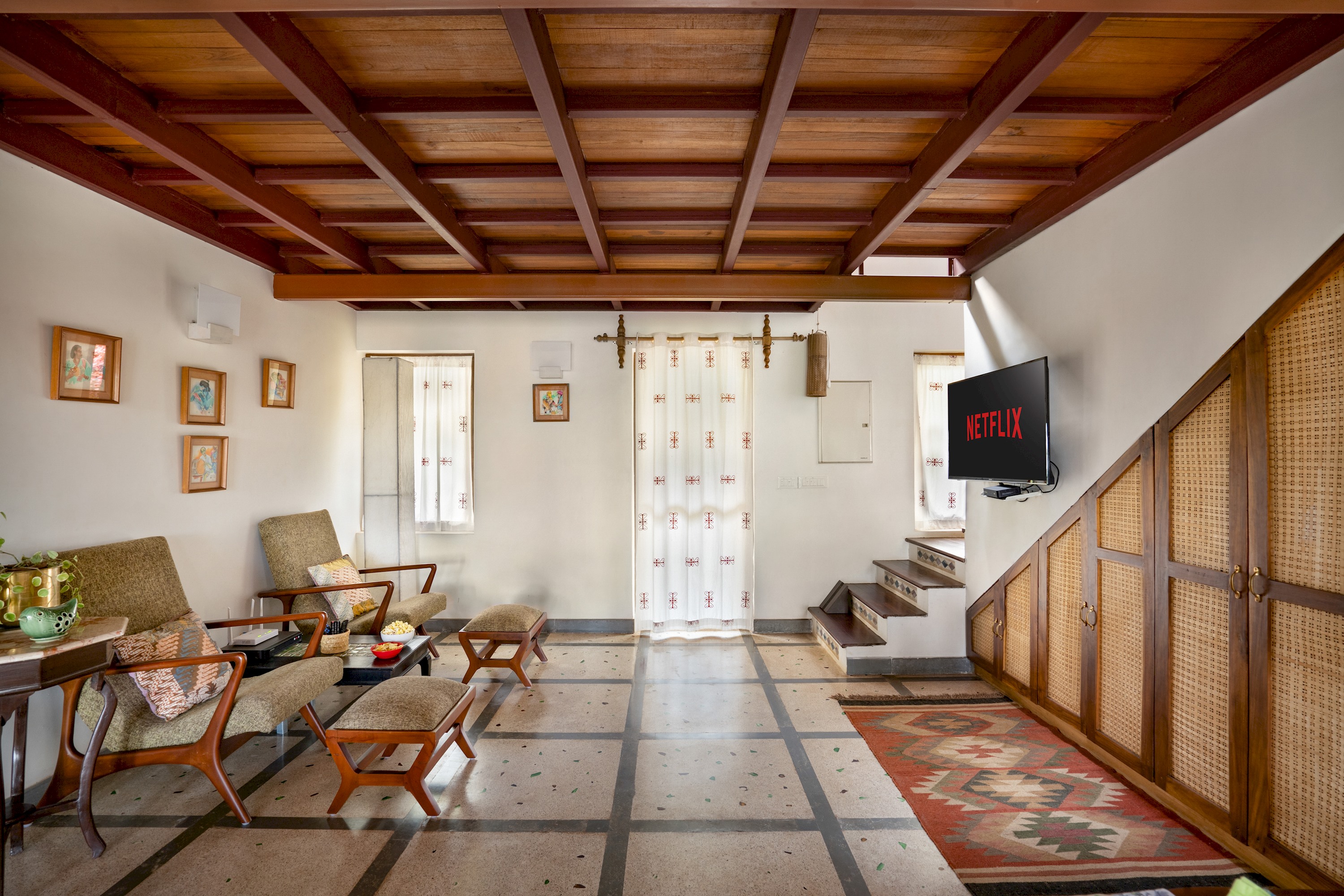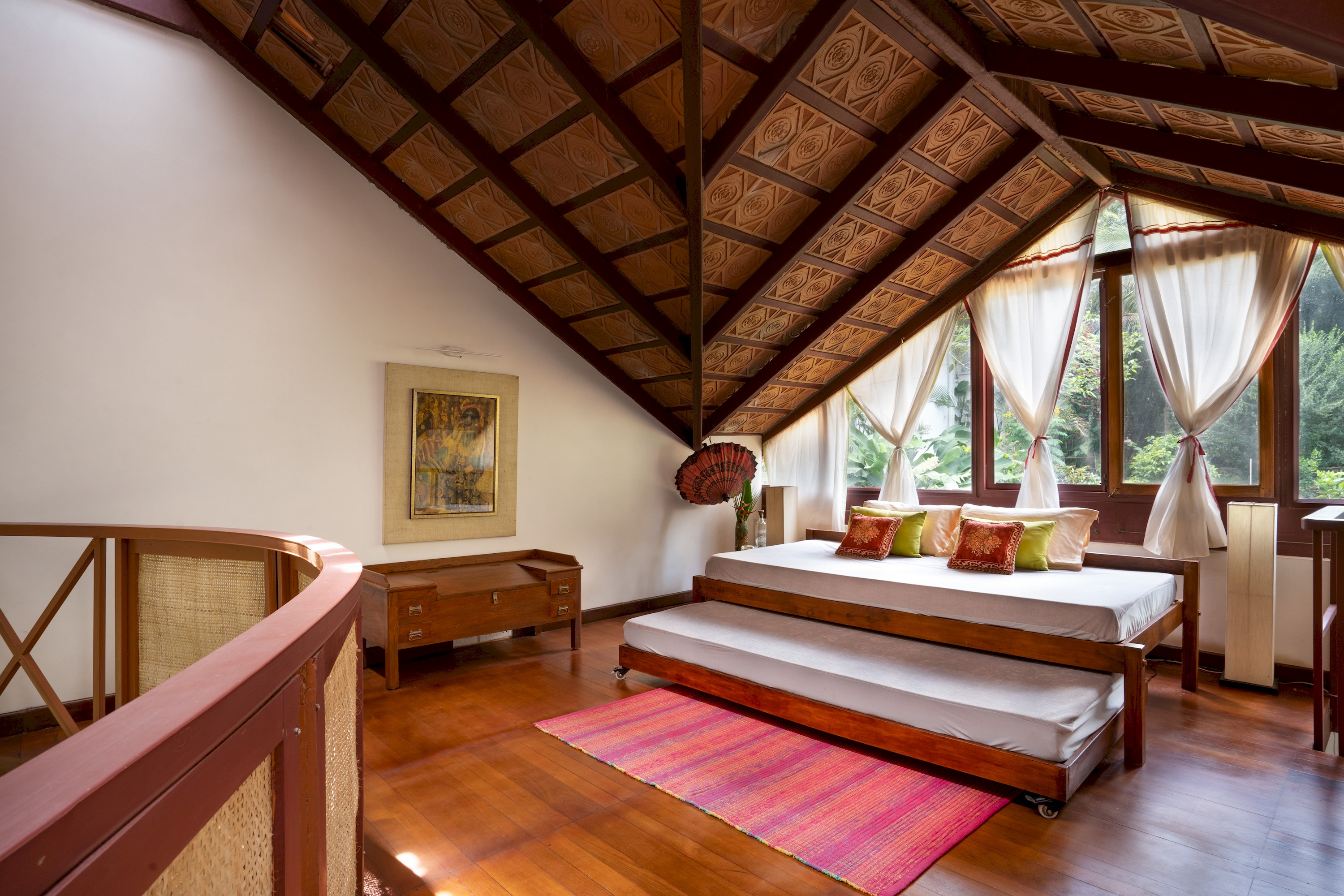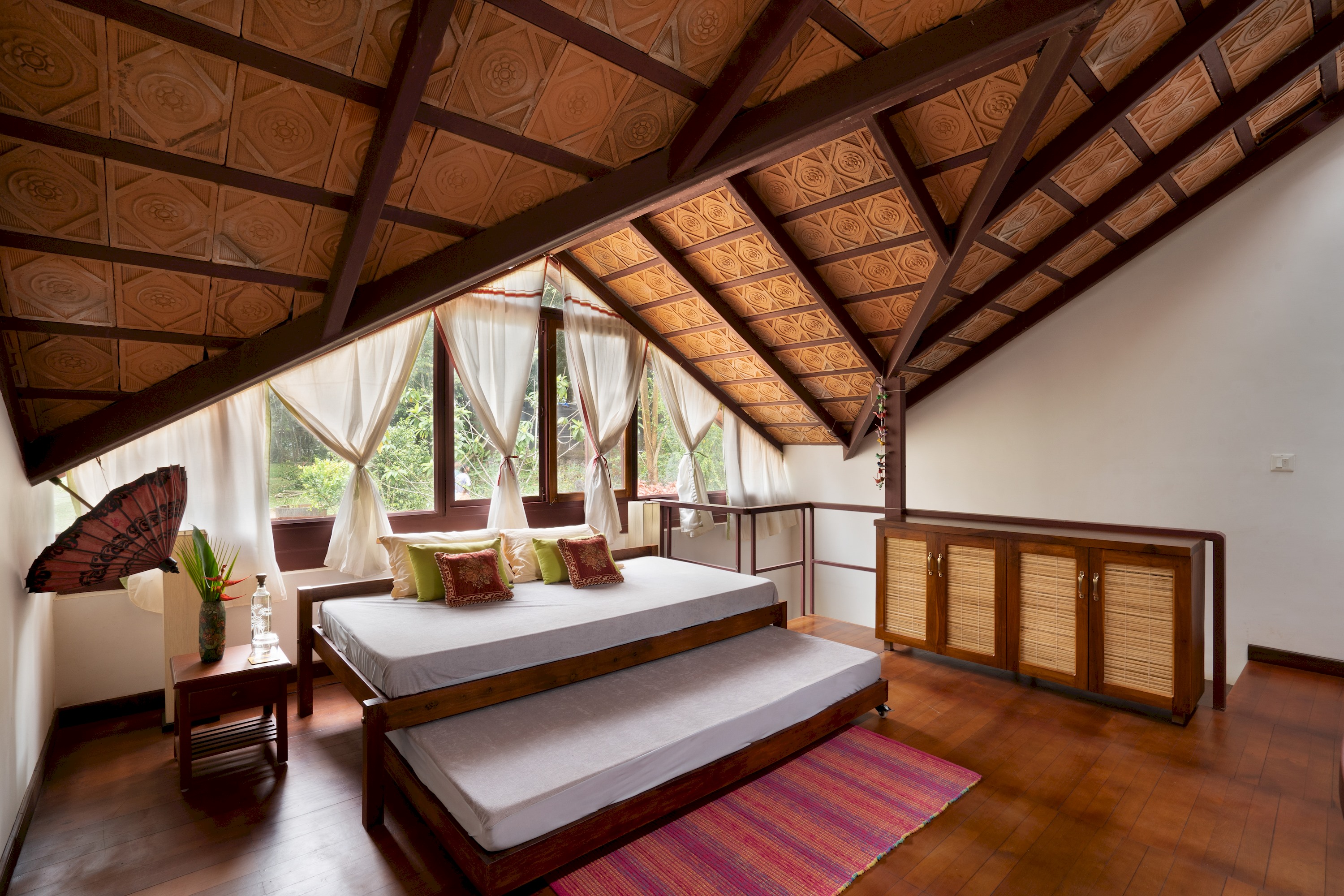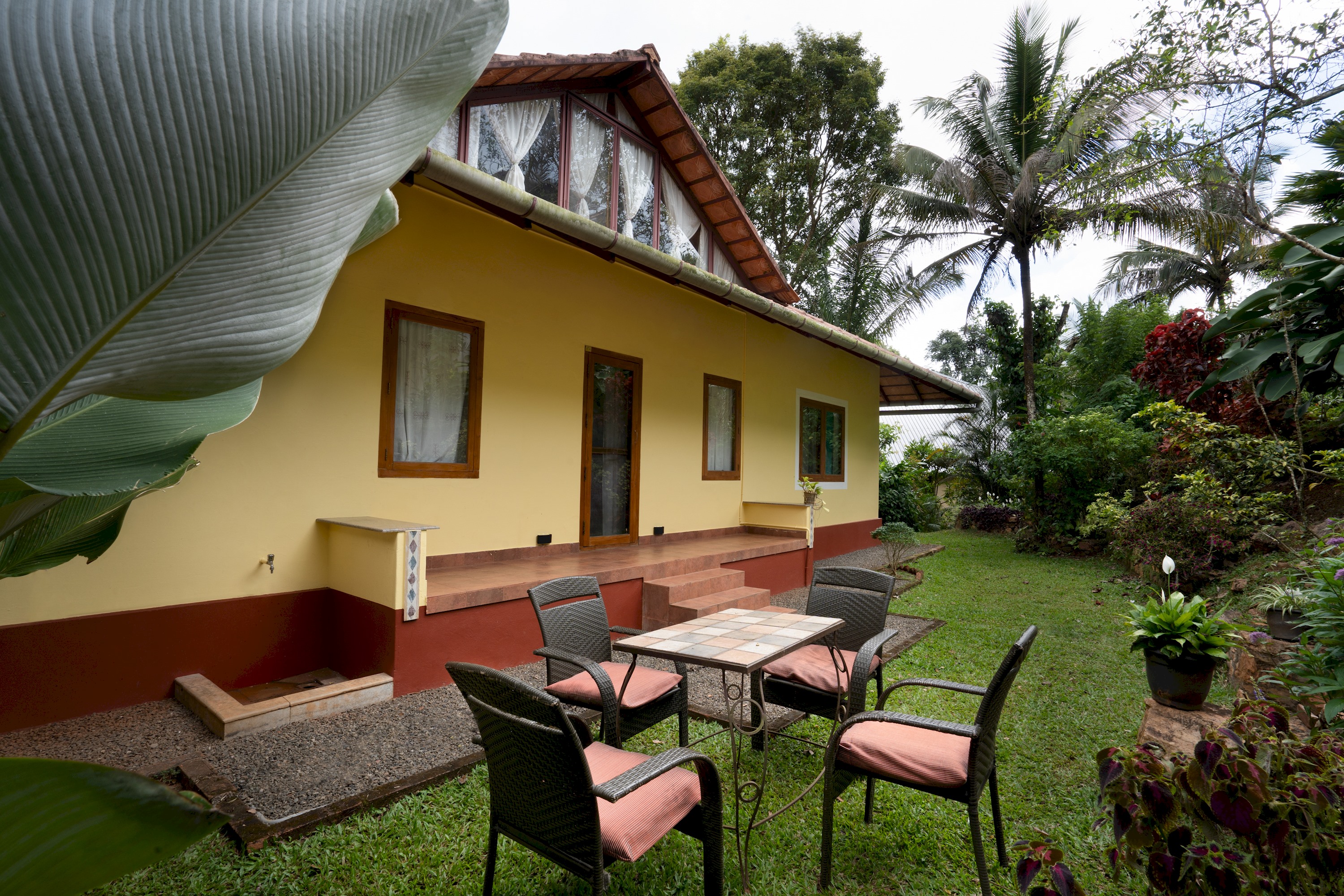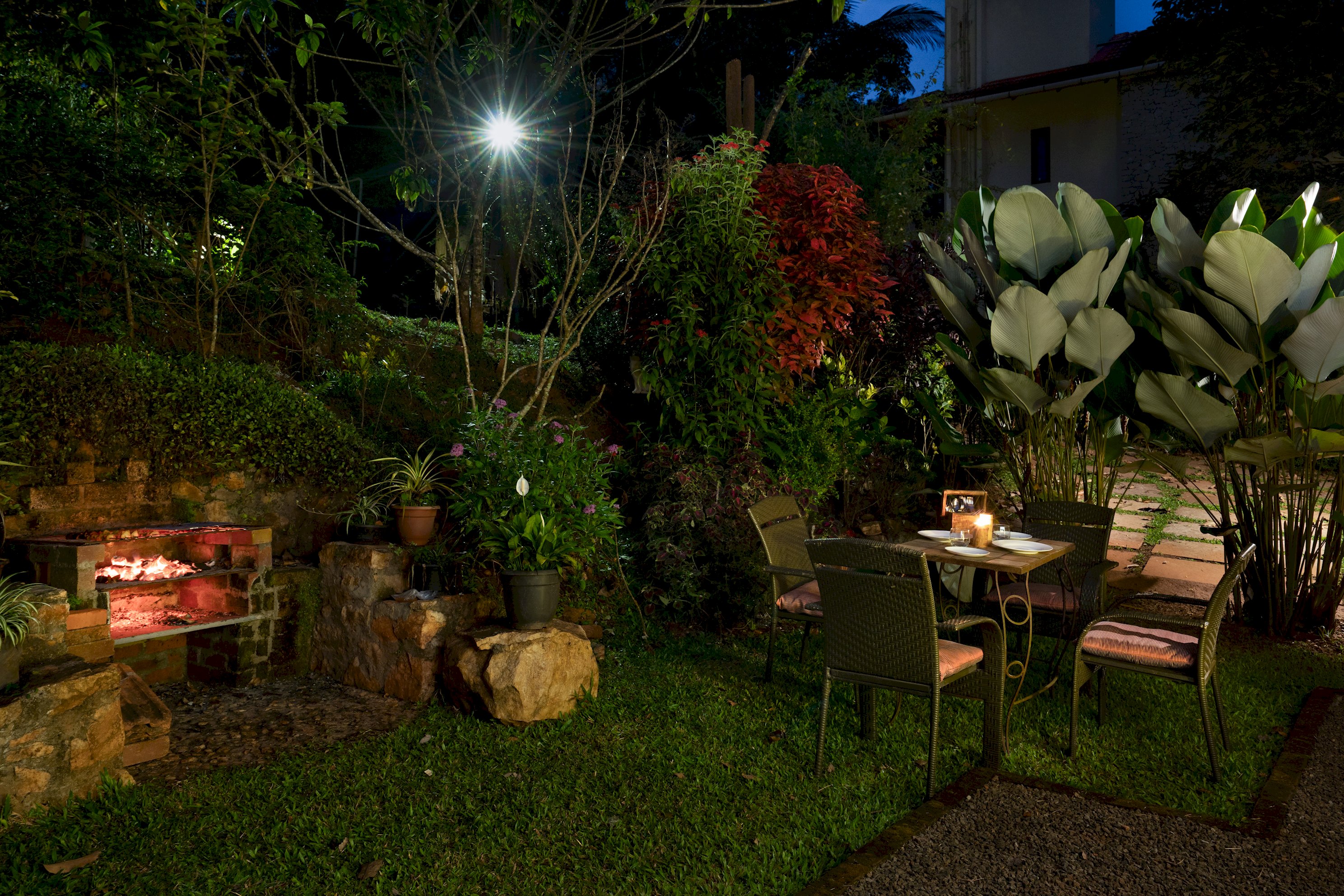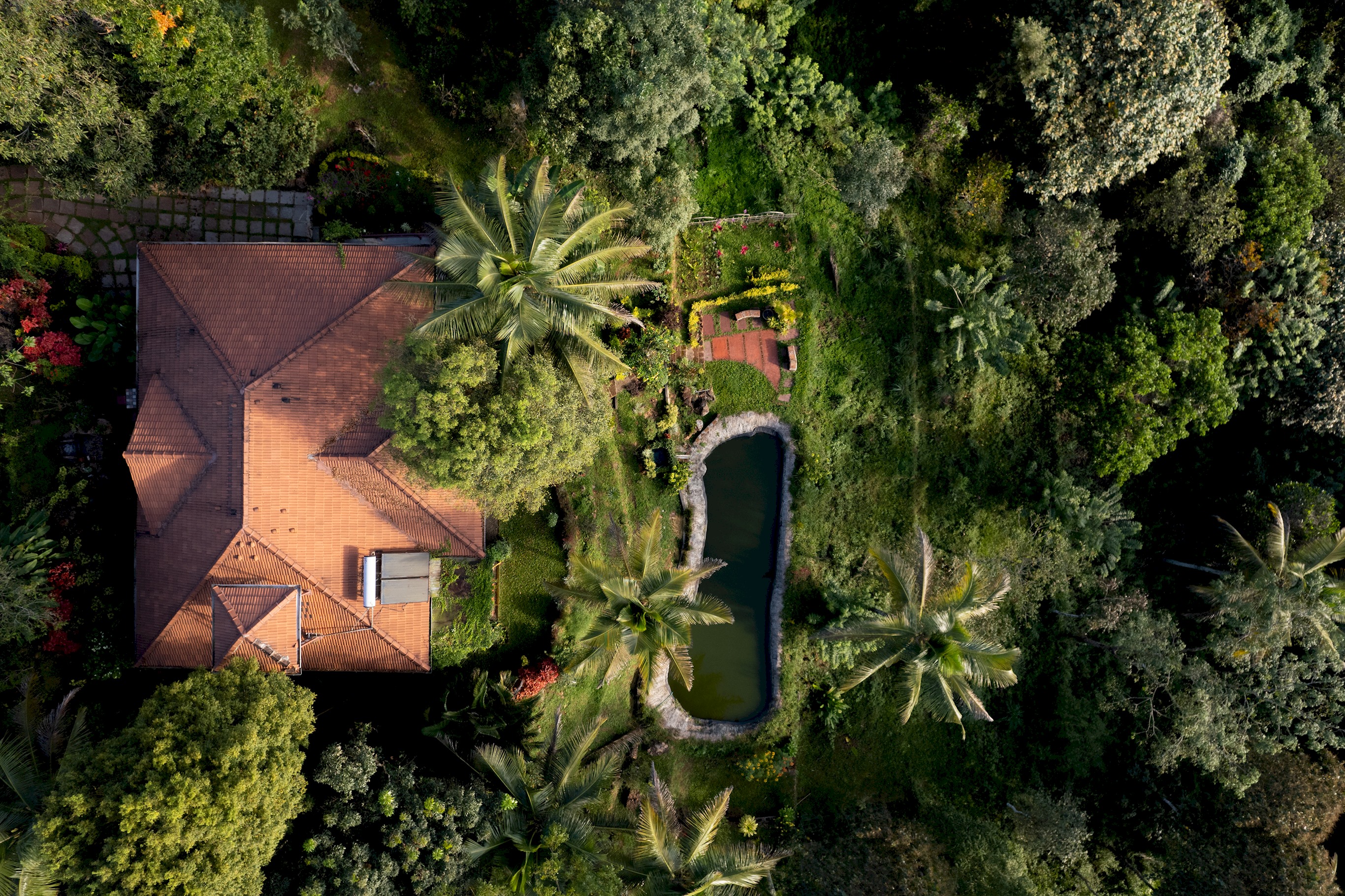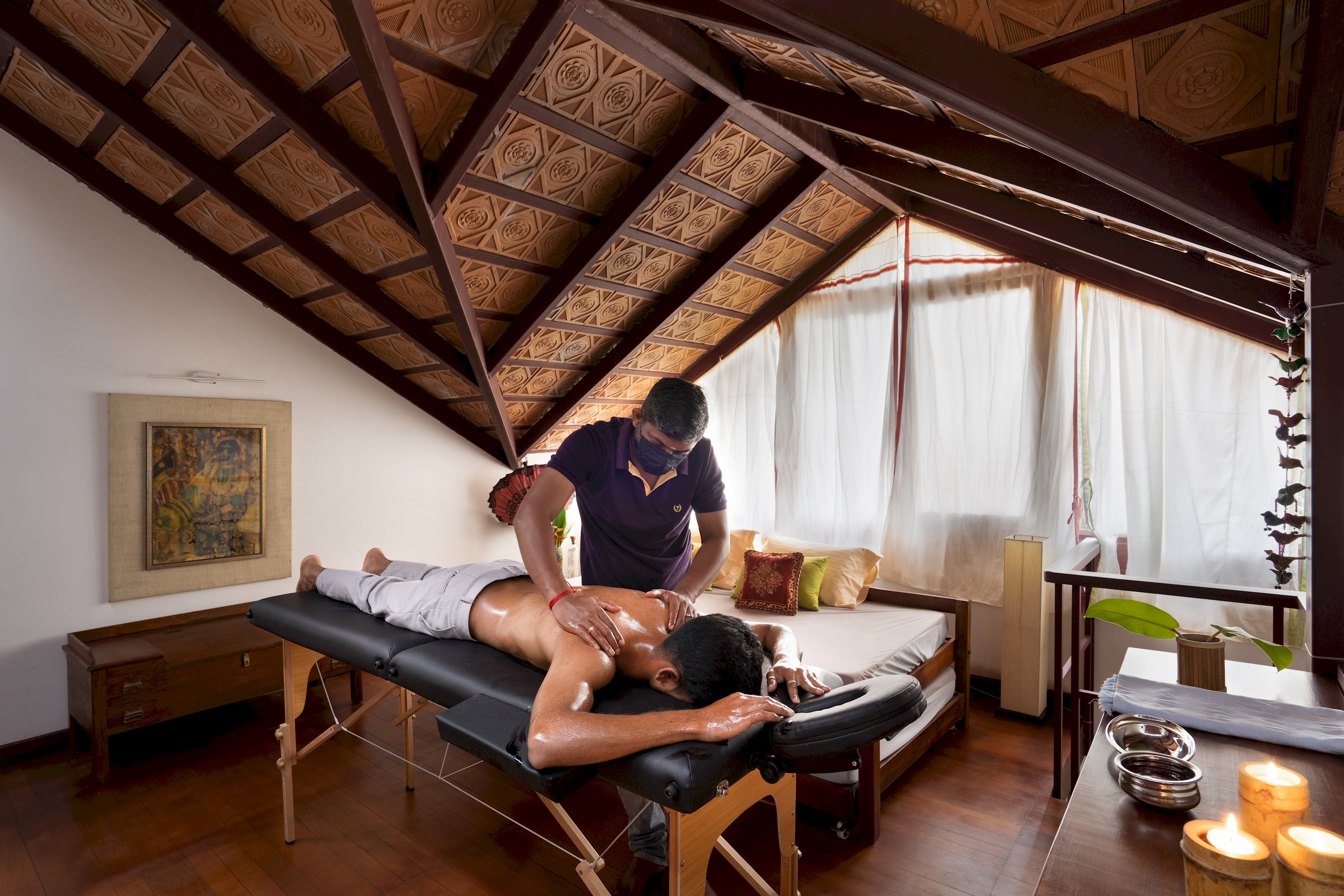 Description
Deja View is a beautiful 2-bedroom plantation-style luxury villa with locally-inspired design and contemporary interiors that makes it one of the most romantic vacation homes in South India. Set on top of a hill in a 14-acre coffee & cardamom plantation in Eastern Wayanad, Kerala, enjoy sweeping and unhindered views of rainforest-clad hills from your verandah. Indoors, an open plan design comprising two tastefully furnished bedrooms and a gorgeous loft make for an intimate holiday
EXTERIOR SPACES
There are four entrances to the house. The main entrance is via the central French doors on the main verandah that lead directly into the living room. On the left is a single door that connects the outdoor dining to the kitchen. On the right, are French doors from the verandah into the Master Bedroom. At the rear of the house, another door leads from the back garden into the TV area of the open plan living-dining-entertainment area.
The piece-de-resistance of Deja View is the verandah that runs along the length of the house on its eastern side. Built-in a plantation style, it has a charming six-seater dining table perfect for sun-lit breakfasts and lazy lunches with stunning forest and valley views. On one side is a day-bed swing and a comfortable rocking chair—both perfectly inviting for a coffee and a good read. Or even better for a snooze.
At the rear of the house is a raised sit-out with comfortable chairs and views of a lovely plant-filled garden and lawn, filled with birdsong. The rear garden has an outdoor grill and makes for a nice evening of drinks and a DIY barbecue.
INTERIOR SPACES
The Living Room has a three-seater sofa set and two elegant single chairs. The north wall has a set of three water colours by Rajeshwar Rao. Elegant art-nouveau lamps from Hyderabad lend a warm glow to the room. The south wall is adorned by a large acrylic painted by the homeowner's daughter.
The 4-seater solid mahogany Dining Table has been designed by a local master furniture maker. Seating consists of two single-seater teak chairs and a bench seat made of a slice of teakwood resting on a wrought-iron frame. The table has been sandwiched cleverly between two carved wooden pillars, salvaged from a demolished Moplah bungalow in Malabar. A lovely place to dine or work.
The Media Nook behind the dining area has comfortable seating with flatscreen TV with an Amazon firestick and Netflix and other OTT channels built-in. All you have to do is log in and catch up on your favourite shows. There is a Caravan music dock with Bluetooth connectivity.
The Kitchen is fully equipped with a 4-burner gas stove, appliances, refrigerator, microwave, oven, toaster, high-grade UV drinking water system and a range of cooking and dining ware.
SLEEPING SPACES
The Master Bedroom is a large space with a gorgeous king-size four-poster bed made in acacia with a tree-of-life inspired headboard design. Elegant Malabari bedside tables adorn the bed. French doors lead directly from the bedroom onto the east verandah. An antique roll-top desk provides a nice workspace. The wardrobes and other storage have facades made of fine bamboo from Uravu. The ensuite bathroom is spacious and luxurious with twin vanities sinks and a separate shower area.
The Second Bedroom has a King Bed made from African padauk, wardrobes and seating with storage and a luggage rack. The walls are adorned with art by Prakash Karmarkar and Rajeshwar Rao. The ensuite bathroom is large and with separate shower area, a dressing area, and a single vanity sink. An additional door leads directly to the living room.
The Loft is located above the TV and dining area and overlooks the living room. The steps are surfaced with upcycled wood and Rajasthani marble inlay. The flooring is all teak and a trundle bed fill one side against the large sloping windows. This is a great space for doing yoga, working, or as a sleeping space for the extra adult or children in your group.
Guests have complete and exclusive access to the entire villa.
The villa is part of a private community set on top of a hill in a 14-acre coffee & cardamom plantation. As it shares the estate with five other residences in a private community, which fiercely maintains their privacy. Guests of Deja View are free to spend time in the immediate environs of the villa, and use the common access road leading to the main gate. Private paths leading to residents' homes are out of bounds.
Wayanad offers gentle walks to more intrepid hikes, cycling trails, rafting and ziplining, visits to temples, art & craft experiences, and petroglyphs at the Edakkal caves. If all of this is too much, just lean back and enjoy your favourite tipple with the warm feeling of Deja View!
HOW TO SPEND YOUR TIME
Go on half-day or full-day expert-guided walks and challenging hikes in Wayanad led by experts on natural history, culture and visual arts.
For more active folks, try out many guided cycling tours led by experts and backup vehicles
Visit the Pozhuthanga Adventure Zone for ziplining and bamboo rafting.
Drive to Sultan's Battery for some history and culture. See the pre-historic petroglyphs at the Edakkal Caves, explore the ruins of a 13th-century Jain temple & browse through the small but excellent Wayanad Heritage Museum. End with a yummy Kerala meal.
Go on a jeep safari in the Wayanad Wildlife Sanctuary either at Tholpetty or Muthanga.
Drive north to Mananthavady and see the ancient Thirunelly Temple & the Panamaram Jain Temple
Visit one of Kerala's best-known non-profits, Uravu, where you can see bamboo converted into a variety of end products. Then enjoy a spectacular meal at one of many great local restaurants.
Set off before sunrise and make the challenging ascent of Chembra, the highest peak in Wayanad
Go on scenic self-drives with a picnic hamper or just light a bonfire at home or enjoy a good BBQ.
Visit a working tea, coffee or spice estate and learn about the history, farming and processing of these agricultural food products.
NEAREST TOWNS
Sultan's Battery (nearest town, local cuisine, temples, cave petroglyphs & museums), 30 mins
Kalpetta (district capital, local cuisine, bamboo craft centre & boating, adventure sports) 60 mins
Wayanad Wildlife Sanctuary (jeep safaris from Muthanga Gate) 60 mins
Mananathavady (hilltown, temple, wildlife) 60min
Closest Major Railhead: Mysore 2.5 hours
Closest Airport: Mysore 2.5 hours; Kannur or Calicut 3 hrs
VILLA INSIGHTS
Wayanad is an ideal place to drive your own car. However, we can organise a car and driver for your airport transfers, and for local use for half a day or full day.
Open-air parking is free and available at the villa.
Please note that there is a refundable security deposit. It will be collected separately by us prior to your arrival after your stay is confirmed.
Villa staff are available only during the day at specific times. No staff is permanently on-site.
Food is not included in the villa rental. Cooking services are offered – homestyle Kerala cuisine only.
Power back-up is for all lights, fans, WiFi using UPS and battery. Geysers, refrigerators and high-power utilities are not connected to the back-up power.
Sleeping spaces are fan-cooled. Temperatures range from 15 deg C (min) – 28 deg C (max) during Sep to mid-Mar and from 20/22 deg C (min) – 26/33 deg C (max) during mid-Mar to Aug.
Laundry services are available on-site for washing and drying only. Ironing will be on self-service
No staff or driver accommodation is available at the villa or on the estate. Outside lodgings available 5 minutes away.
Estate main gates are locked between 7 PM and 7 AM. A set of gate keys will be handed over to you on arrival. Please lock the gate after yourselves.
Watch out for wild animals while driving, and for critters/jungle insects on the estate. Don't leave food outdoors. Keep screen doors shut at dusk.
The estate has two friendly dogs and several cats that wander about and might visit you on the verandah.
Rules & policies
Check-in: 14:00
Check-out: 10:00
Payment with: Cash; Bank transfer; Credit card; Other method;
Cancellation Policy
From 0 to 59 days before arrival charge 100.00 % of total booking amount
From 60 to 365 days before arrival charge 50.00 % of total booking amount
Please contact the landlord regarding your check-in before your arrival.
Wayanad
Interesting places near the property:
Kalpetta
60.00 minutes
Kannur or Calicut Airport
94.00 km
Mananthavady
60.00 minutes
Muthanga Wildlife Sanctuary
60.00 minutes
Mysore
125.00 km
Sulthan Bathery
30.00 minutes
Deja View
673592 Wayanad, Kallurkunnu GST Route Elamala Estates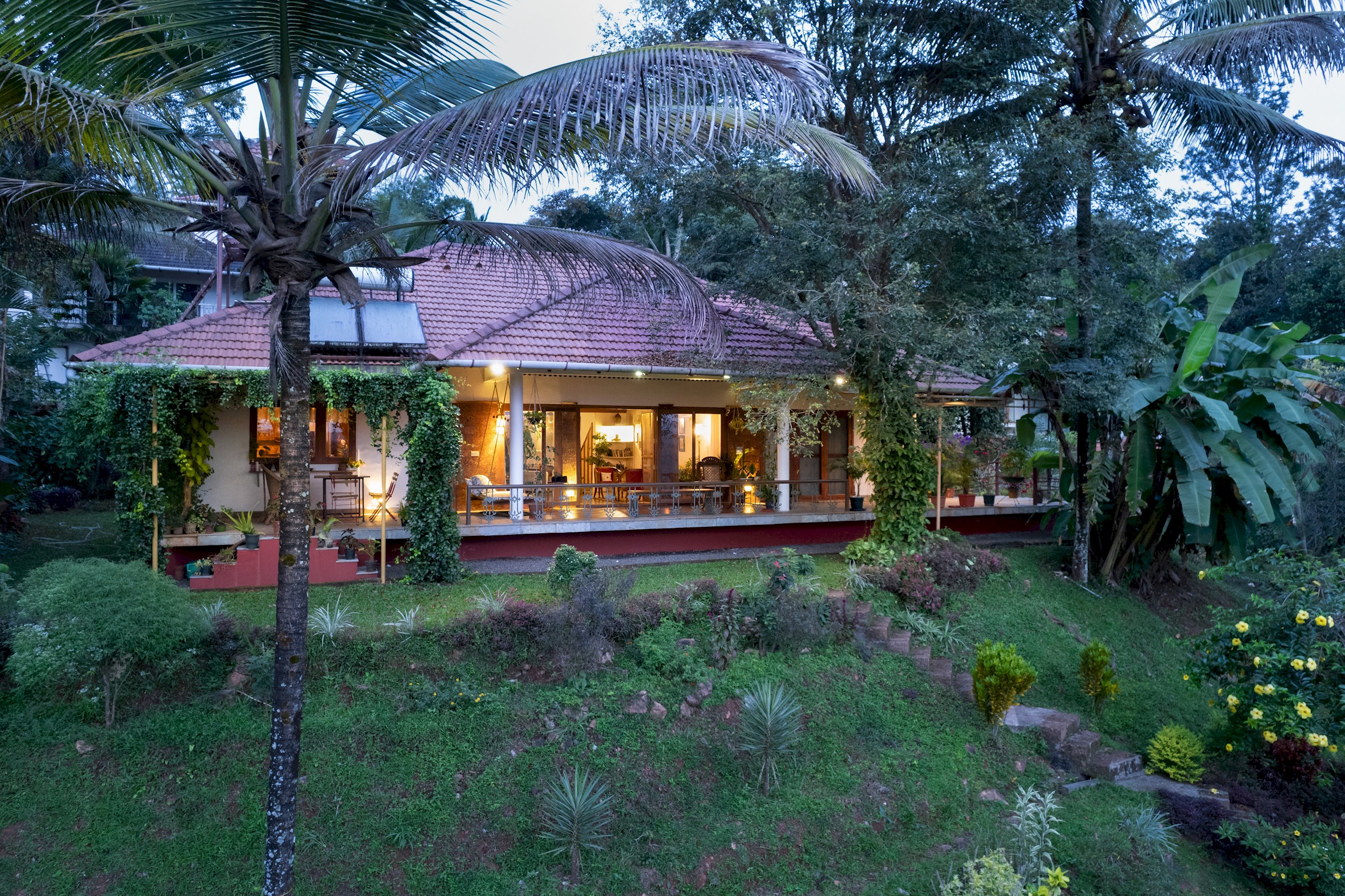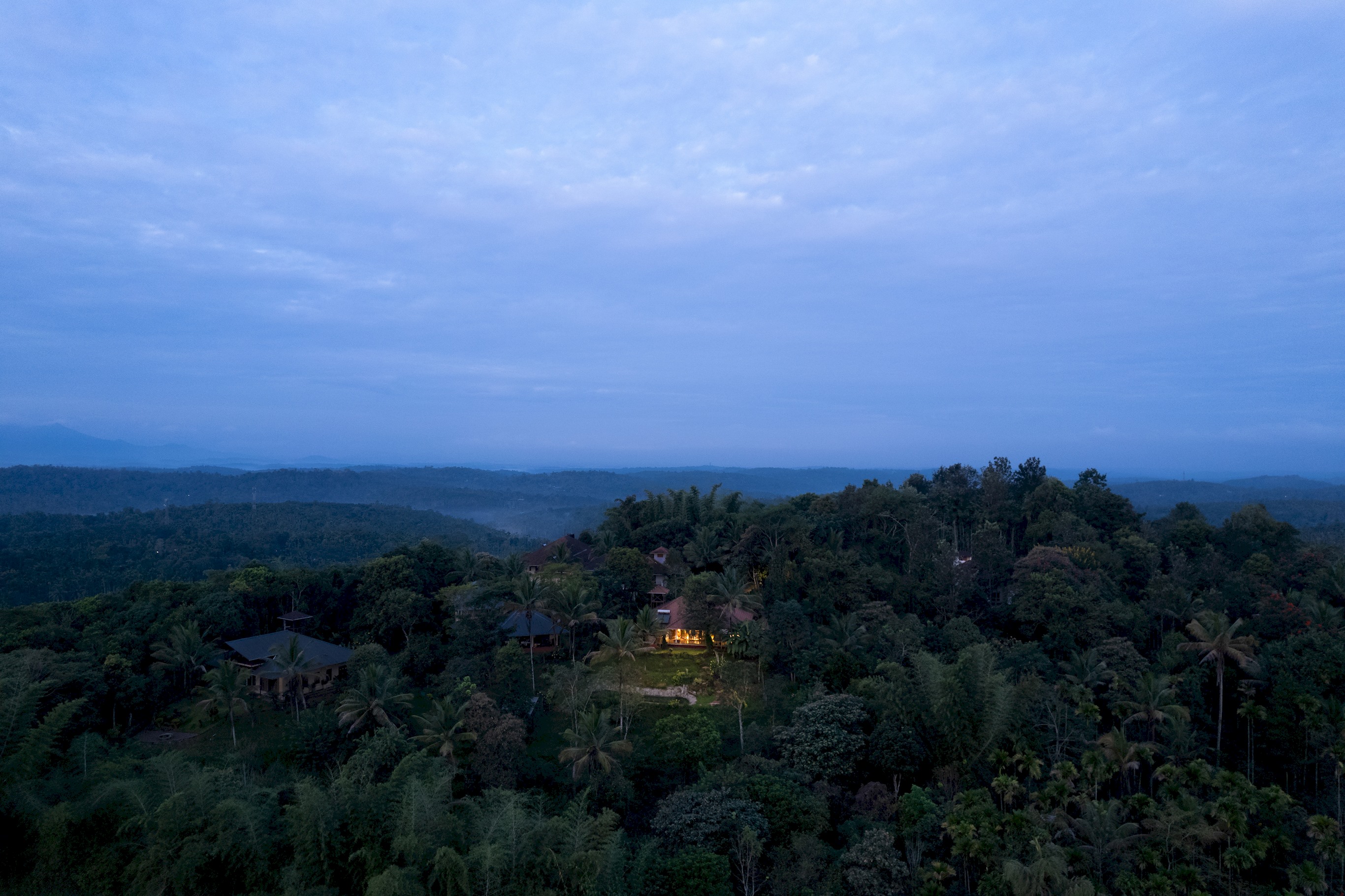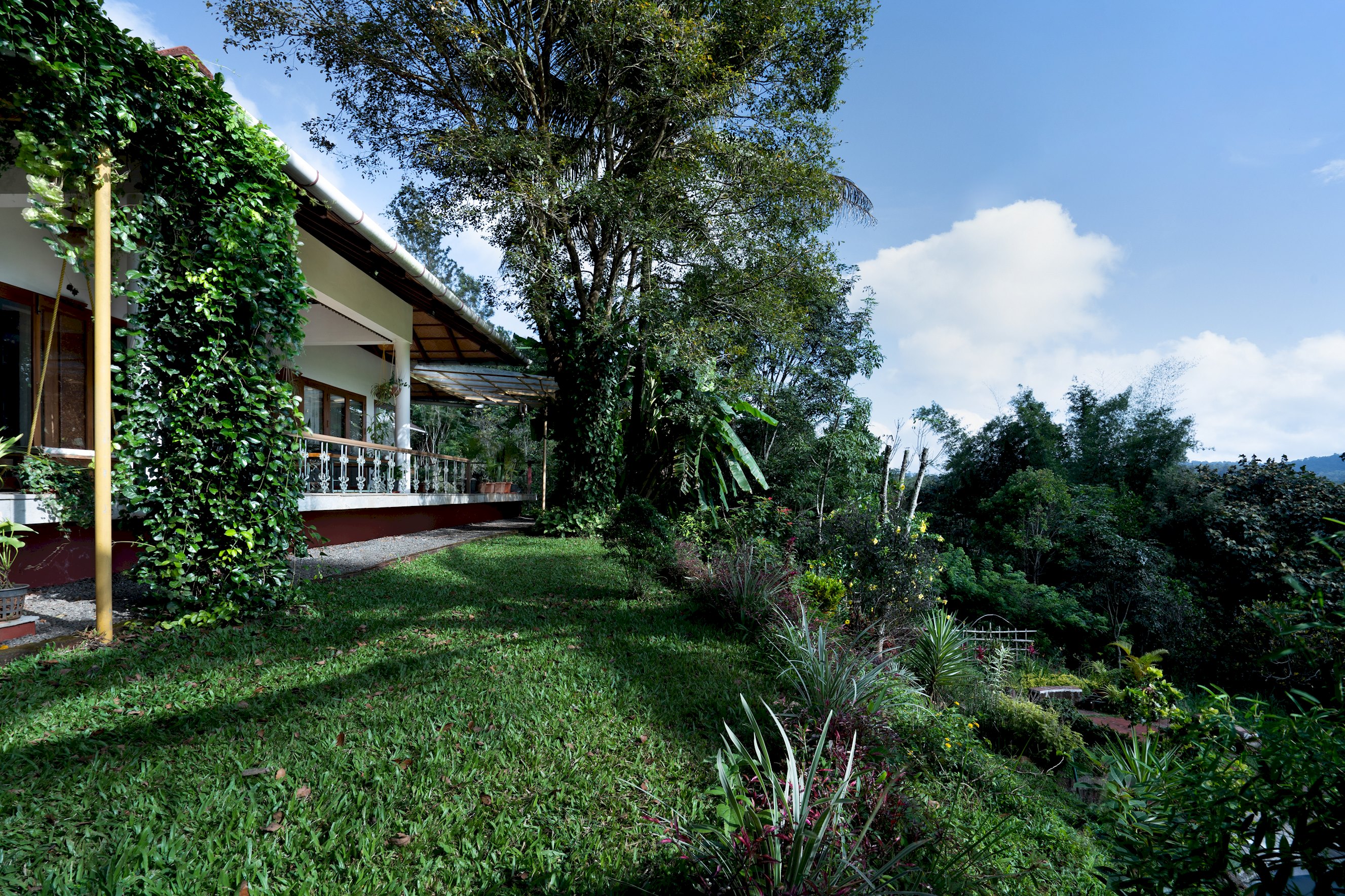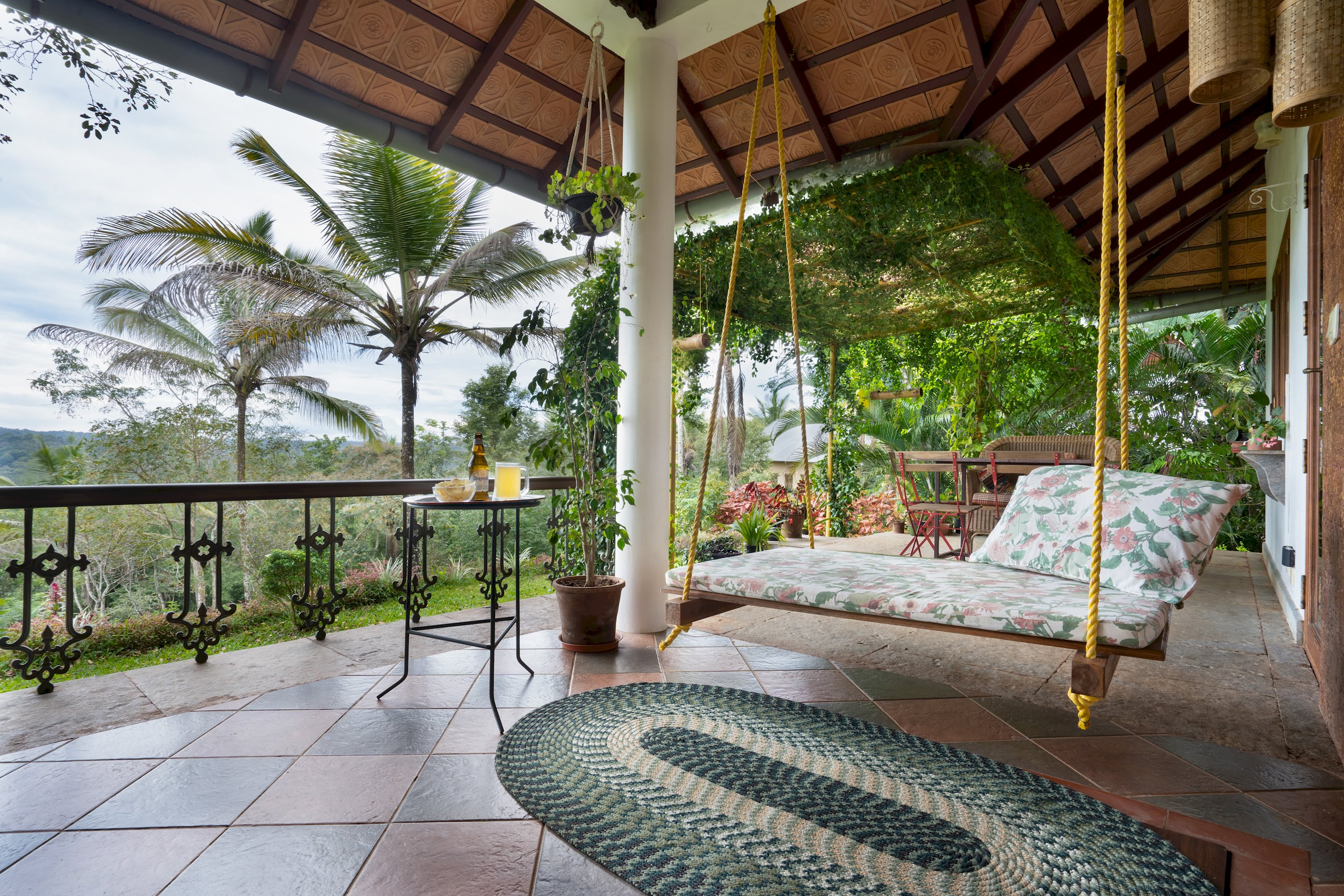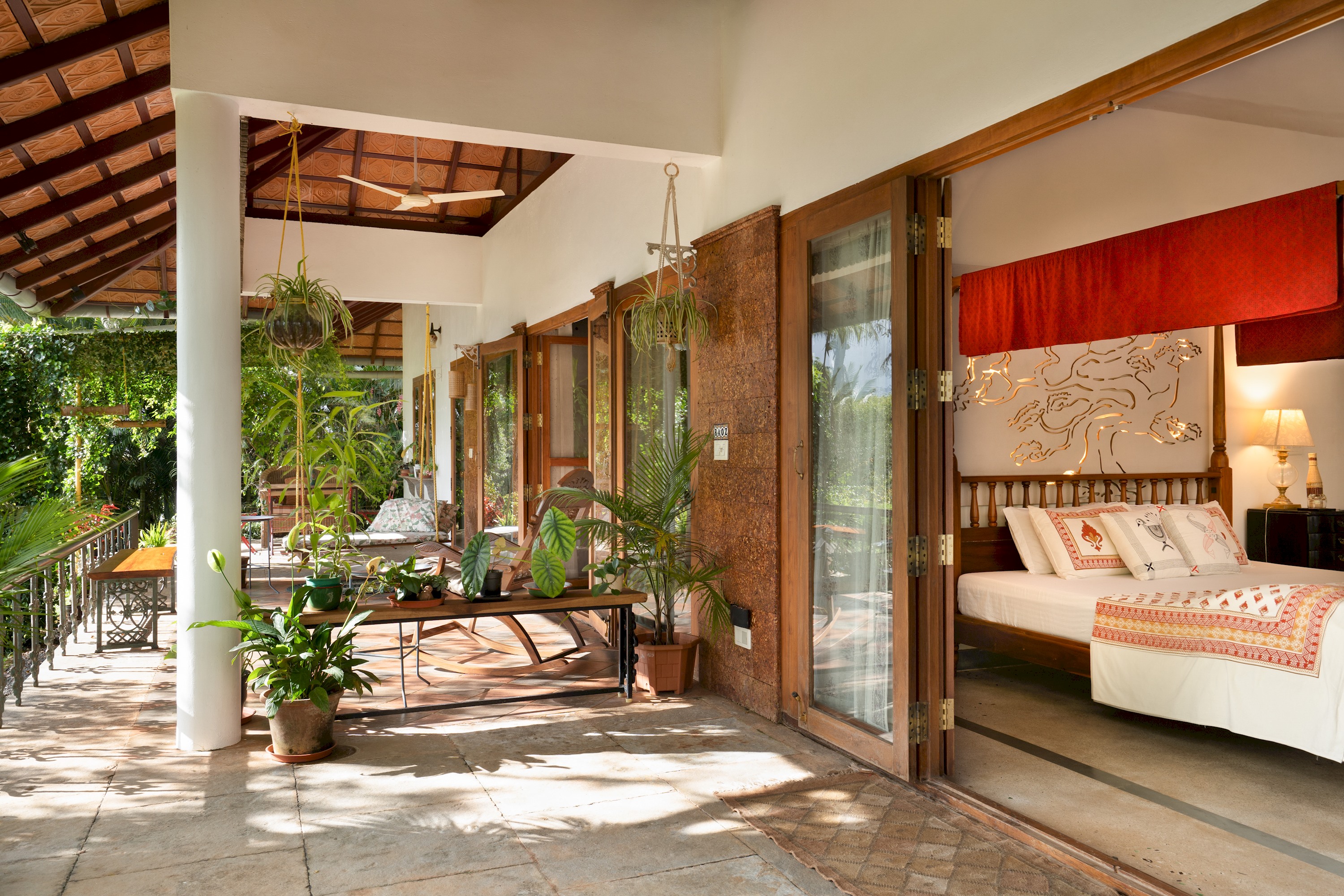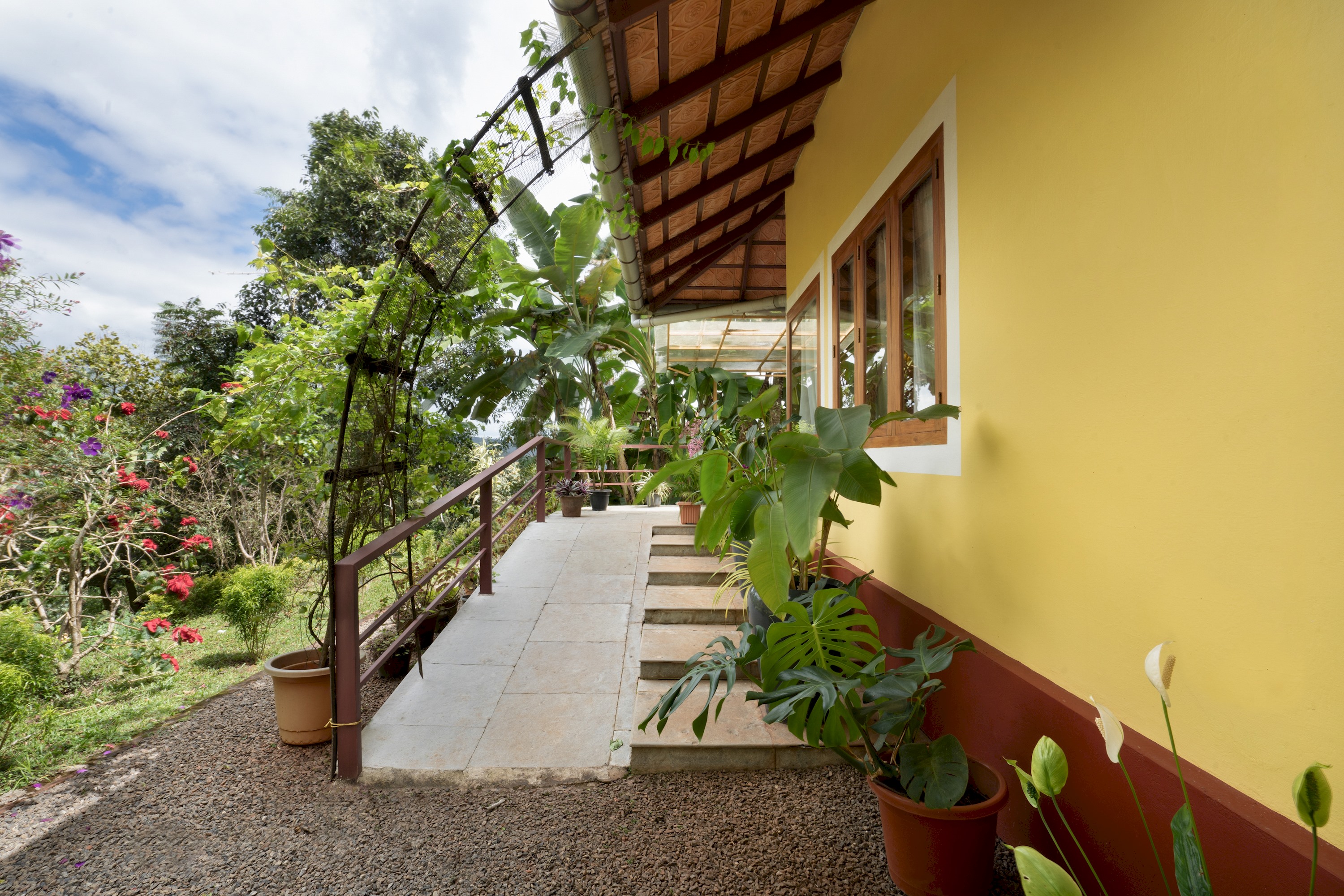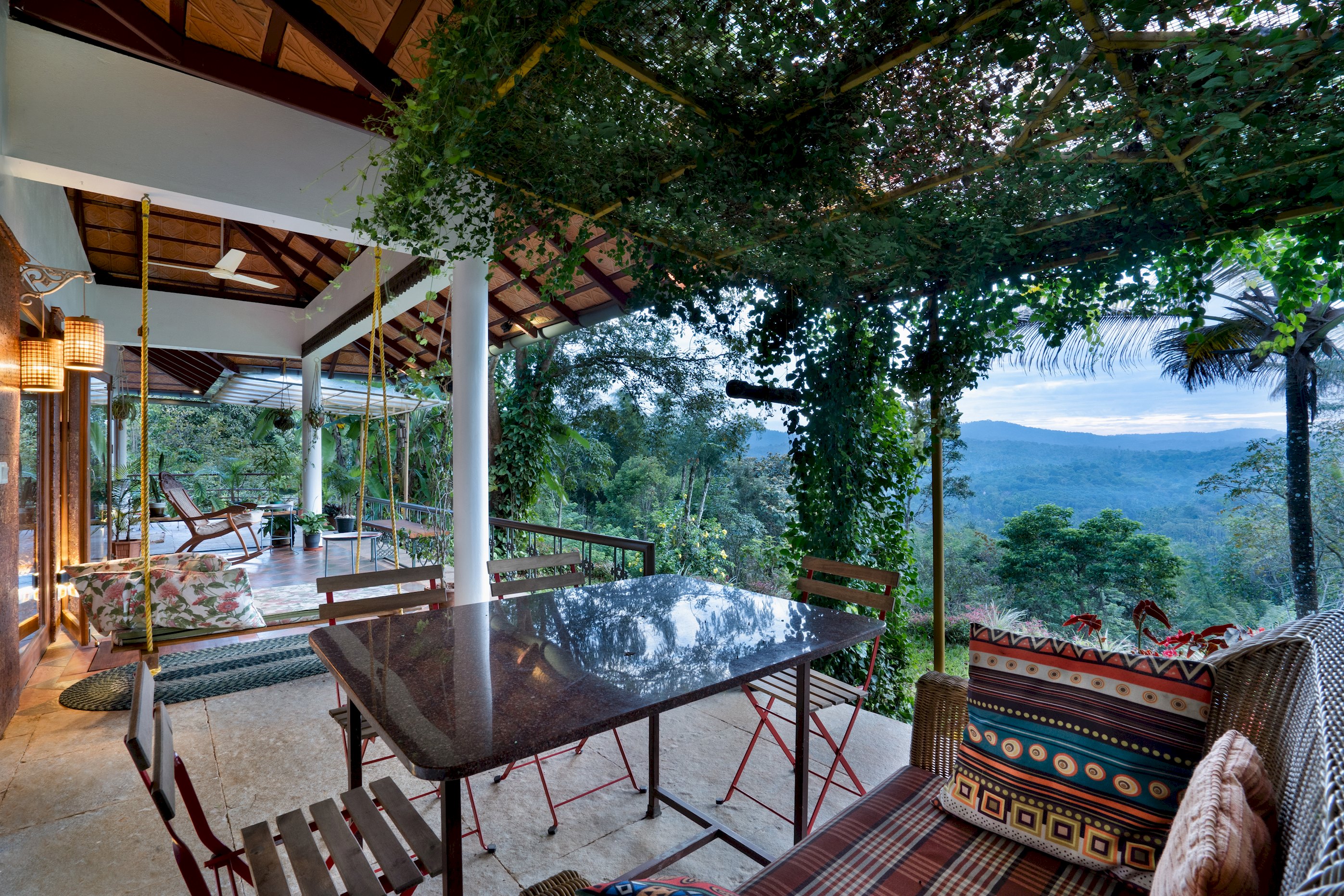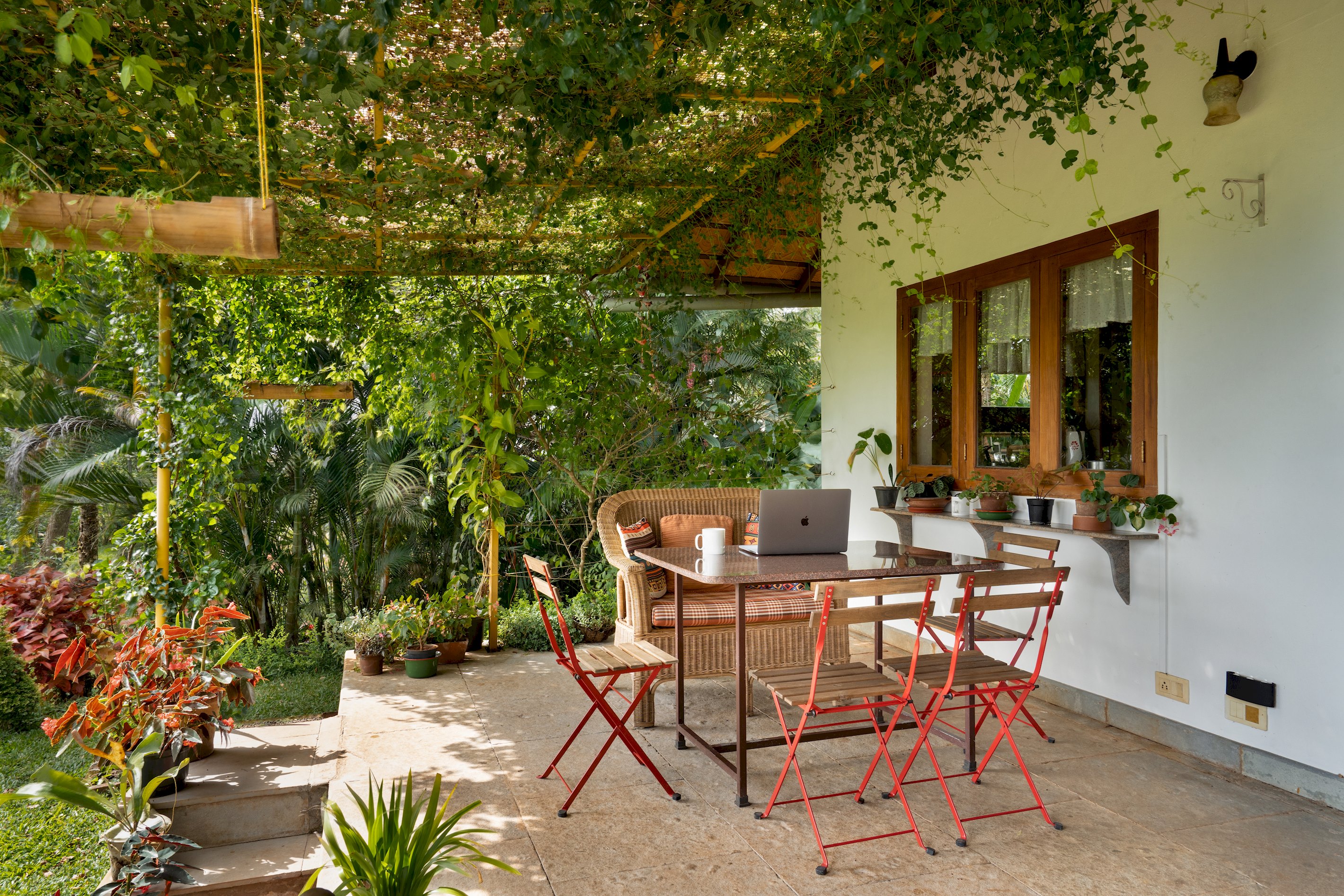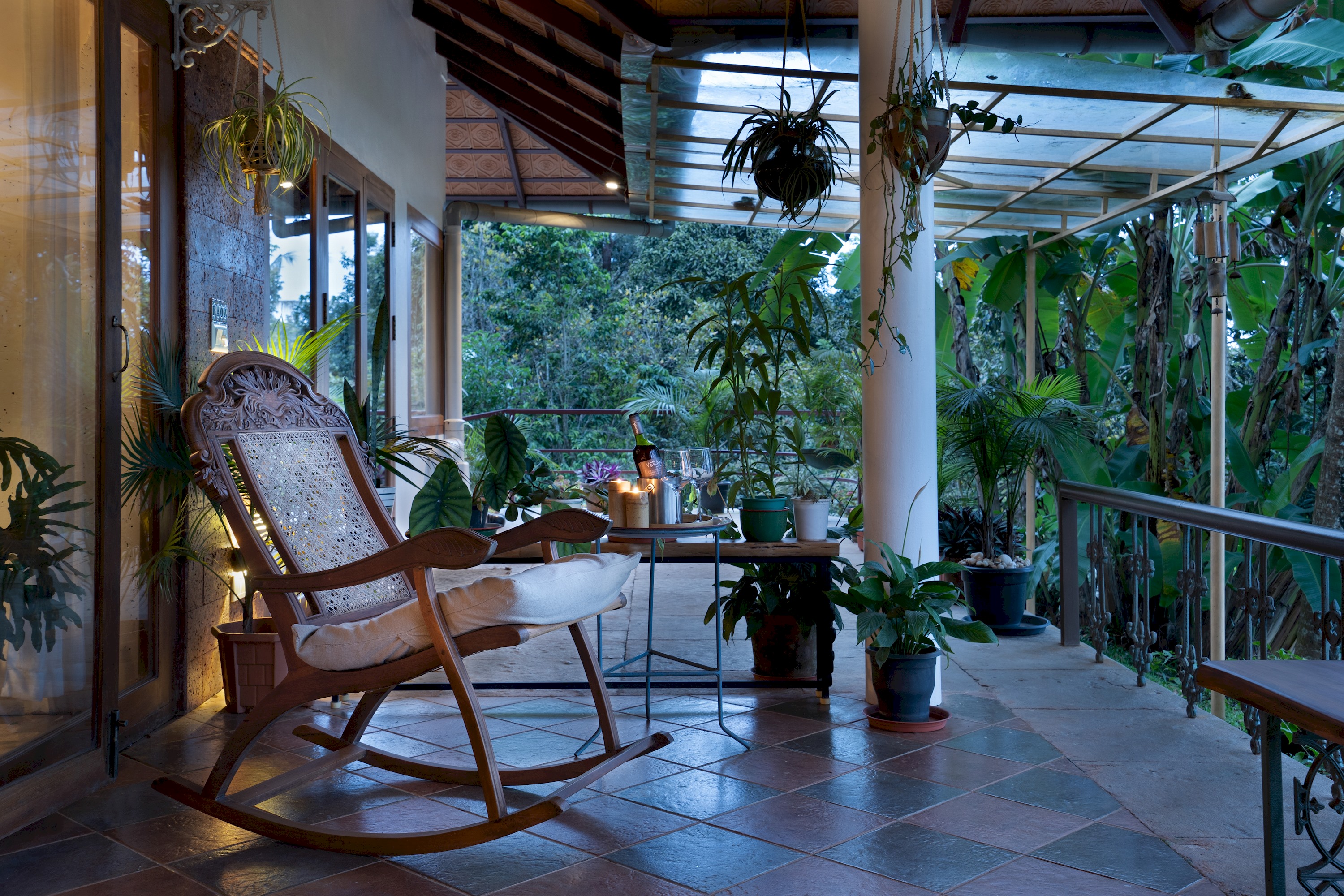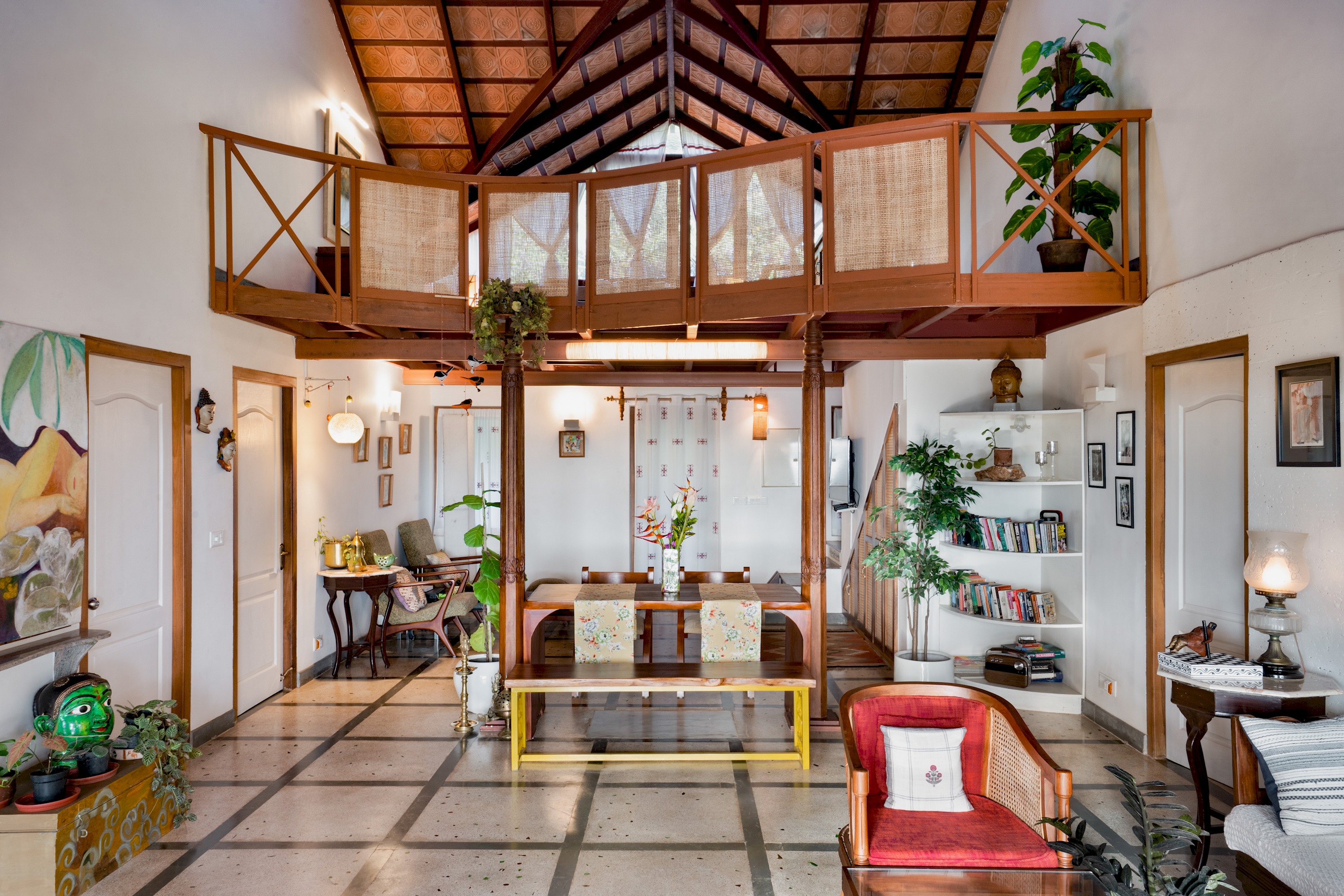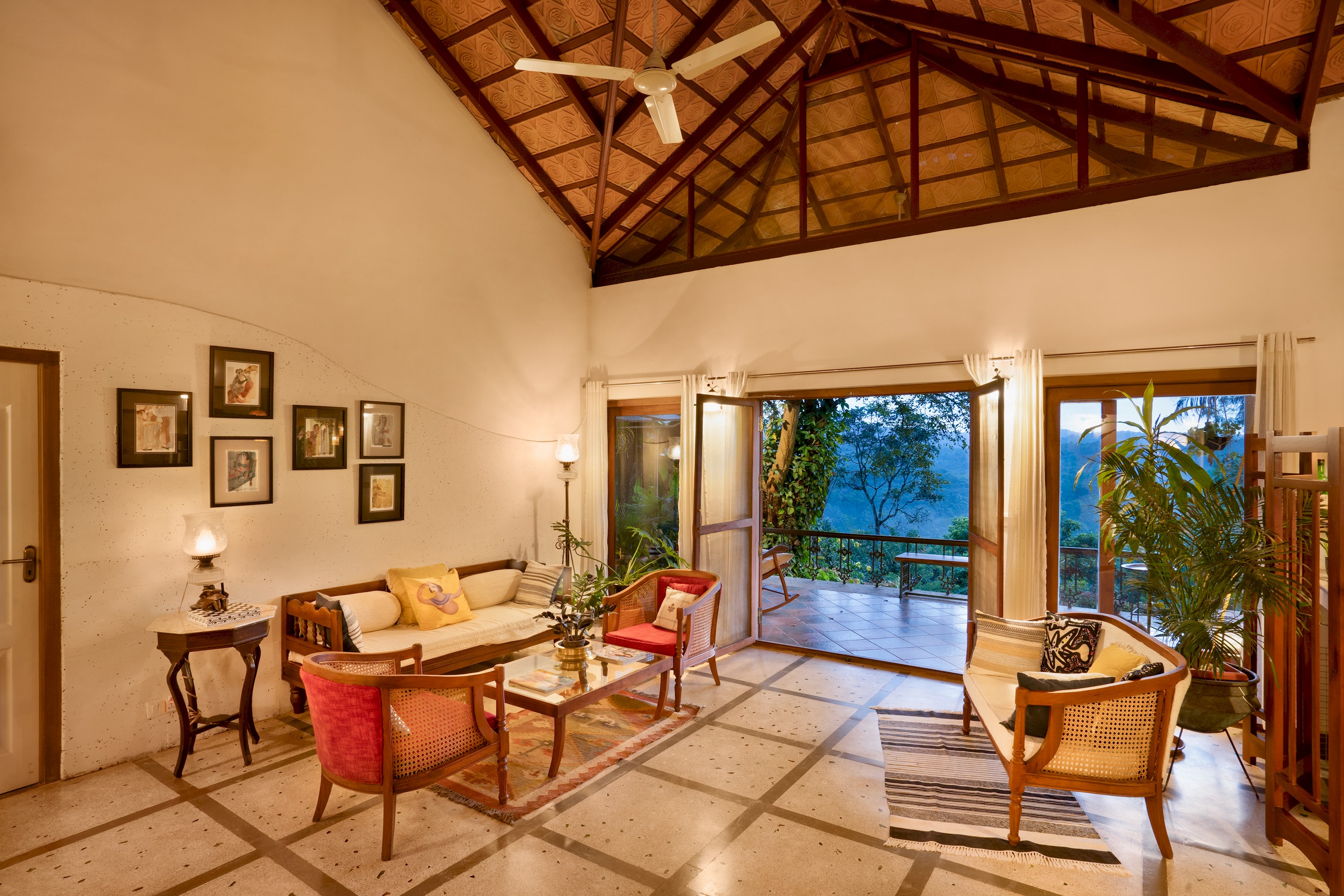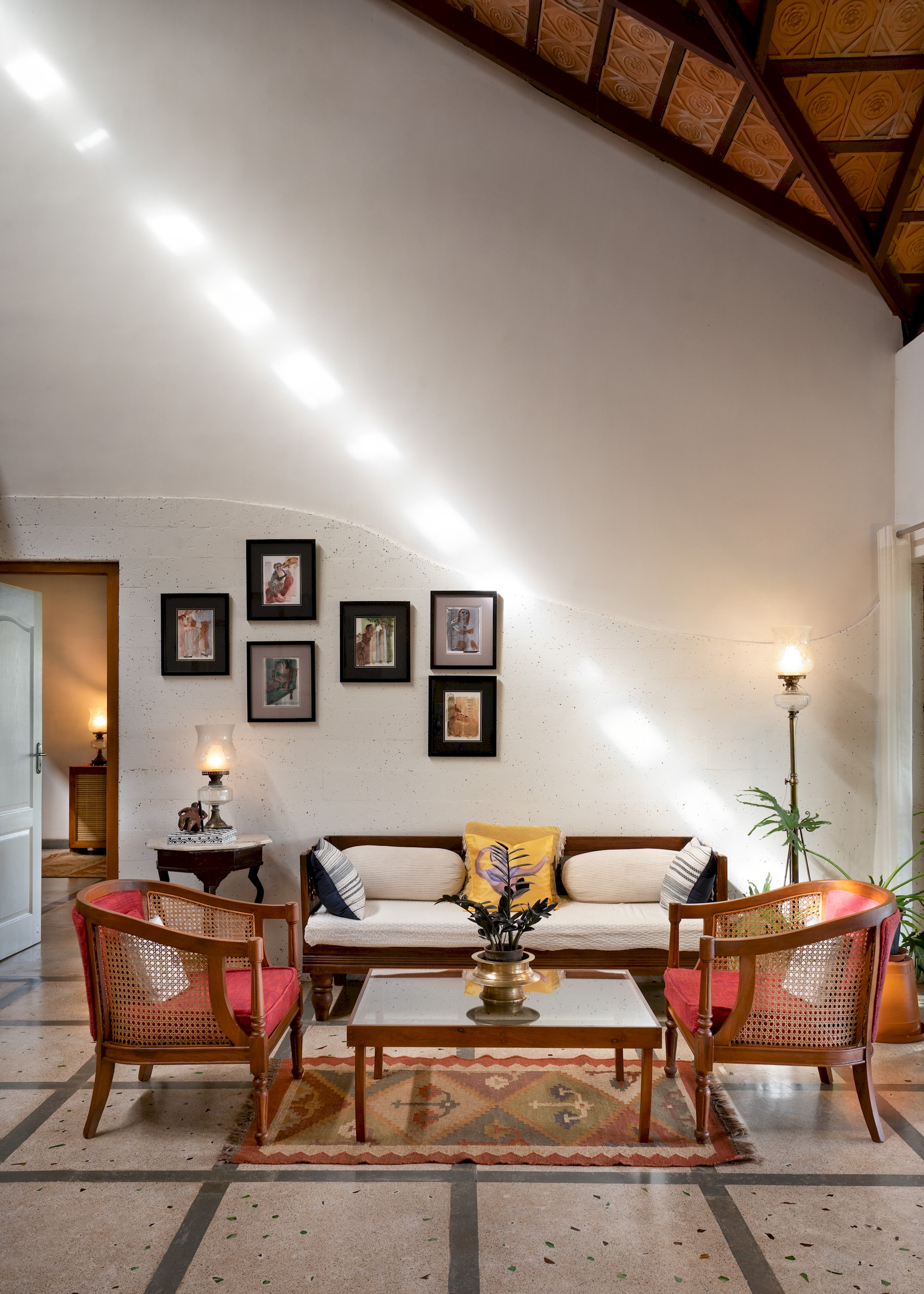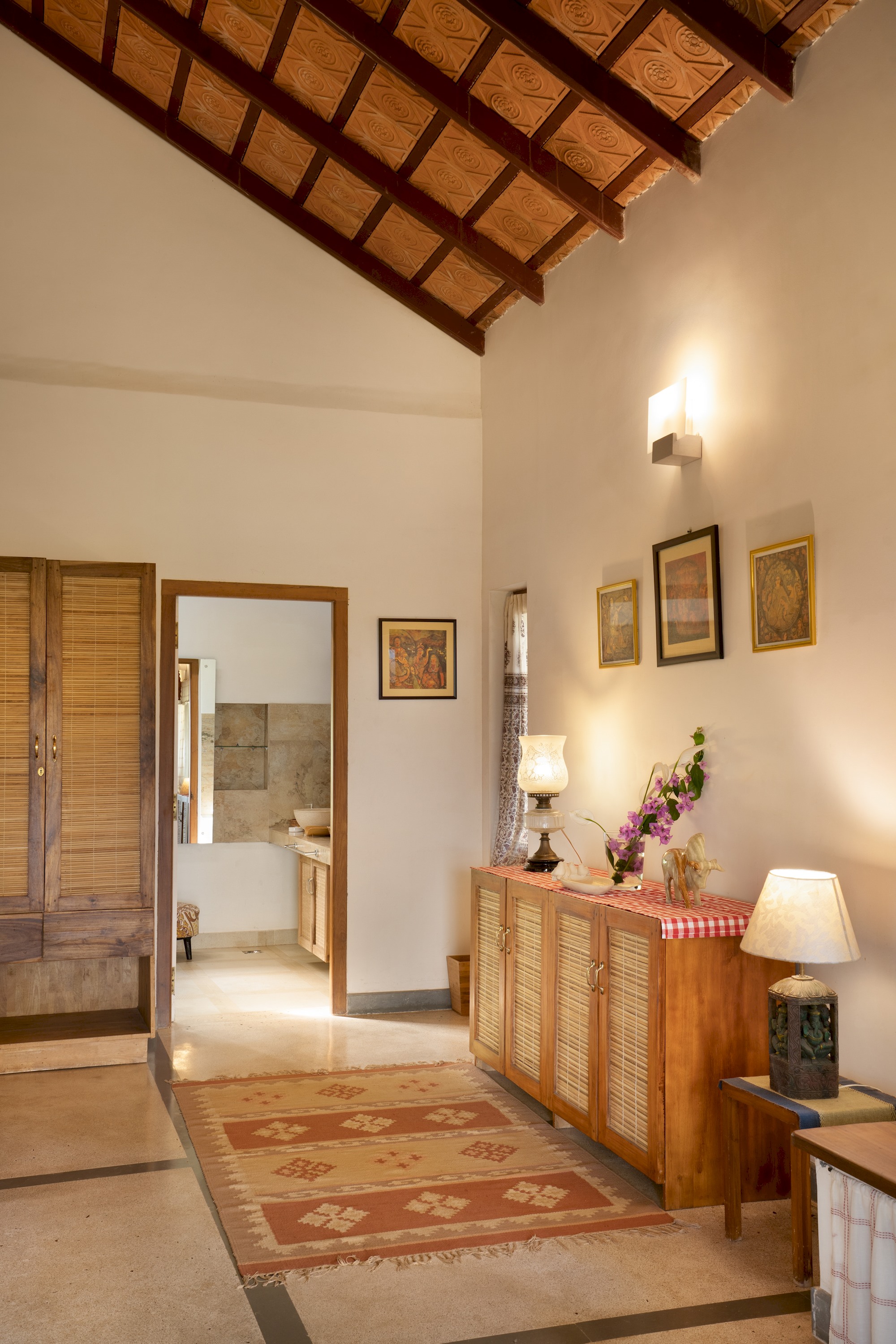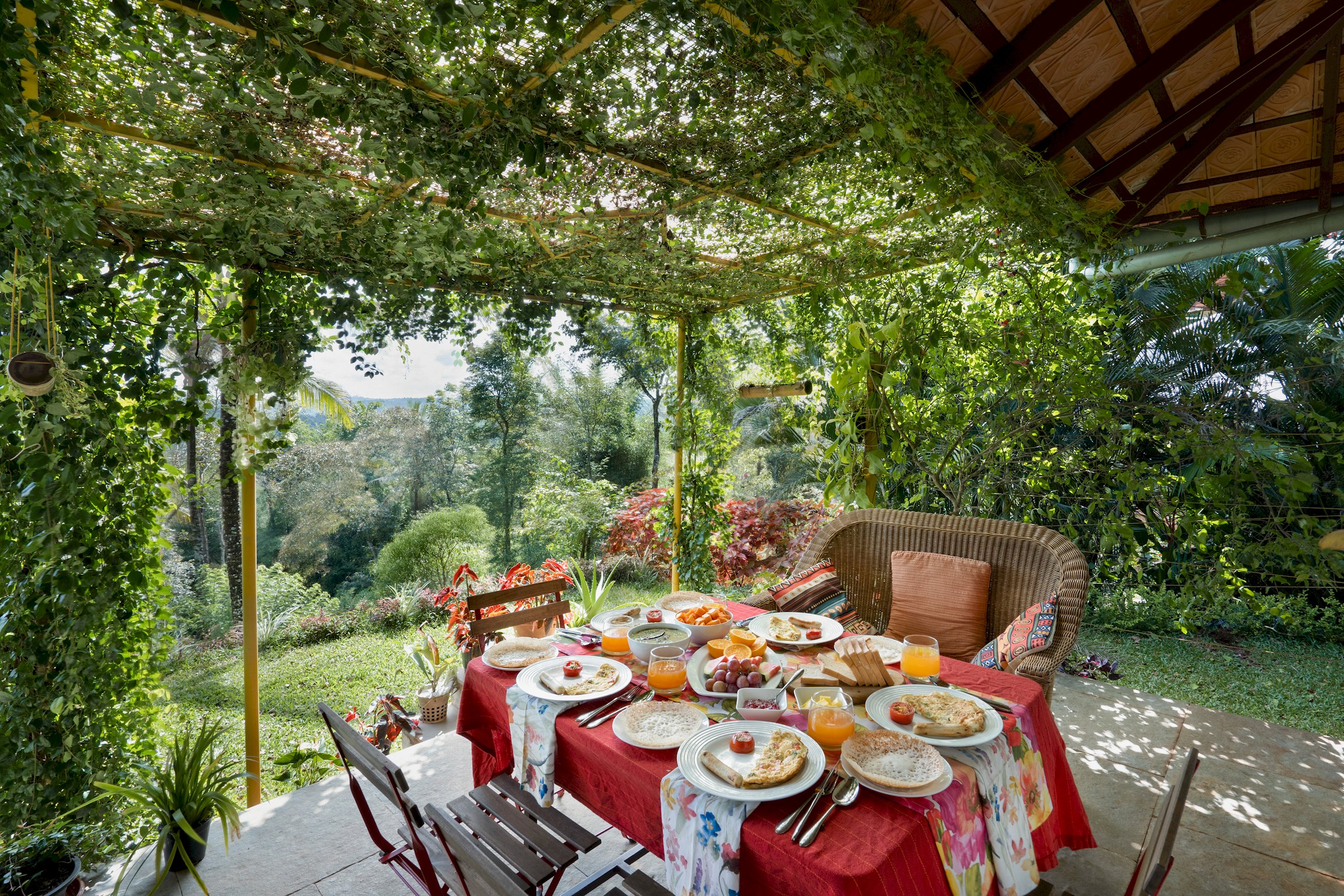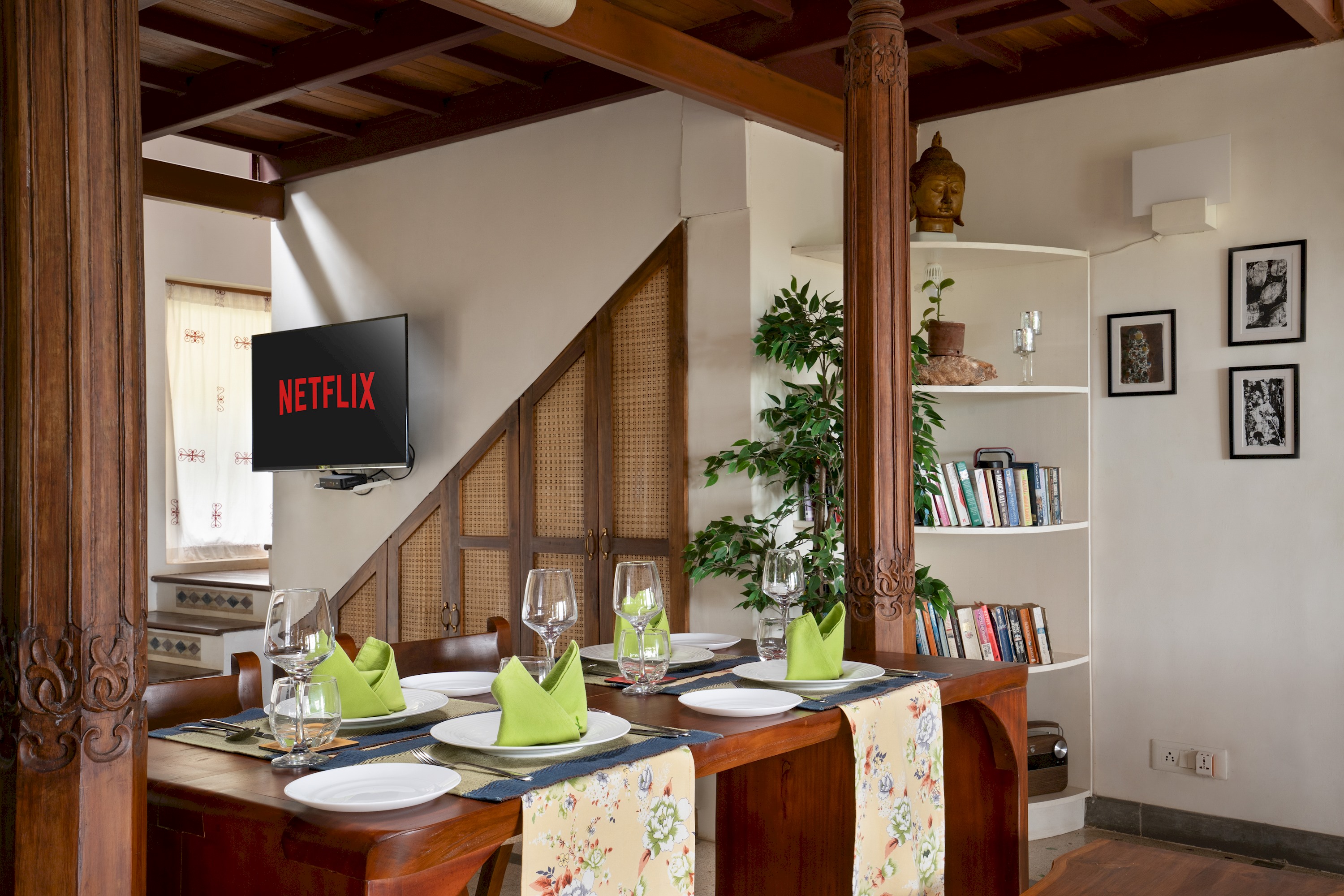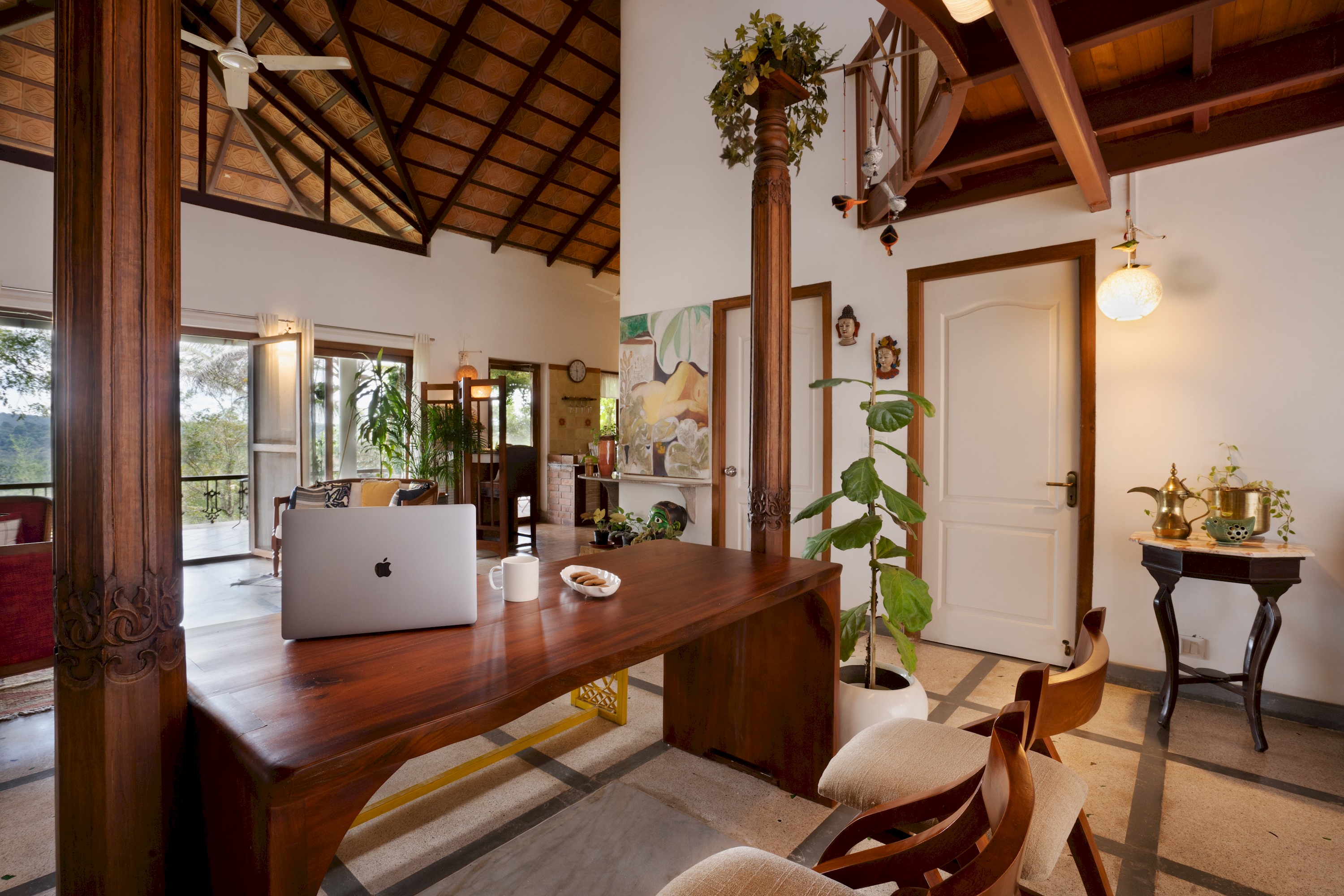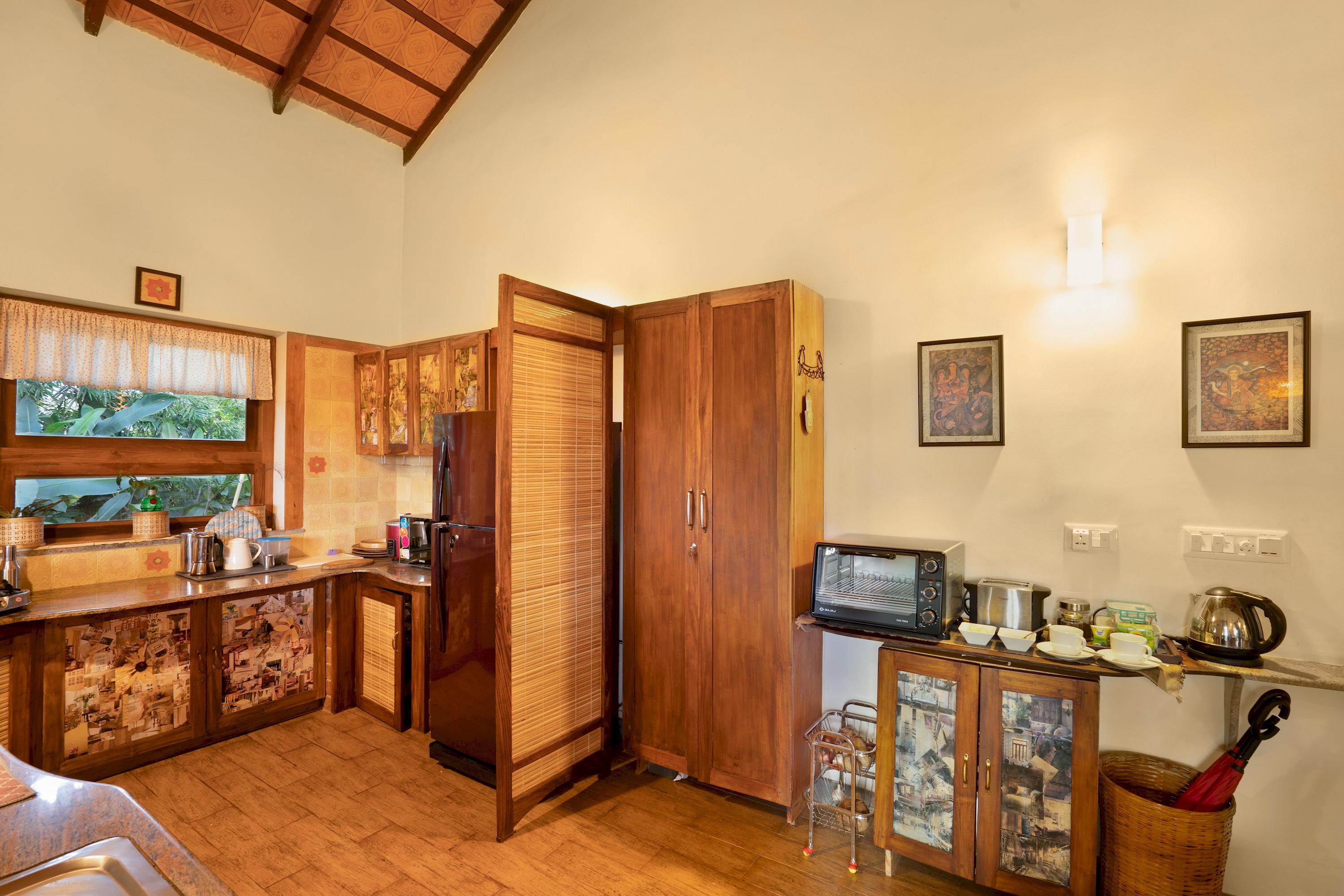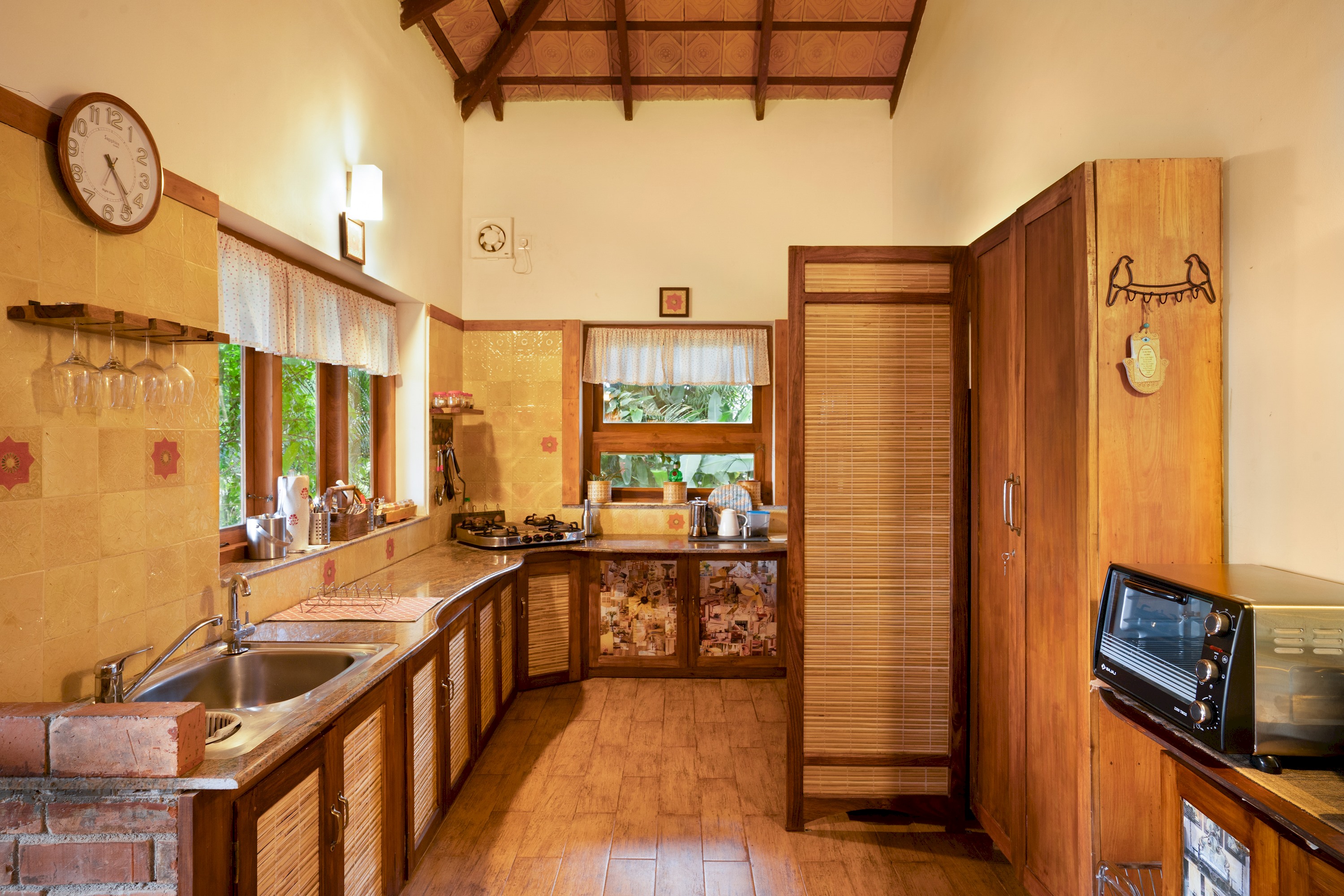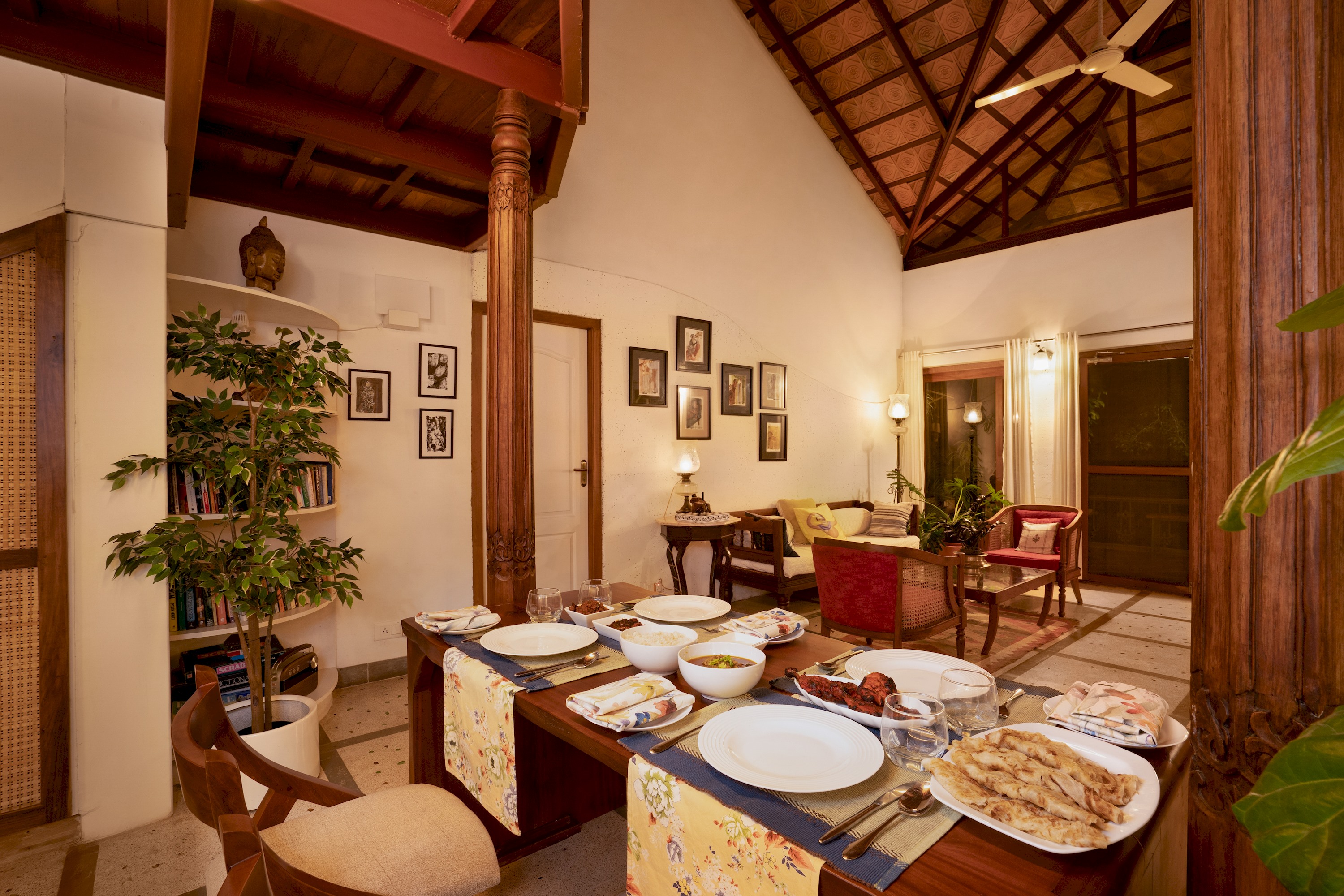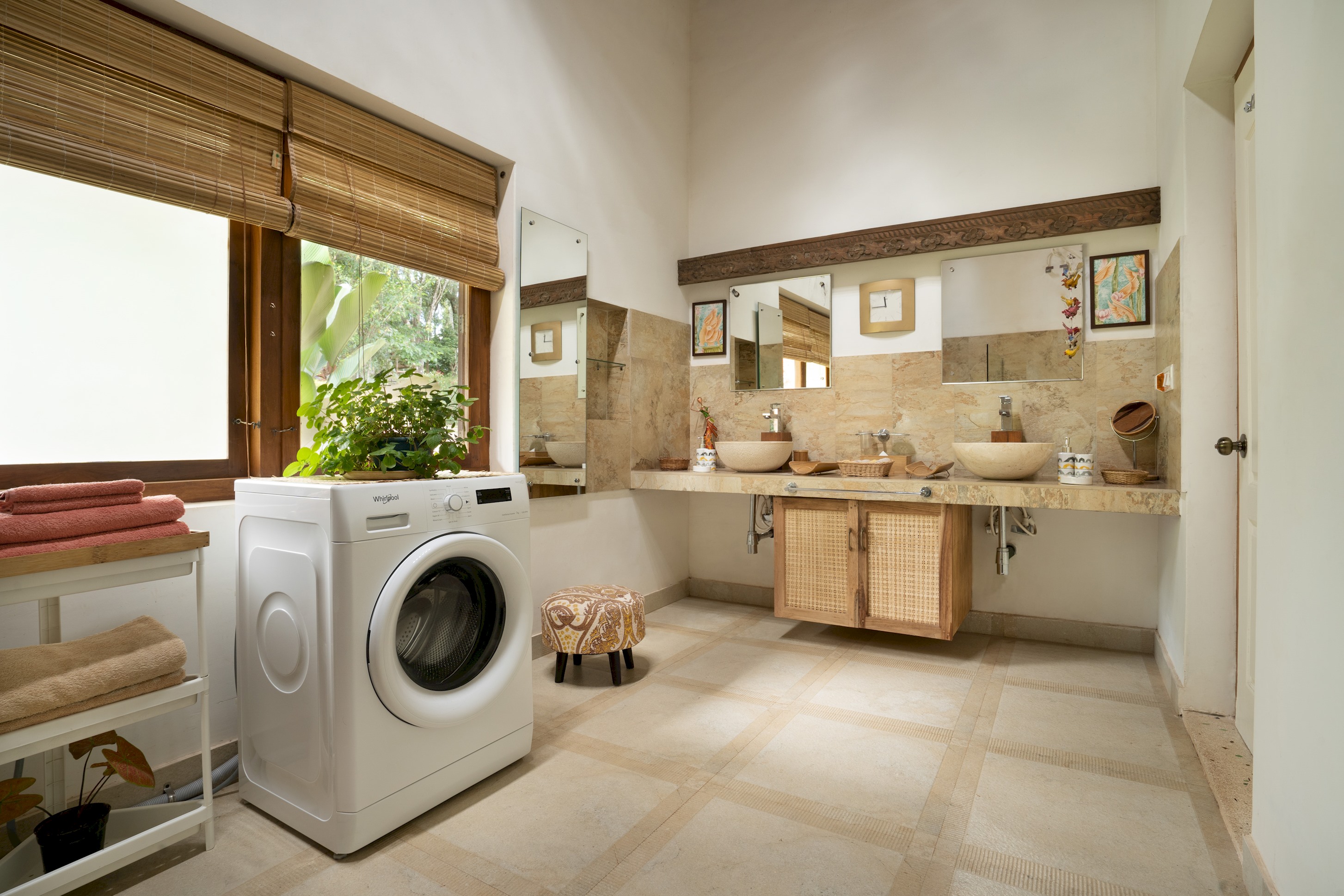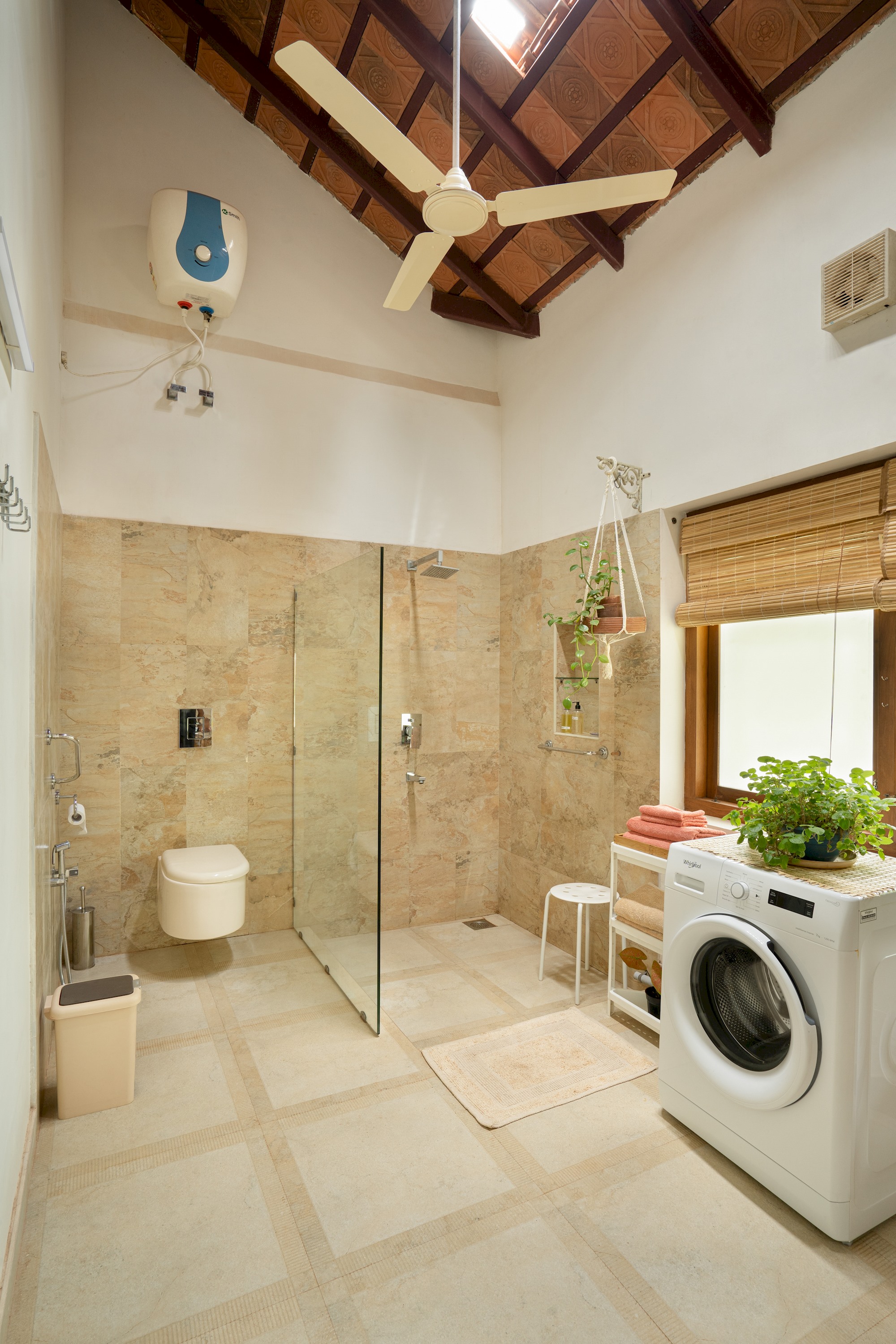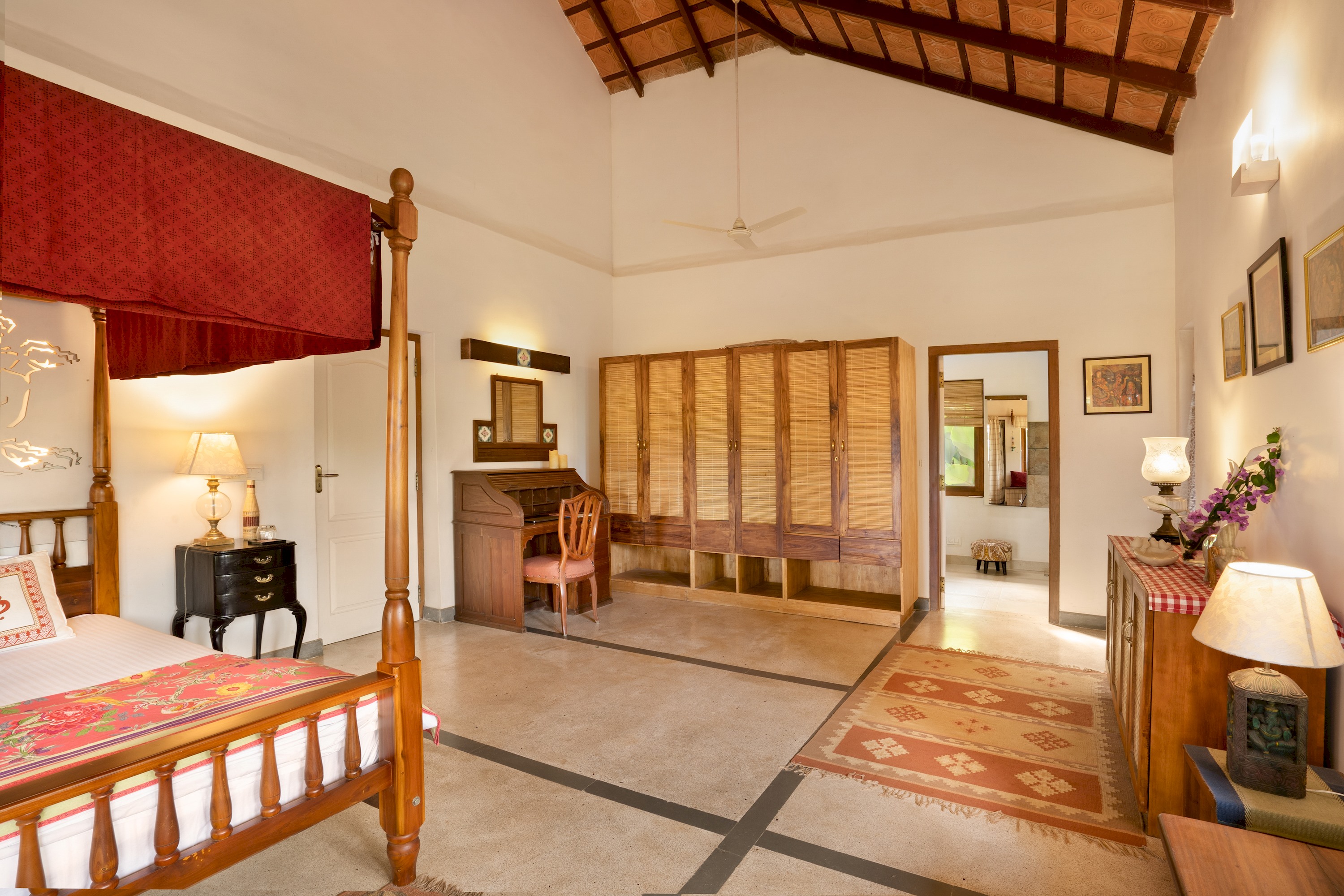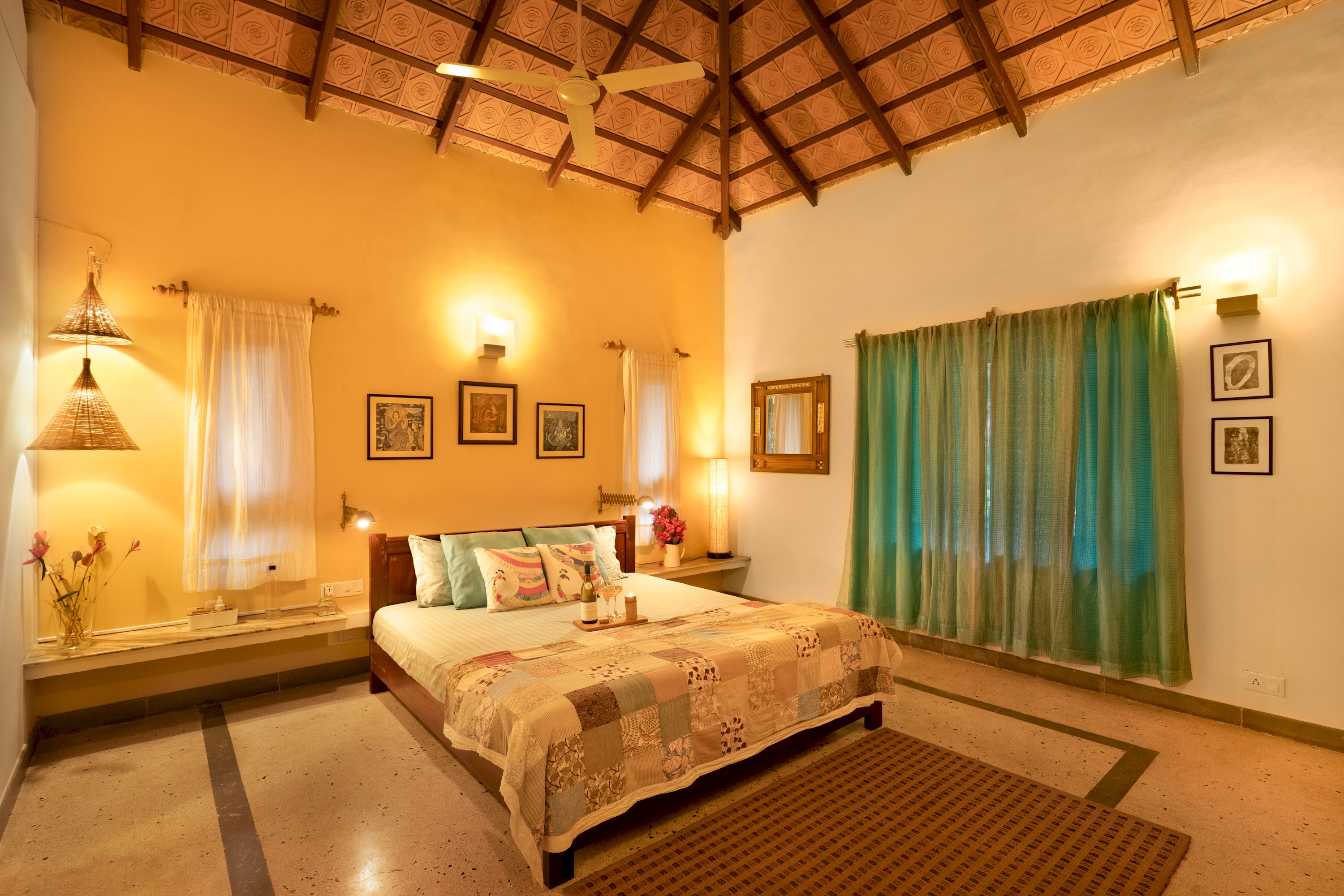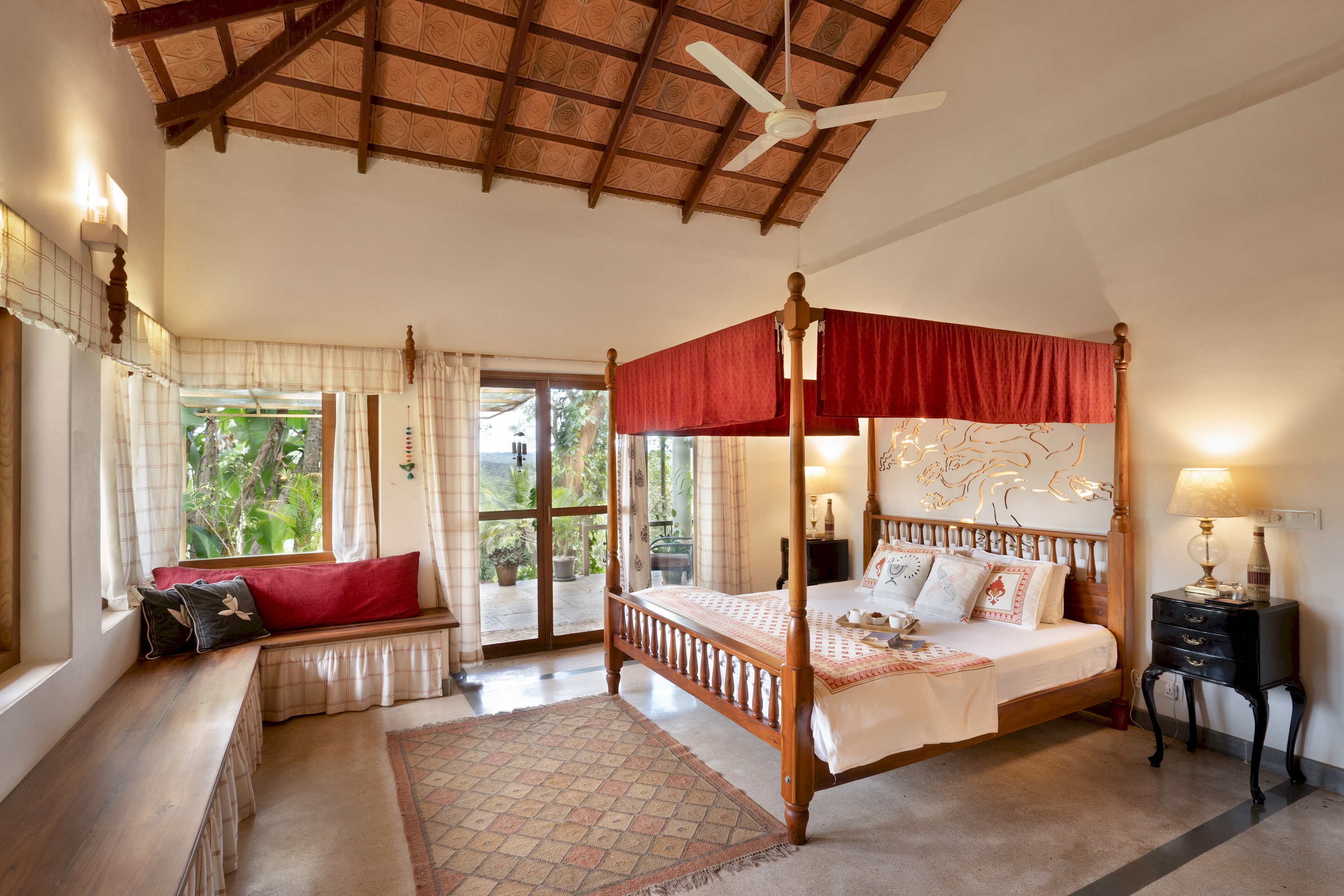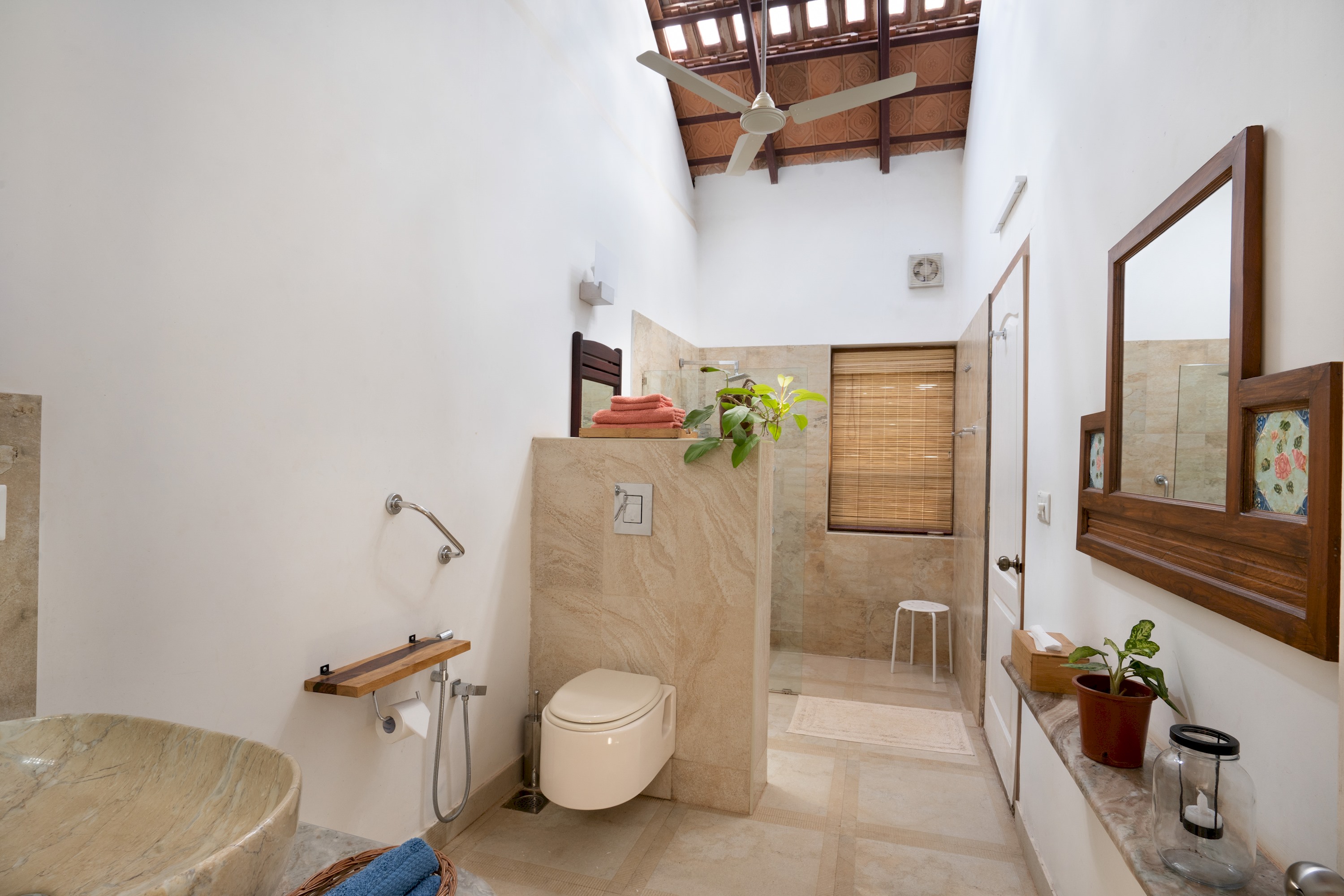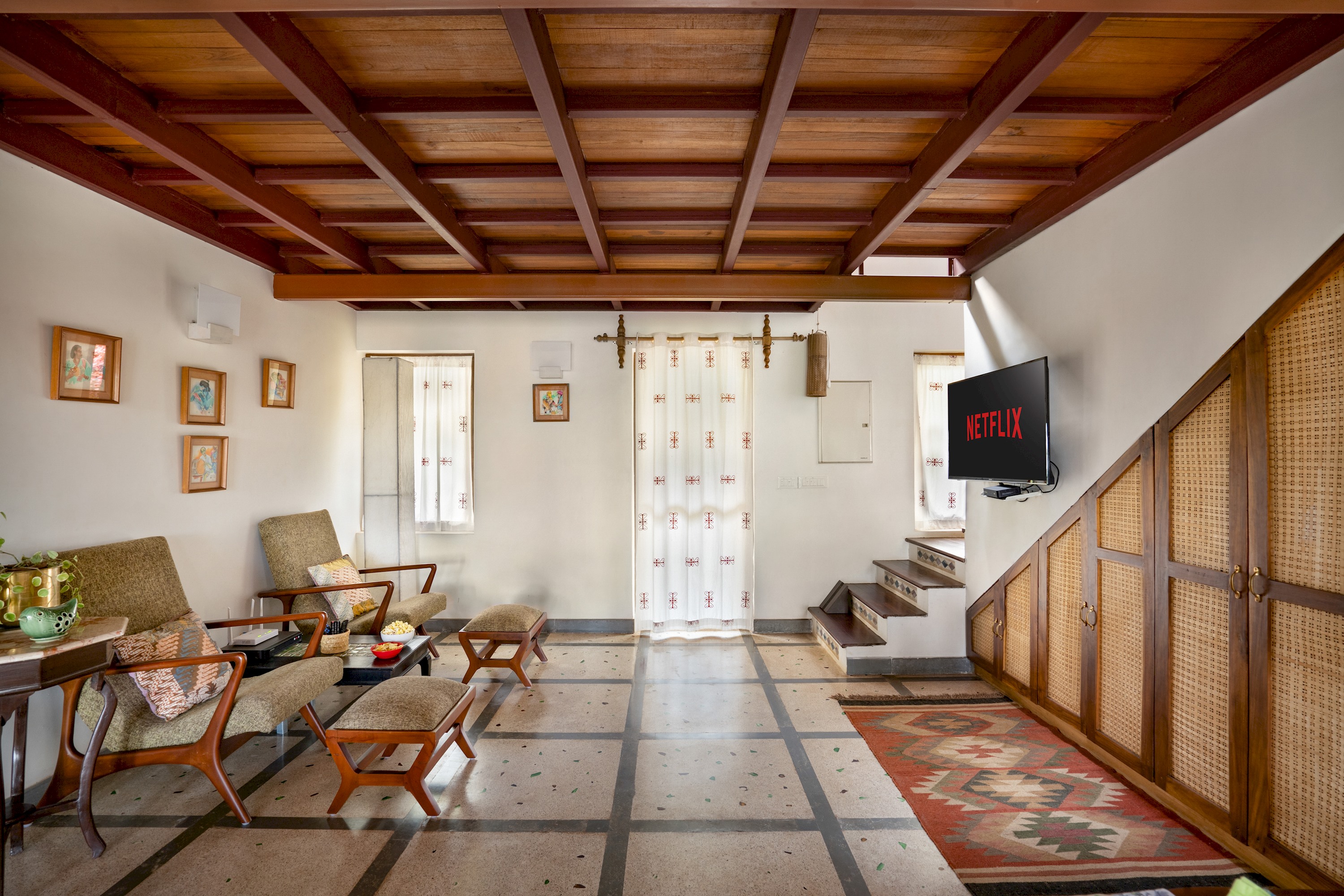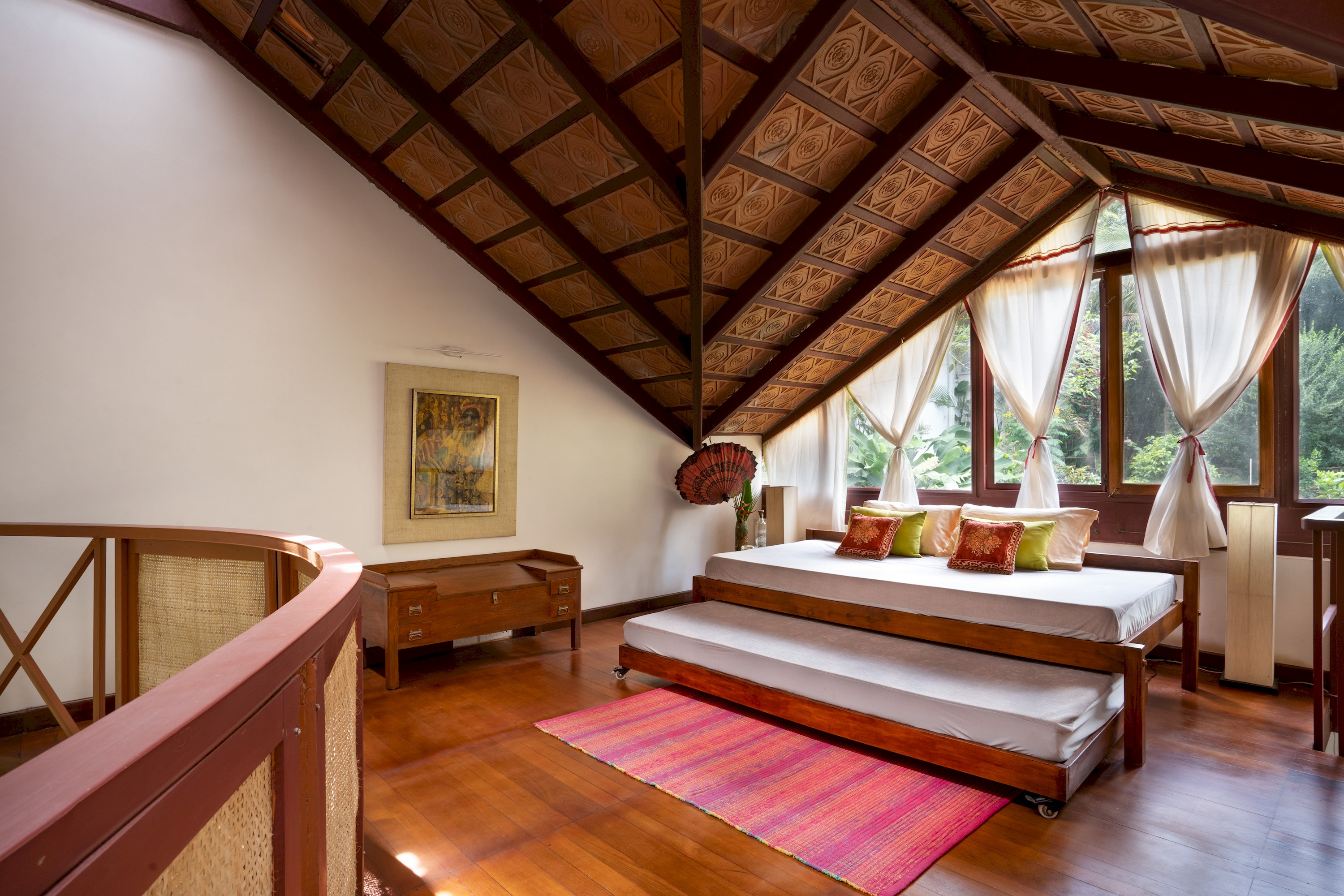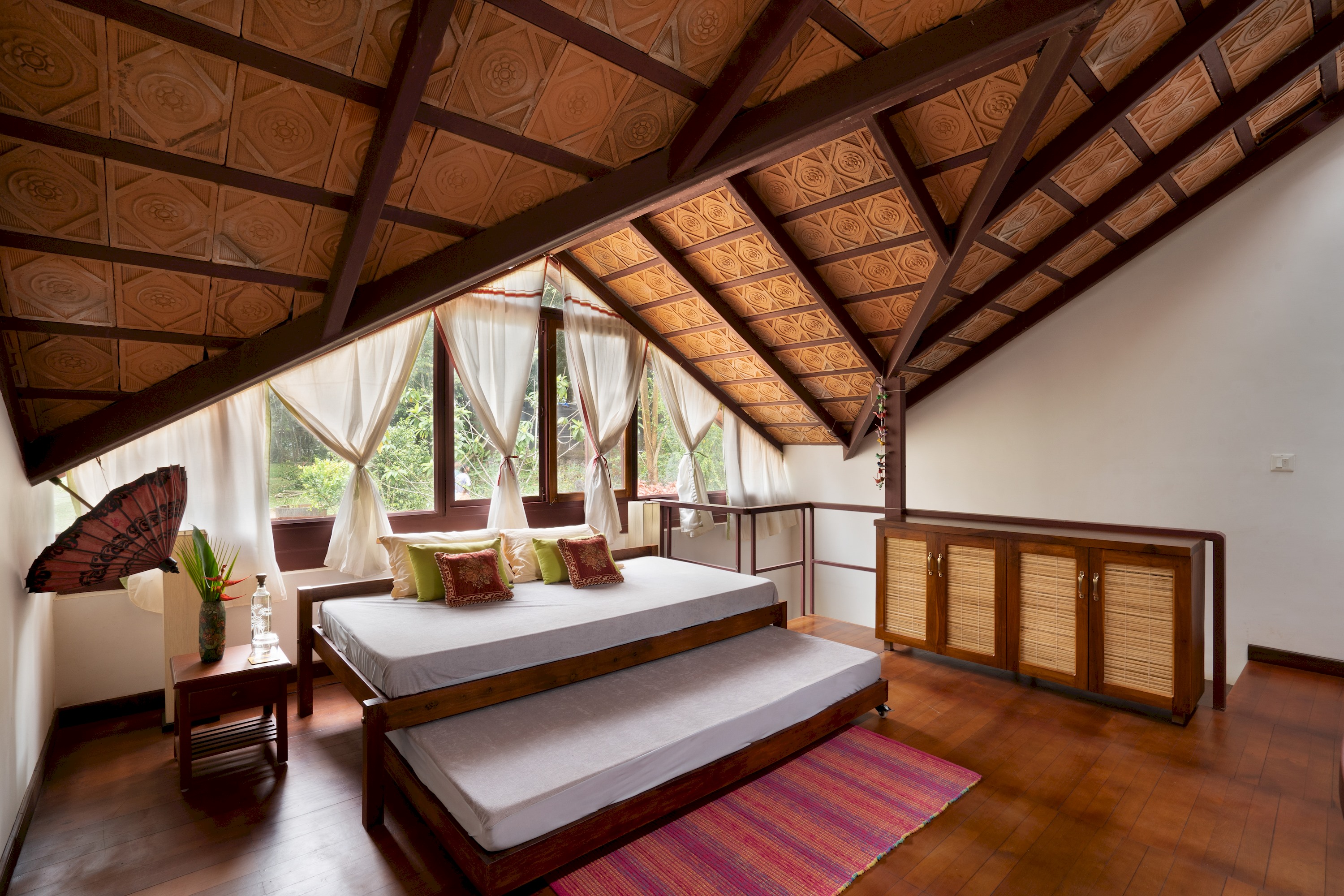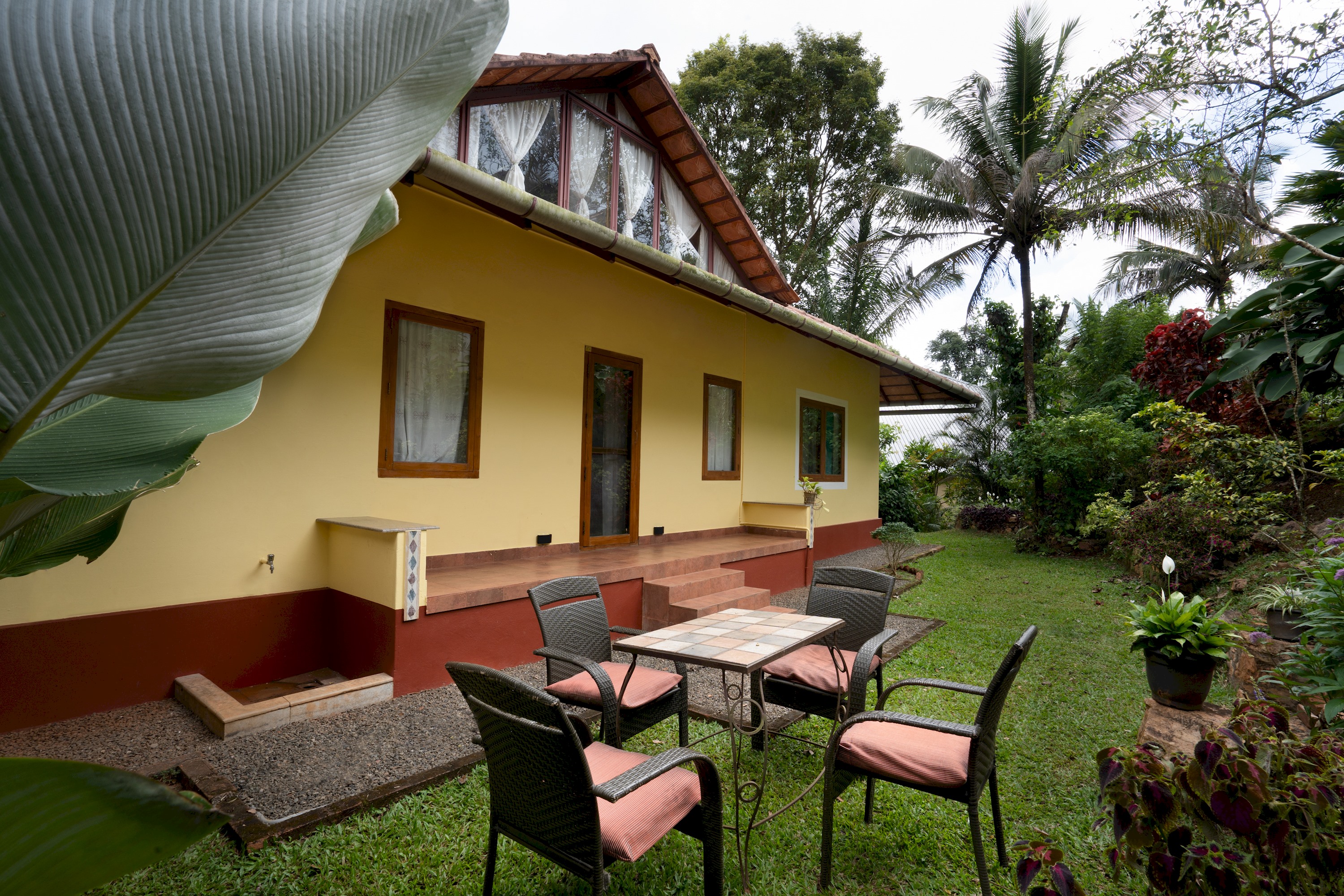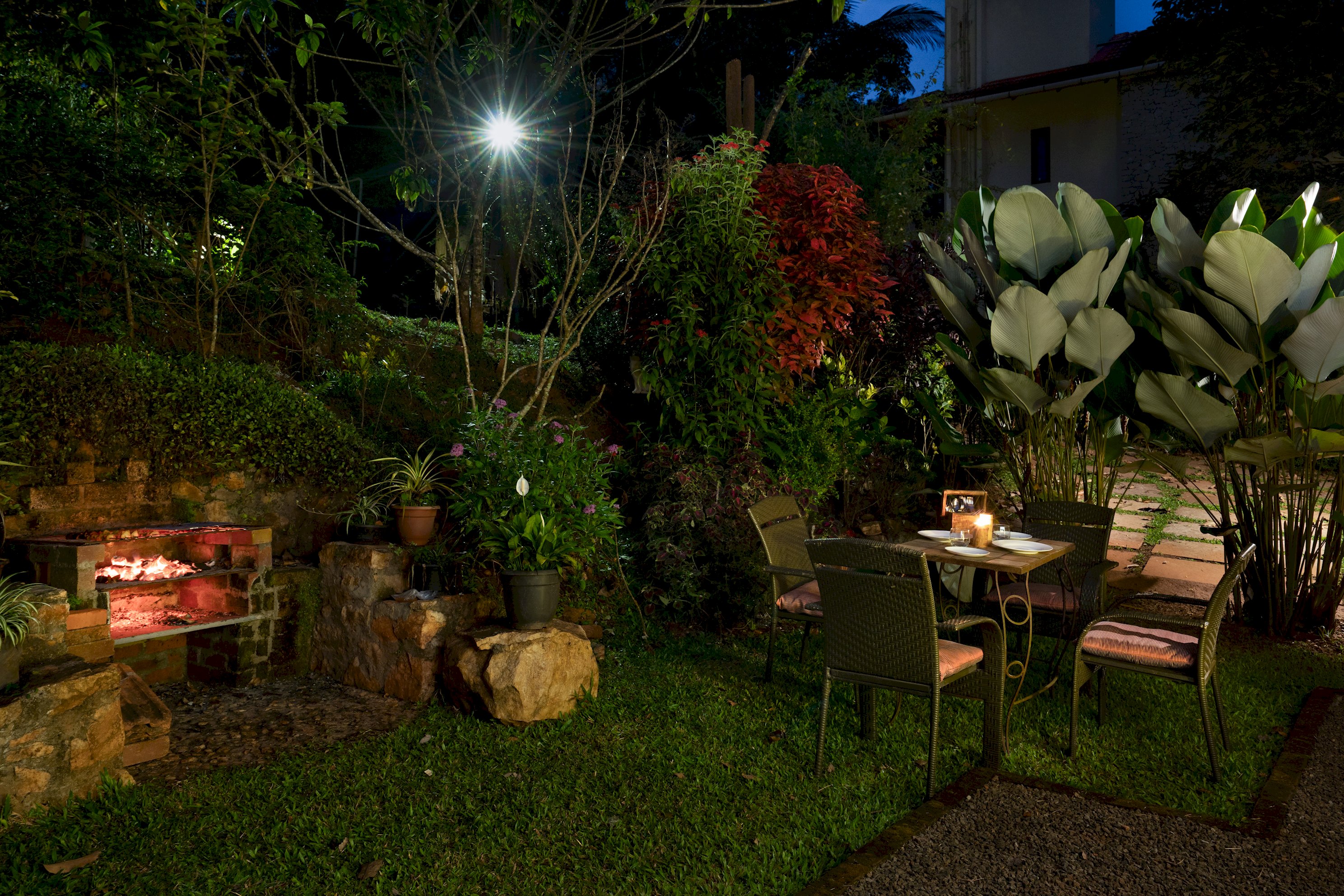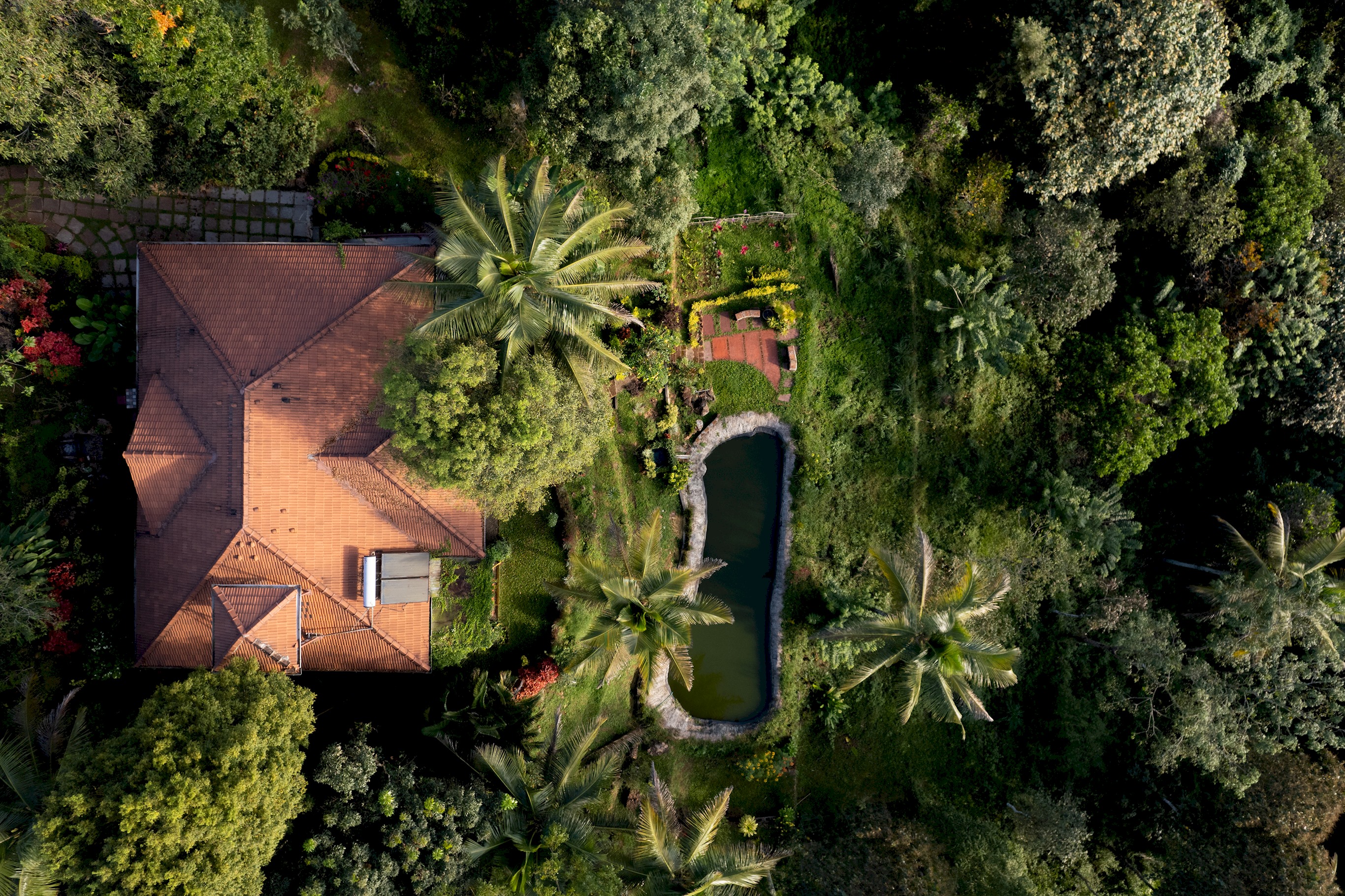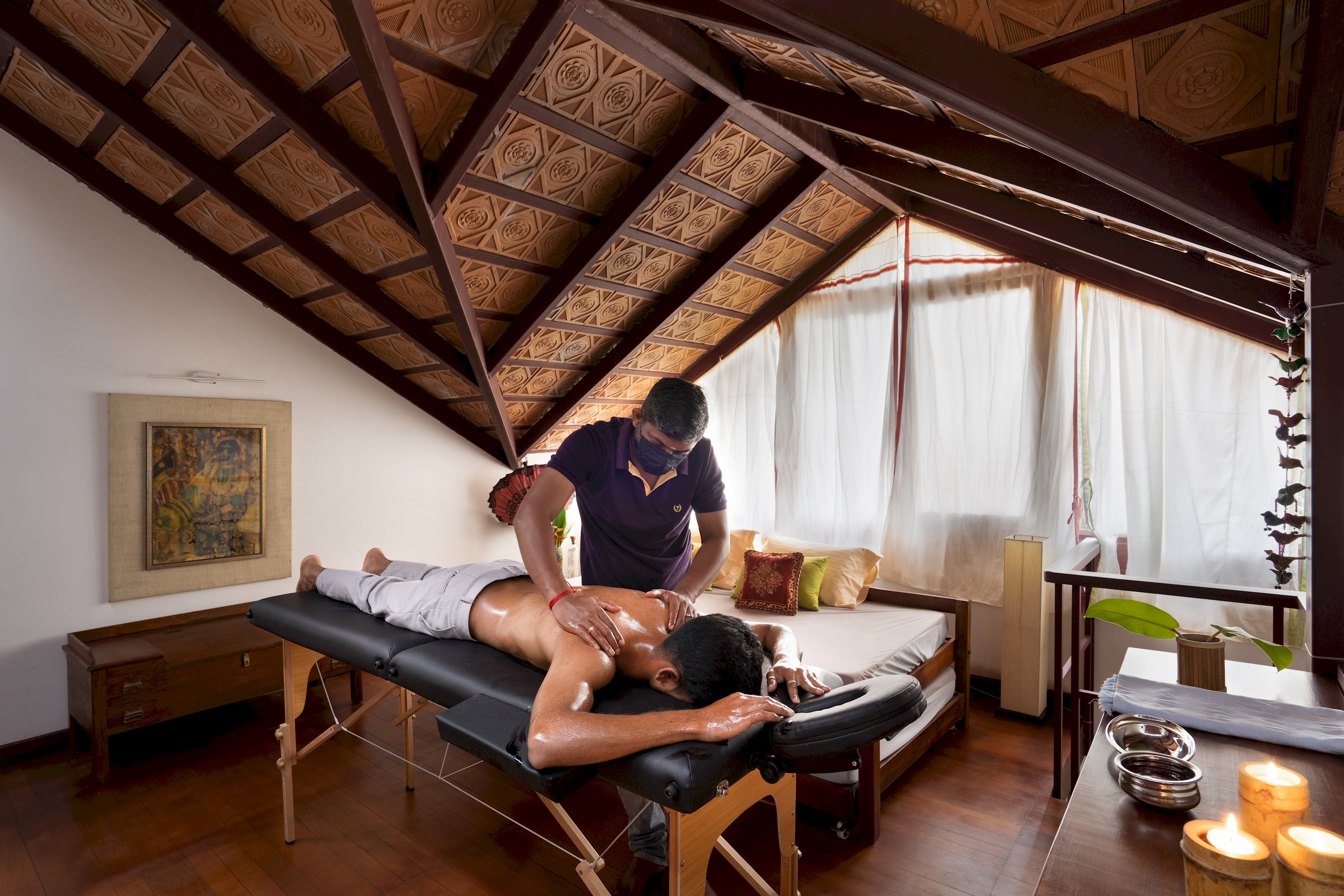 Deja View
673592 Wayanad, Kallurkunnu GST Route Elamala Estates