Mangala Heritage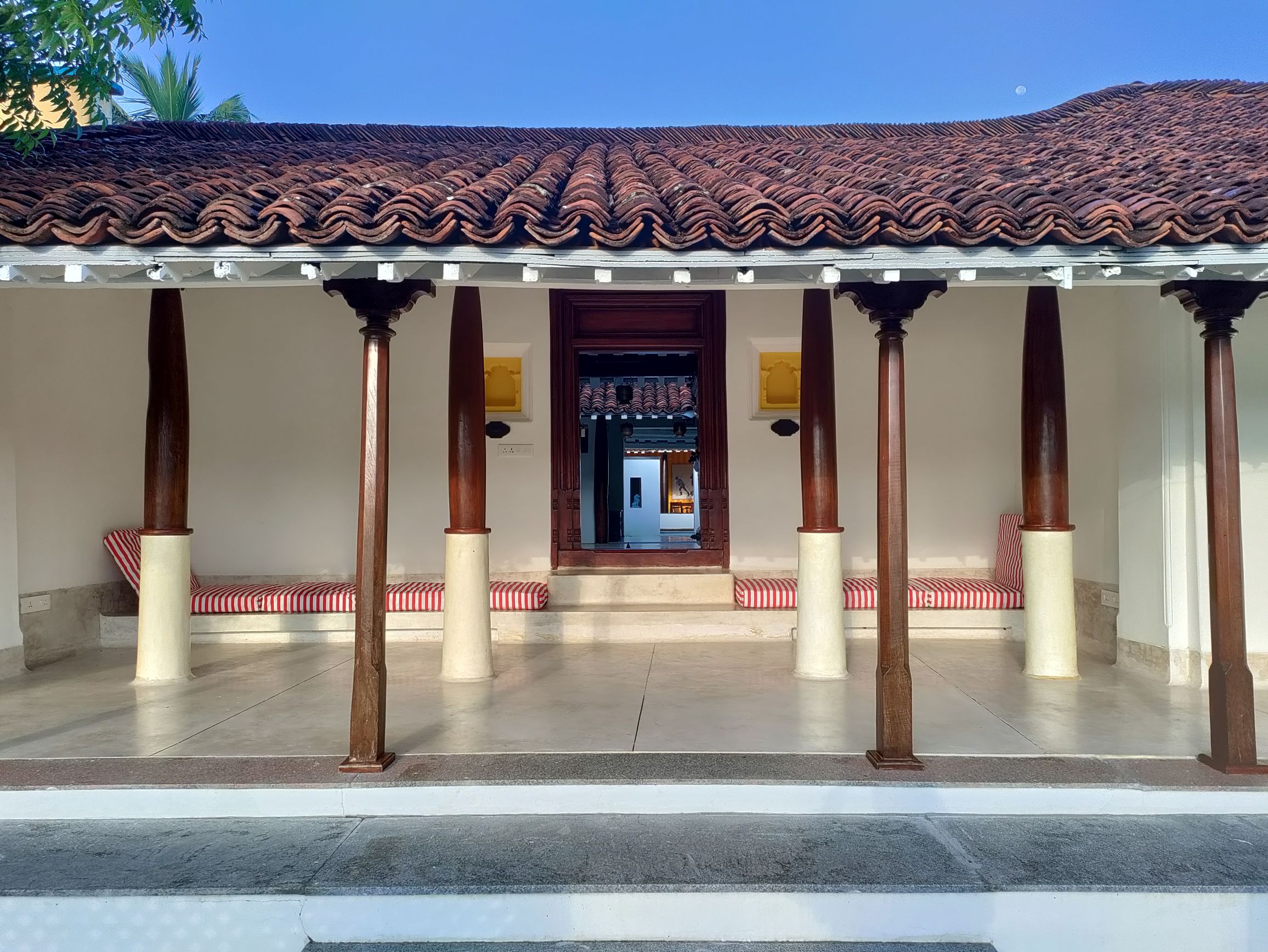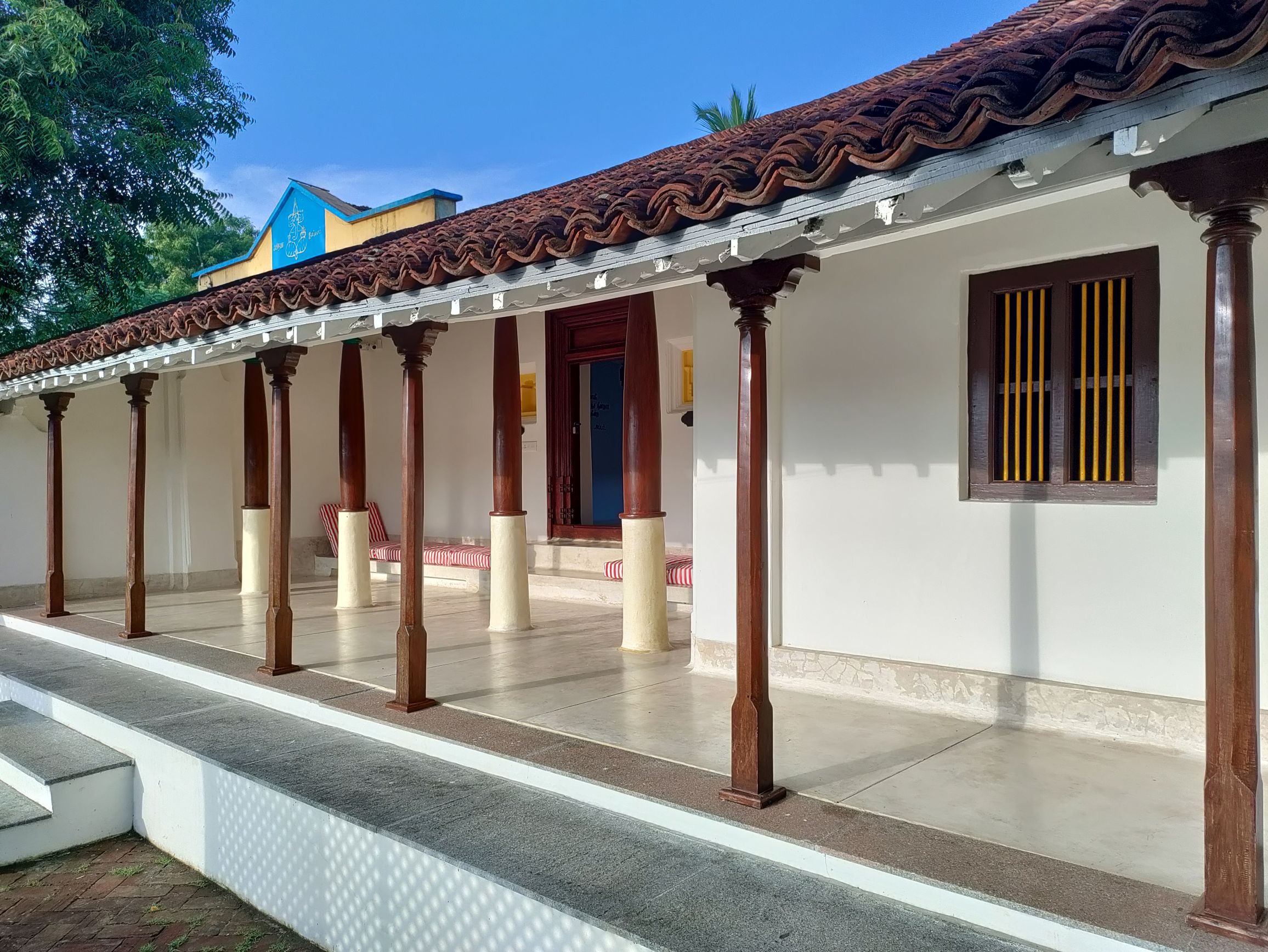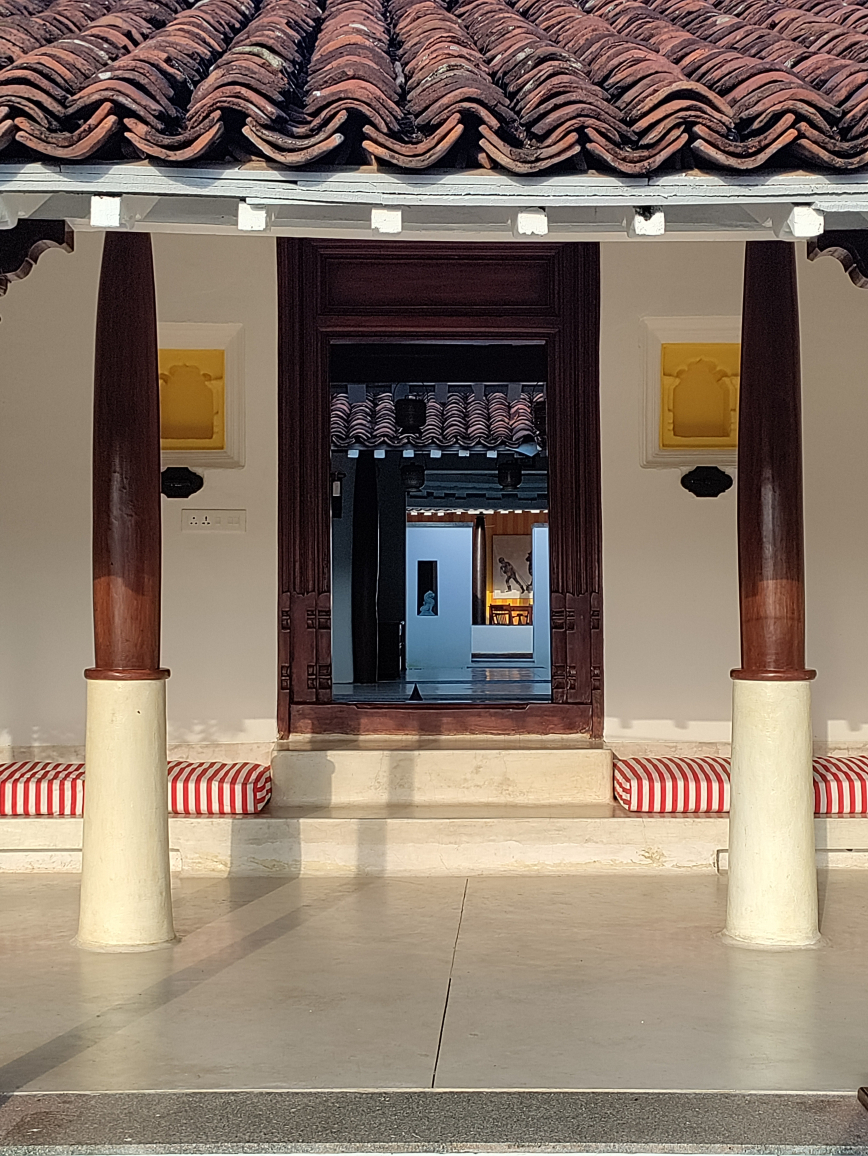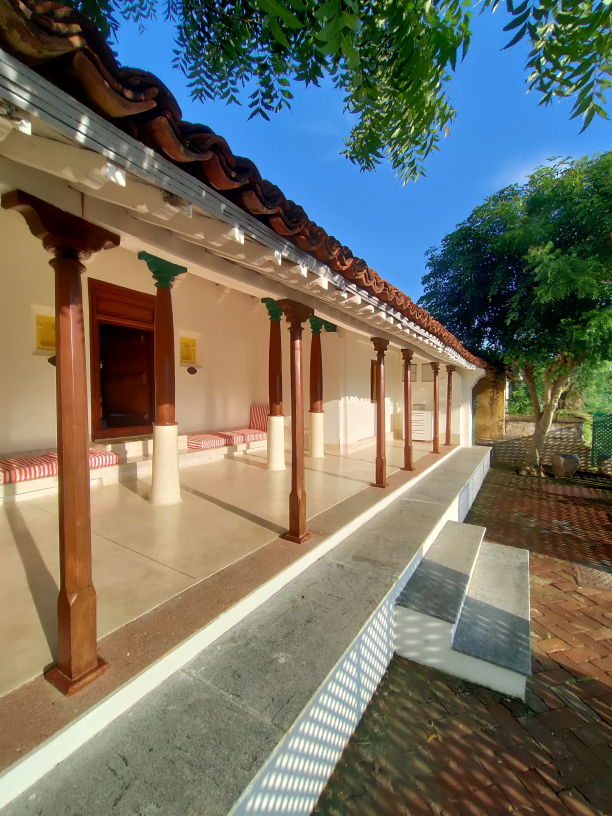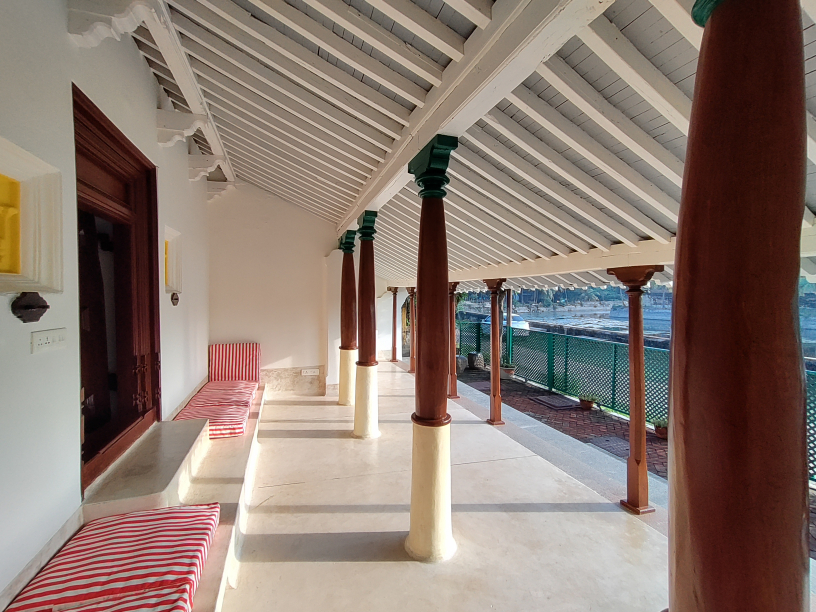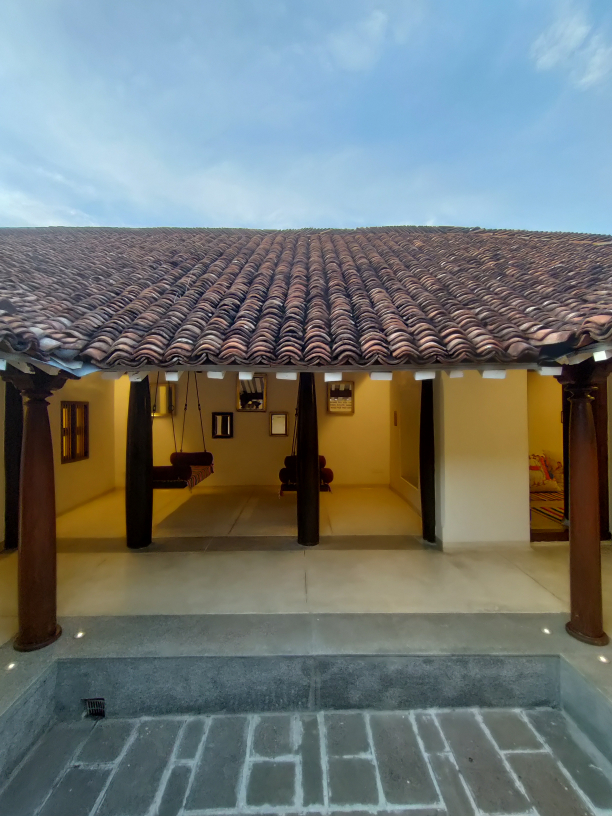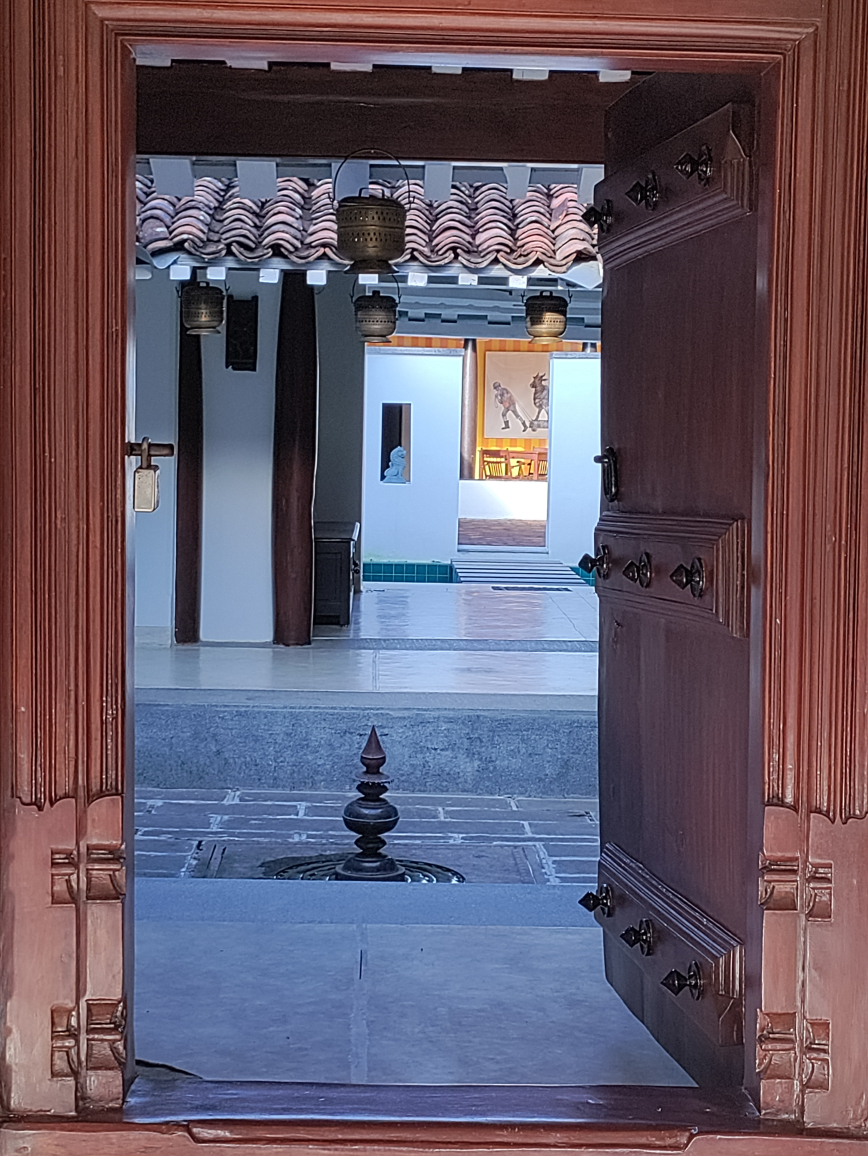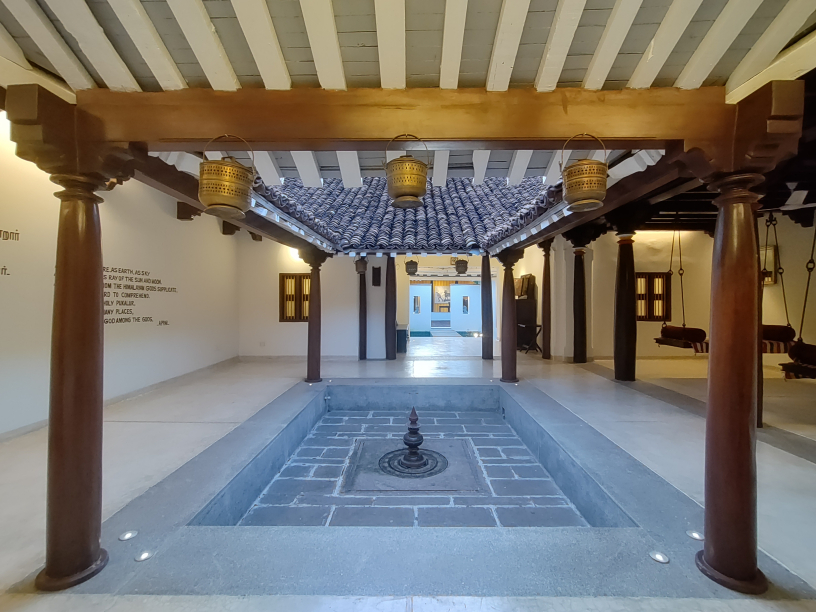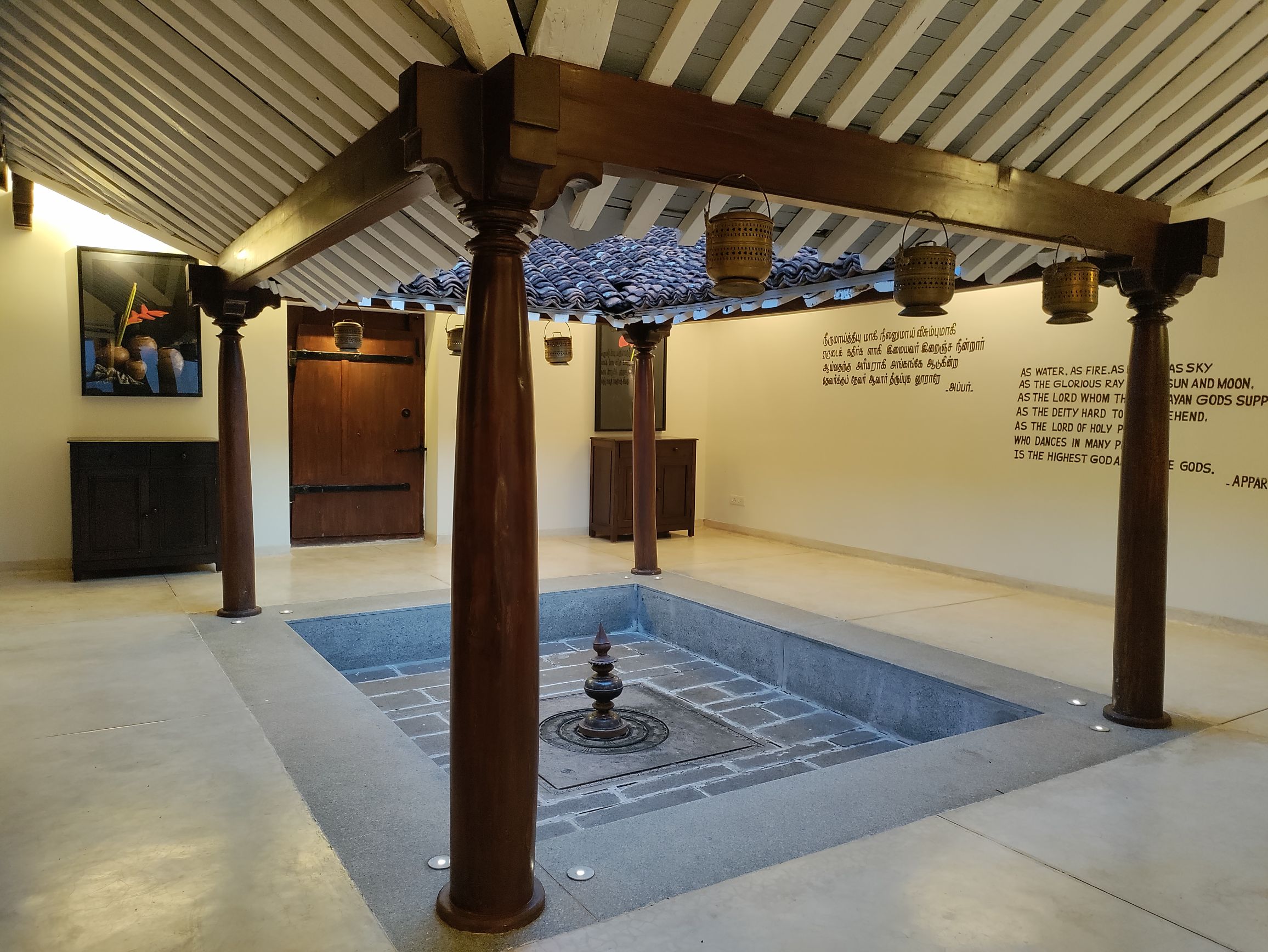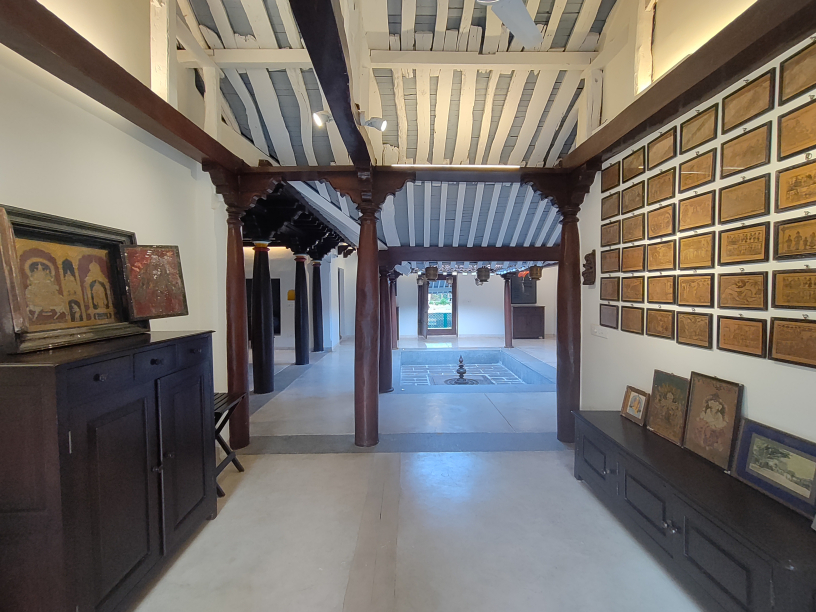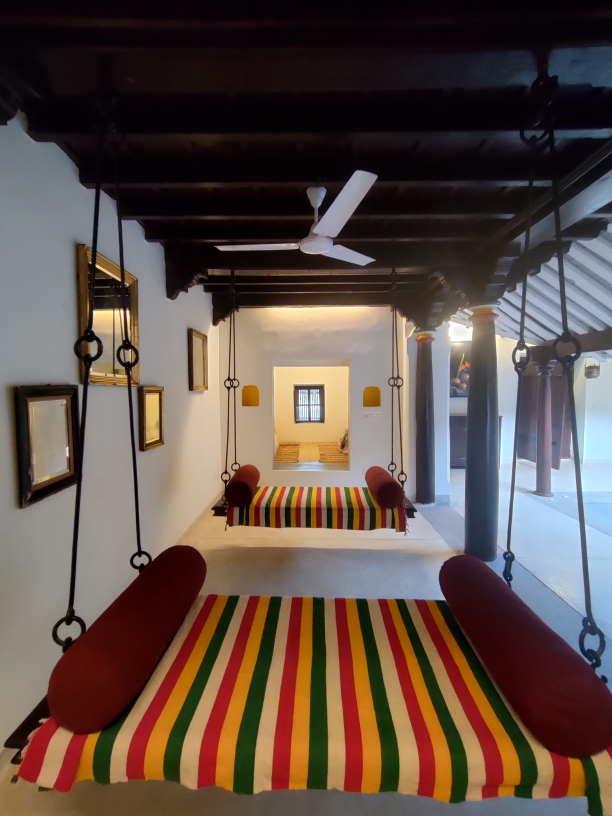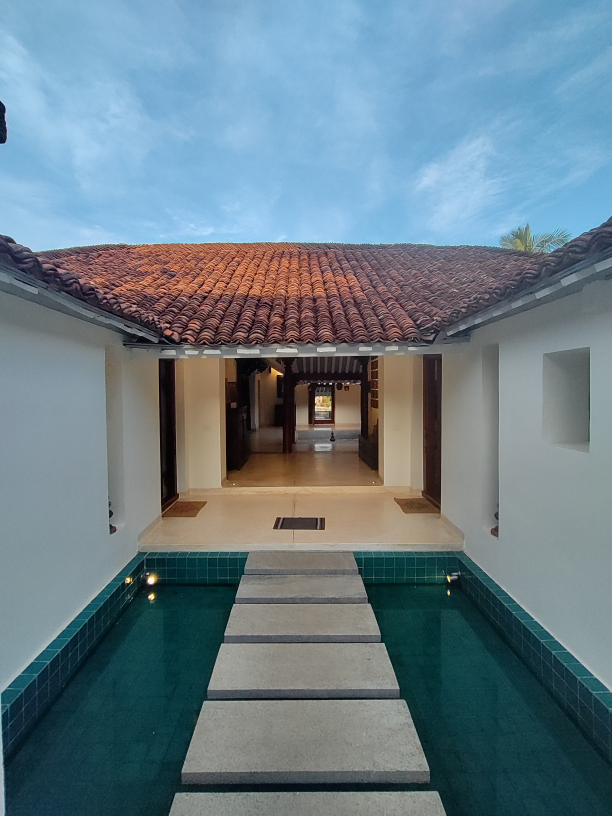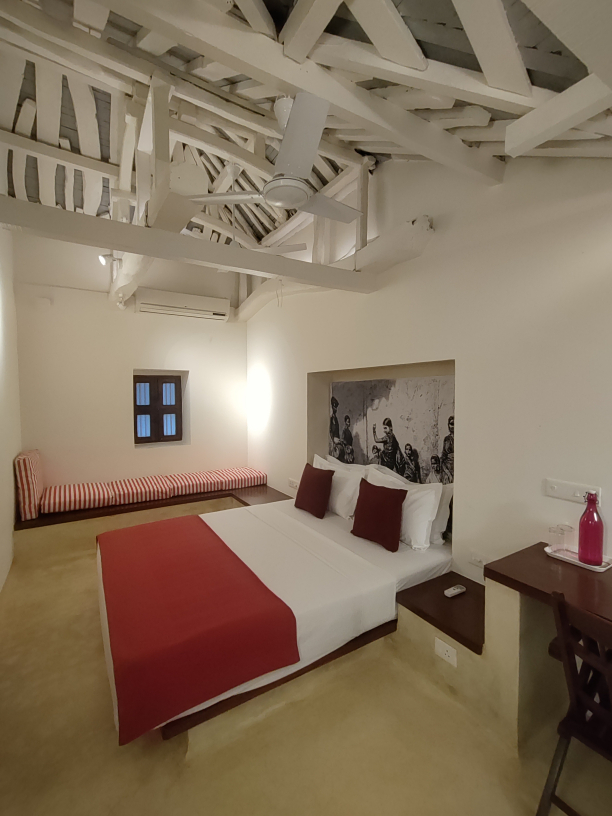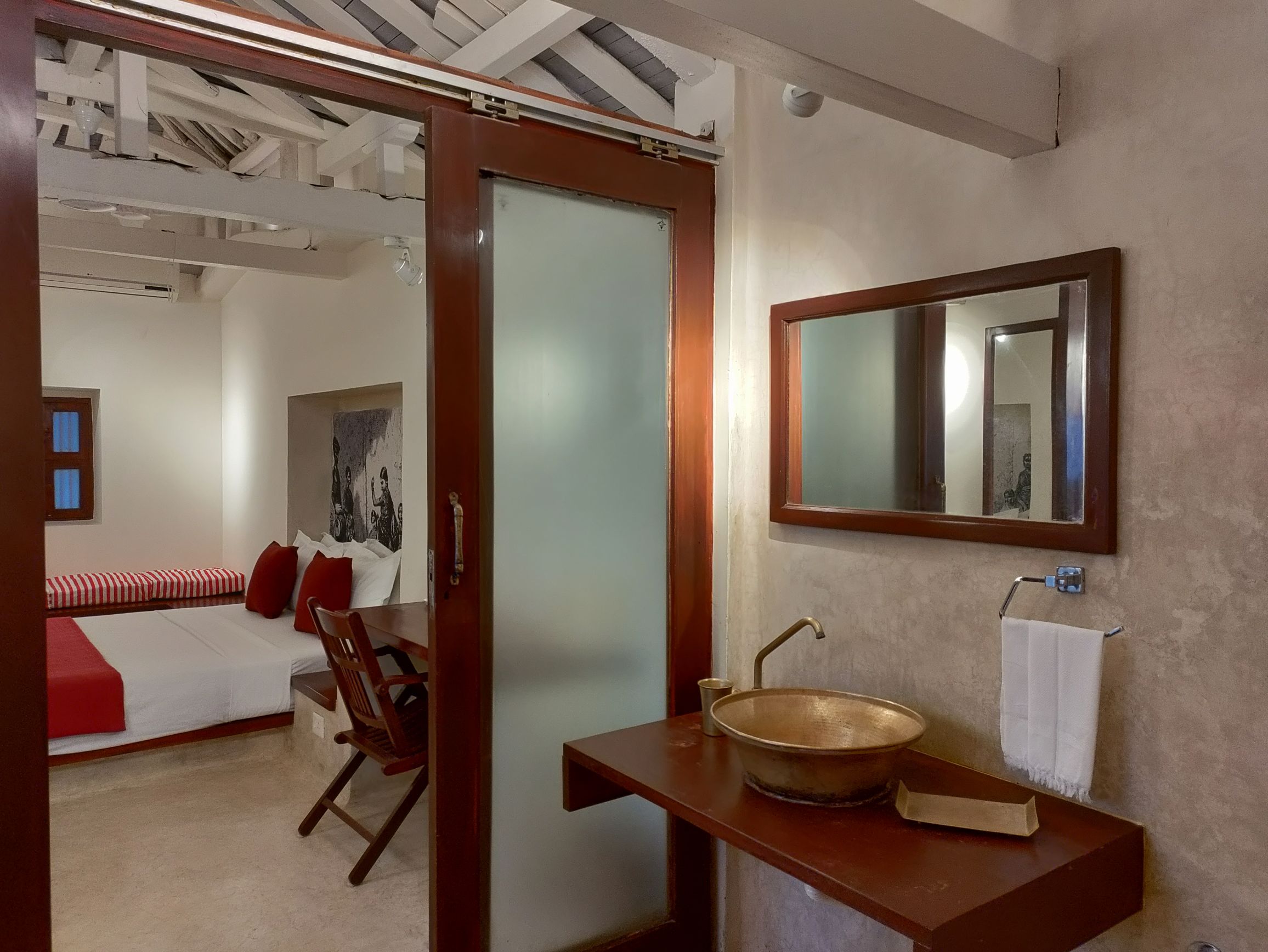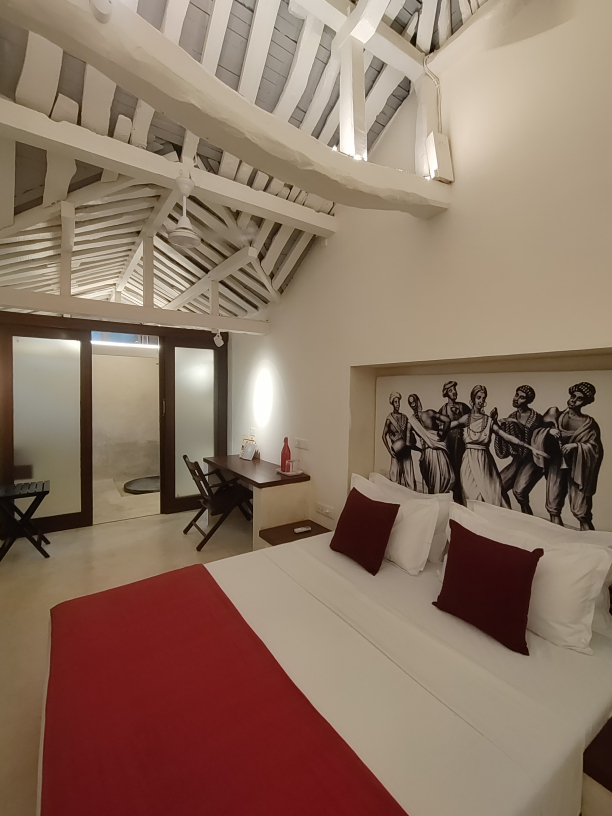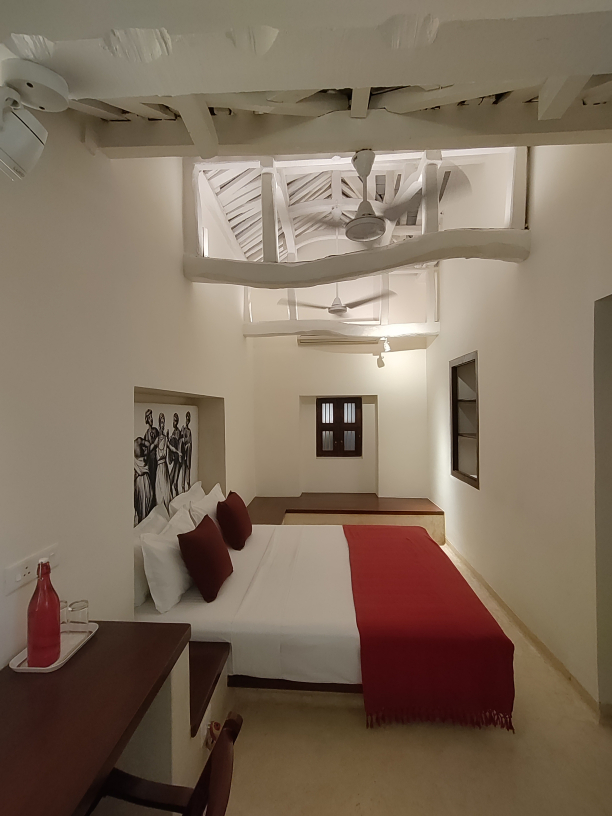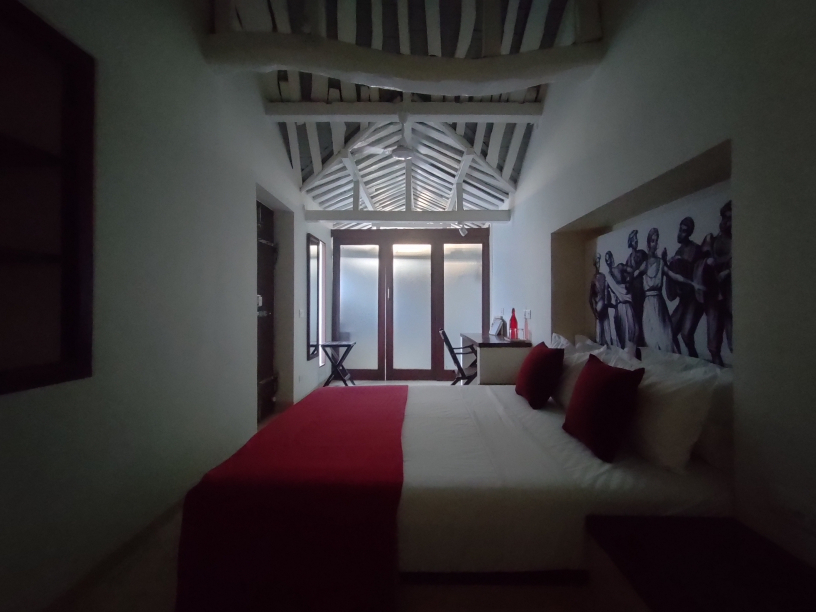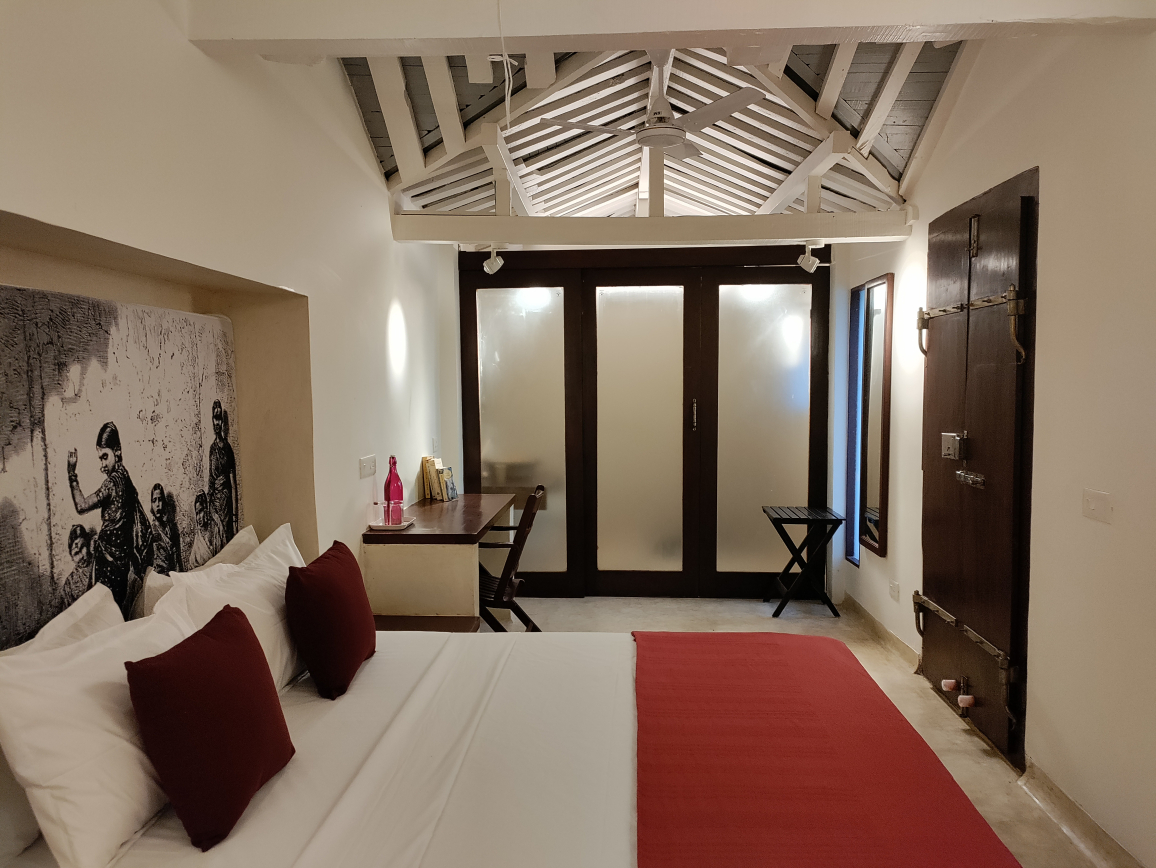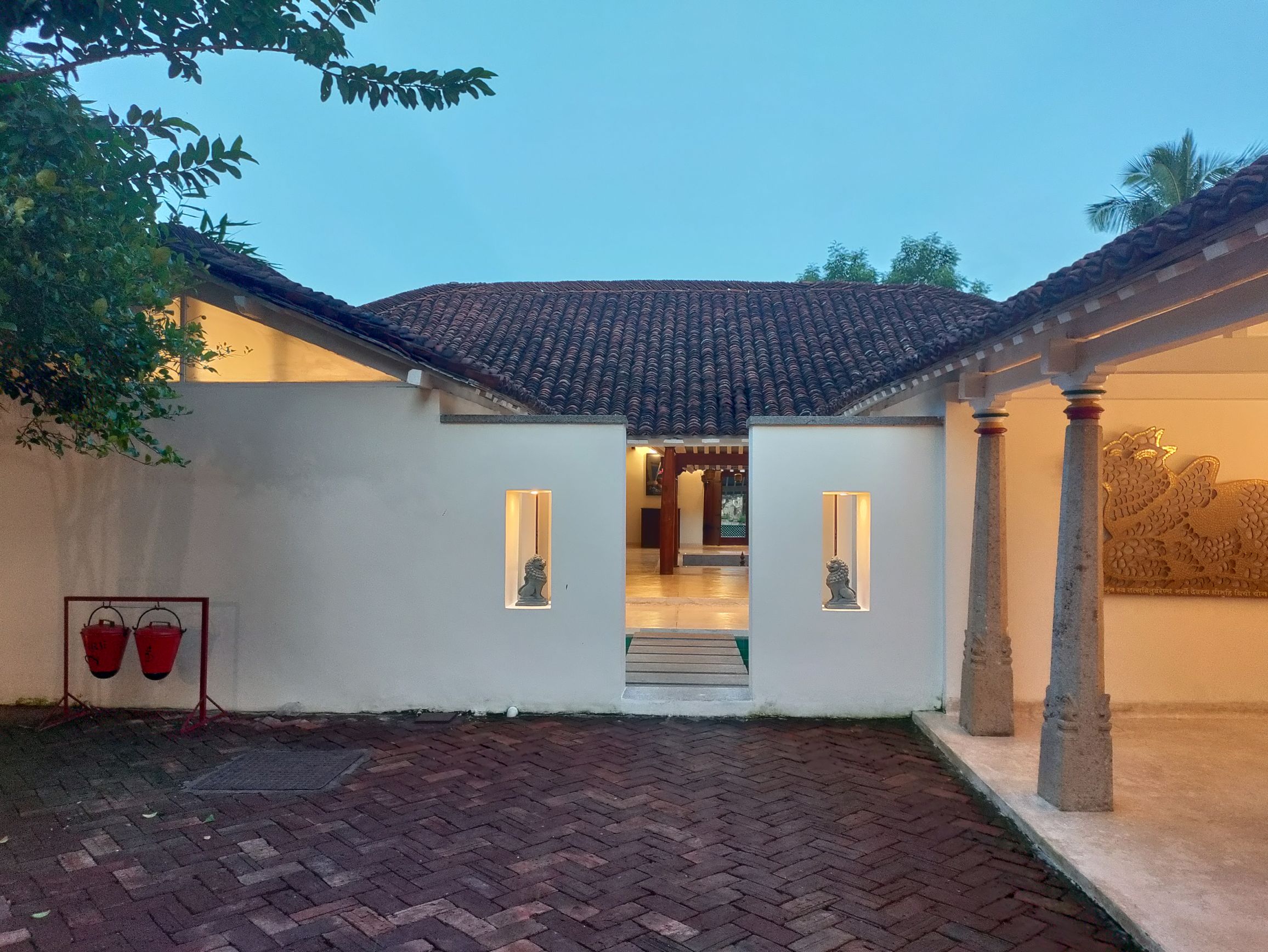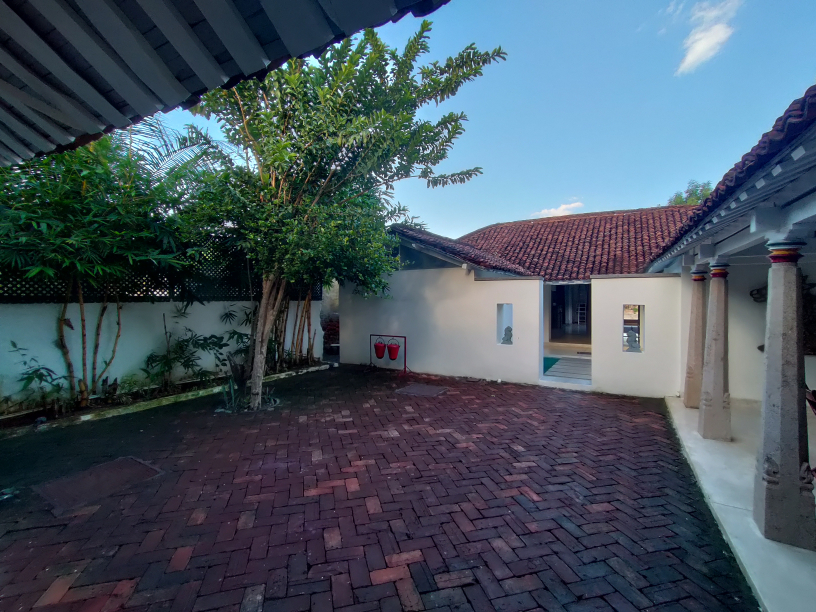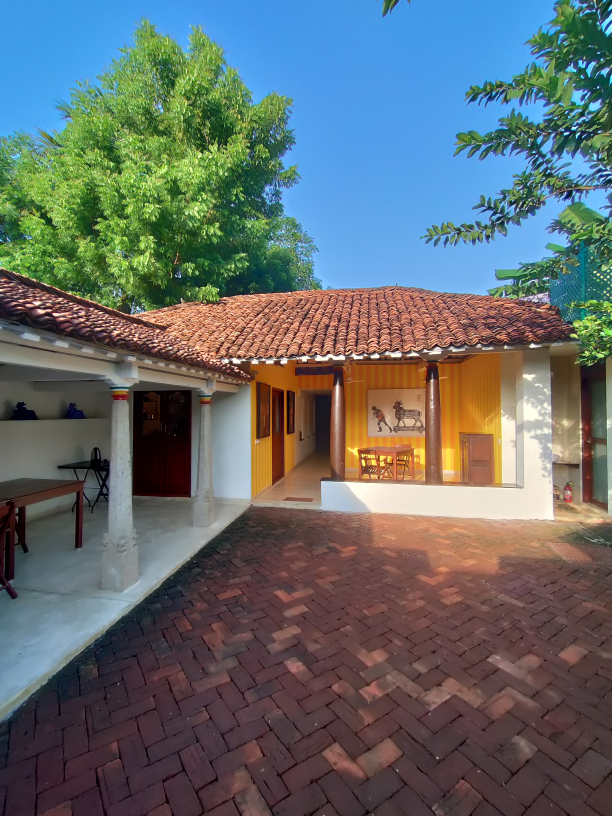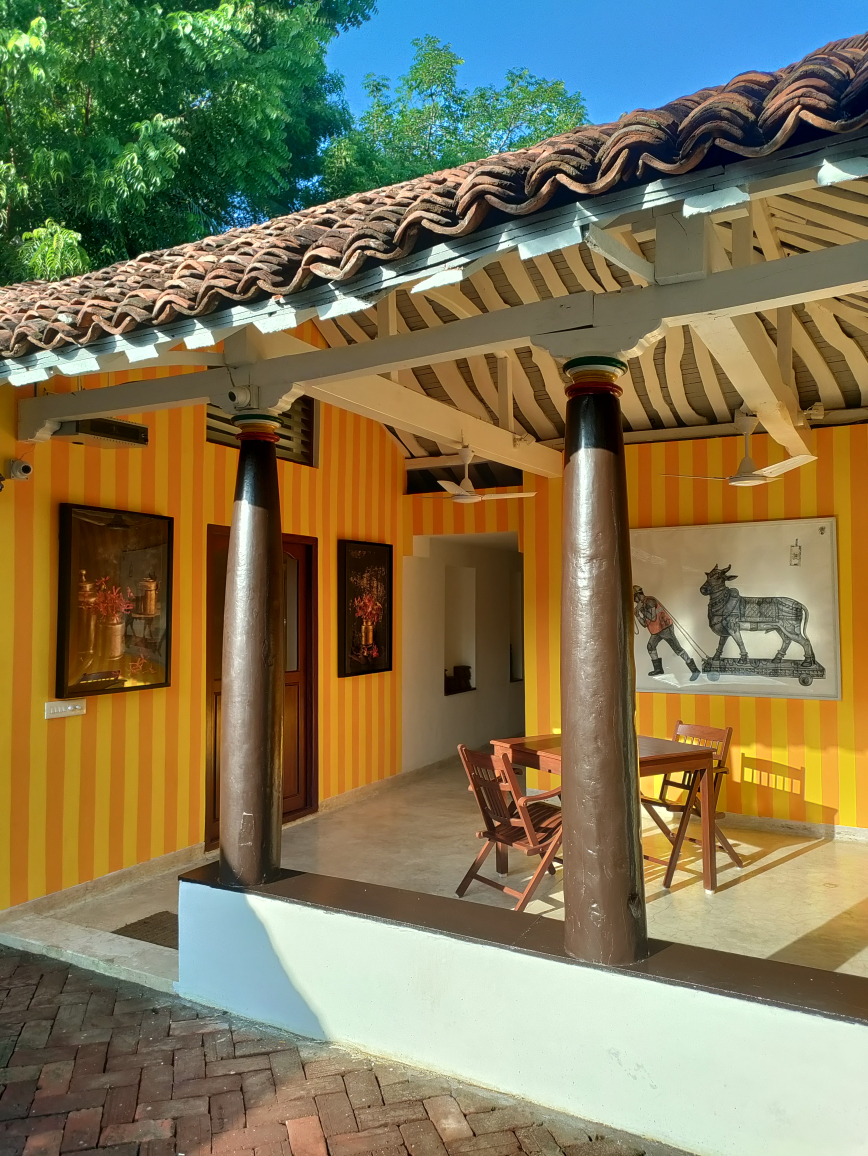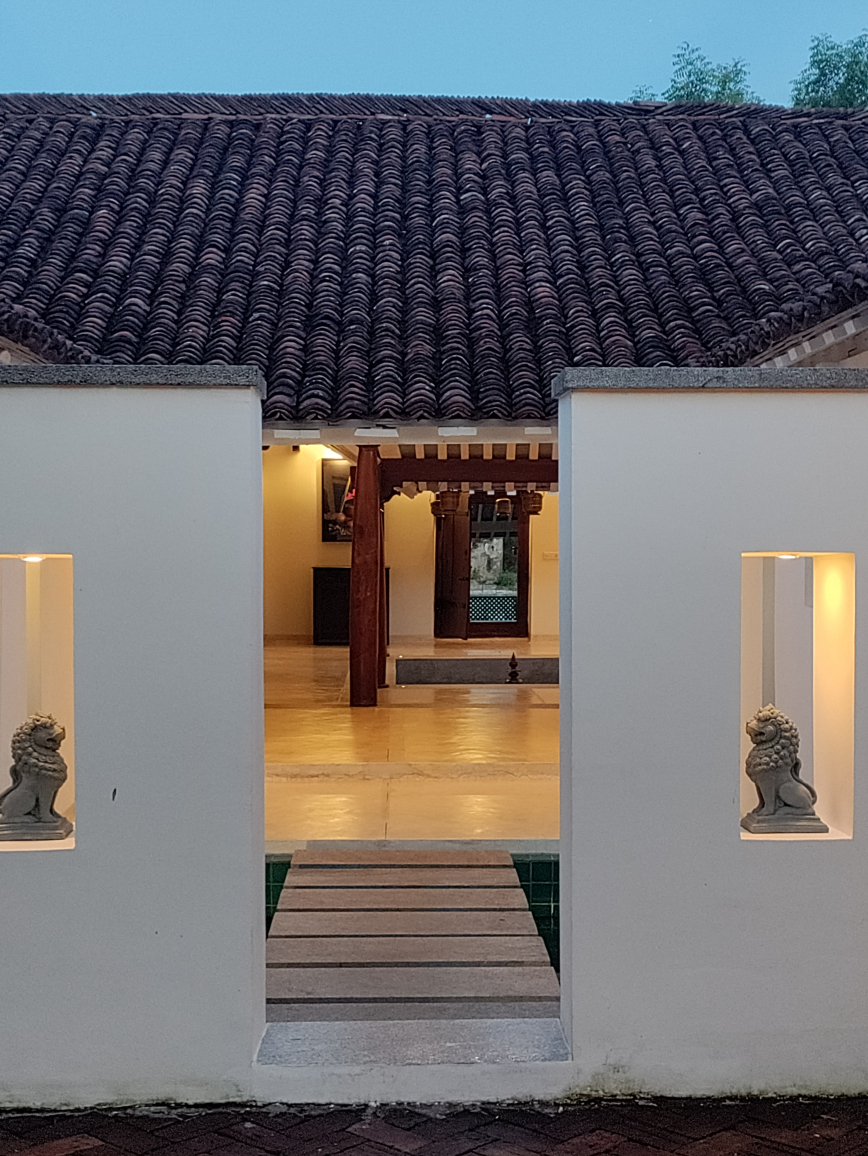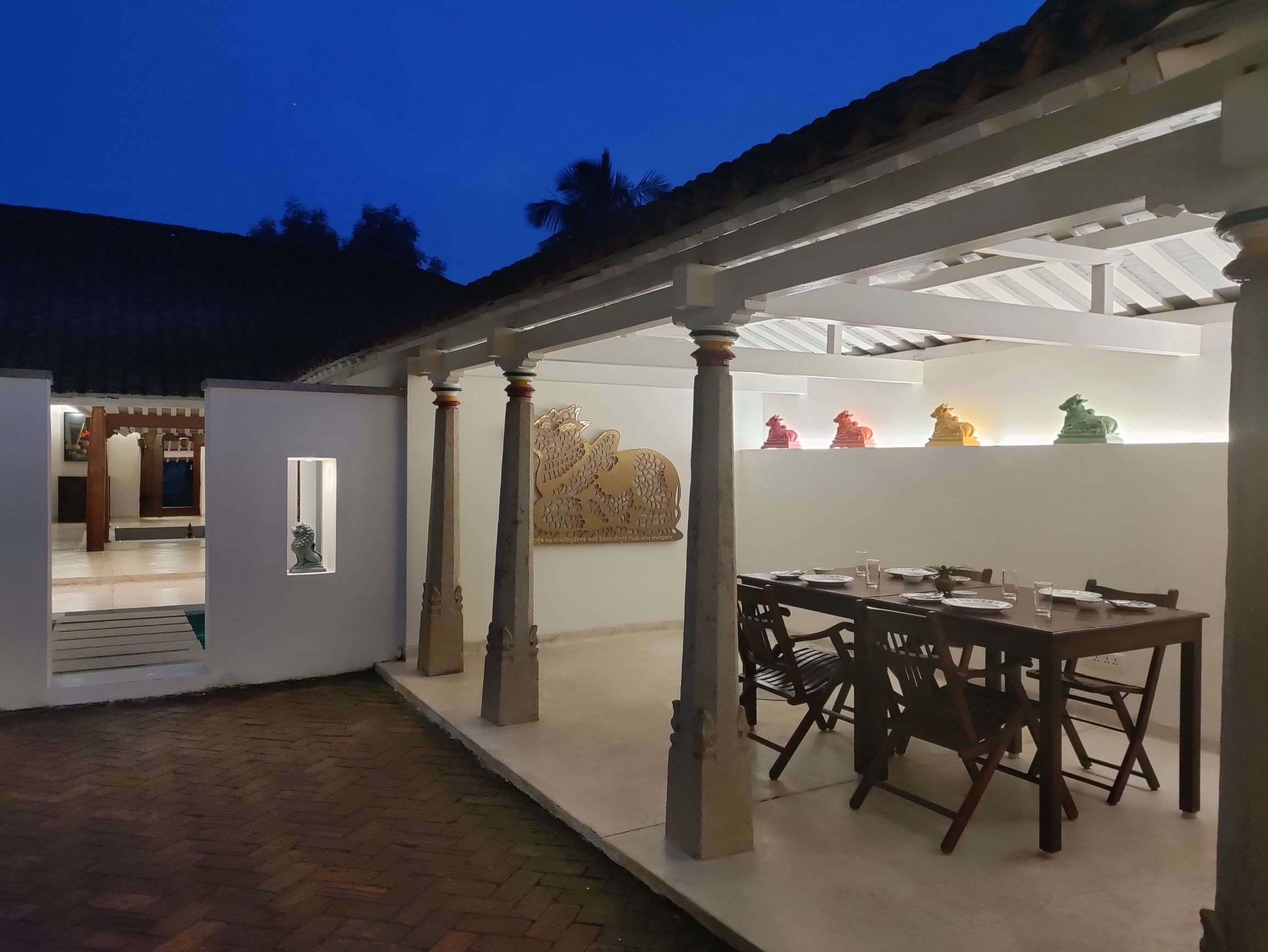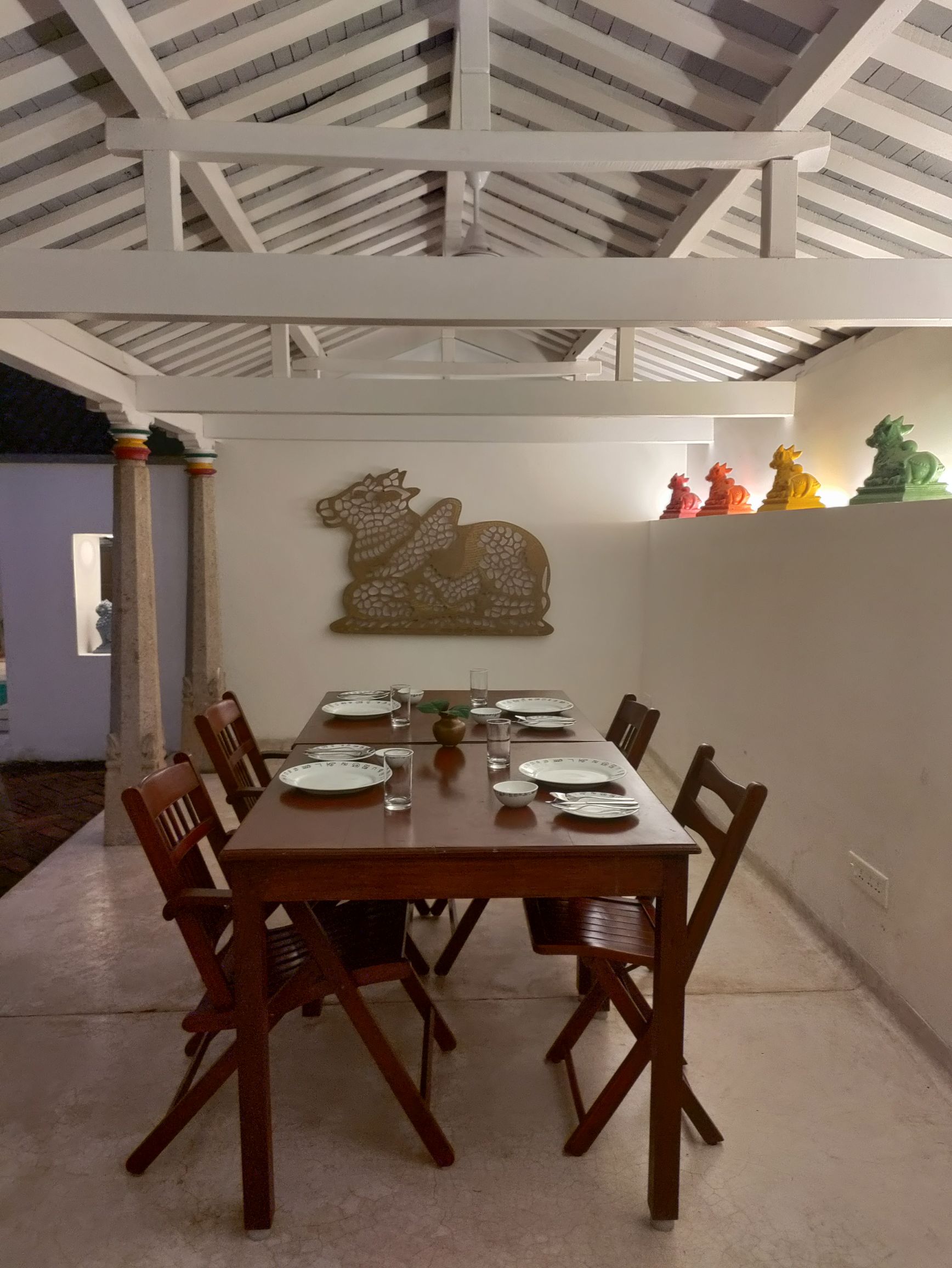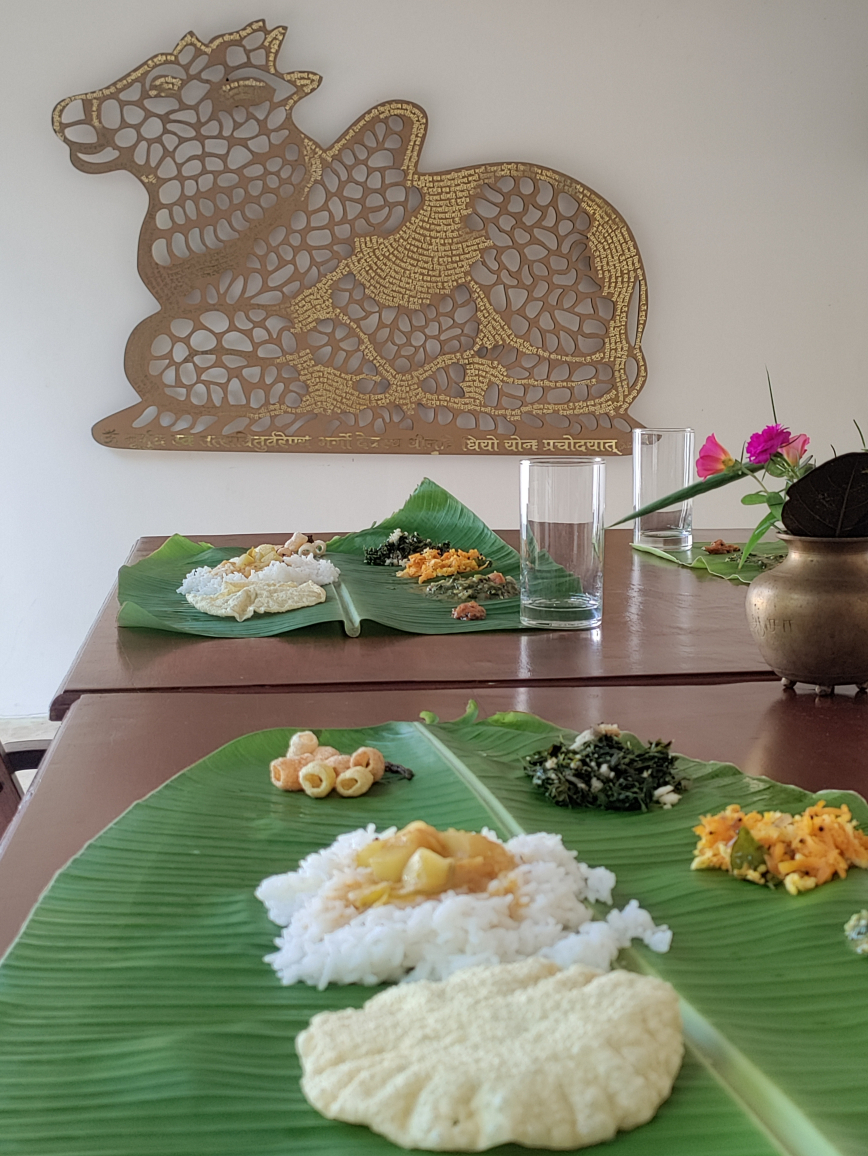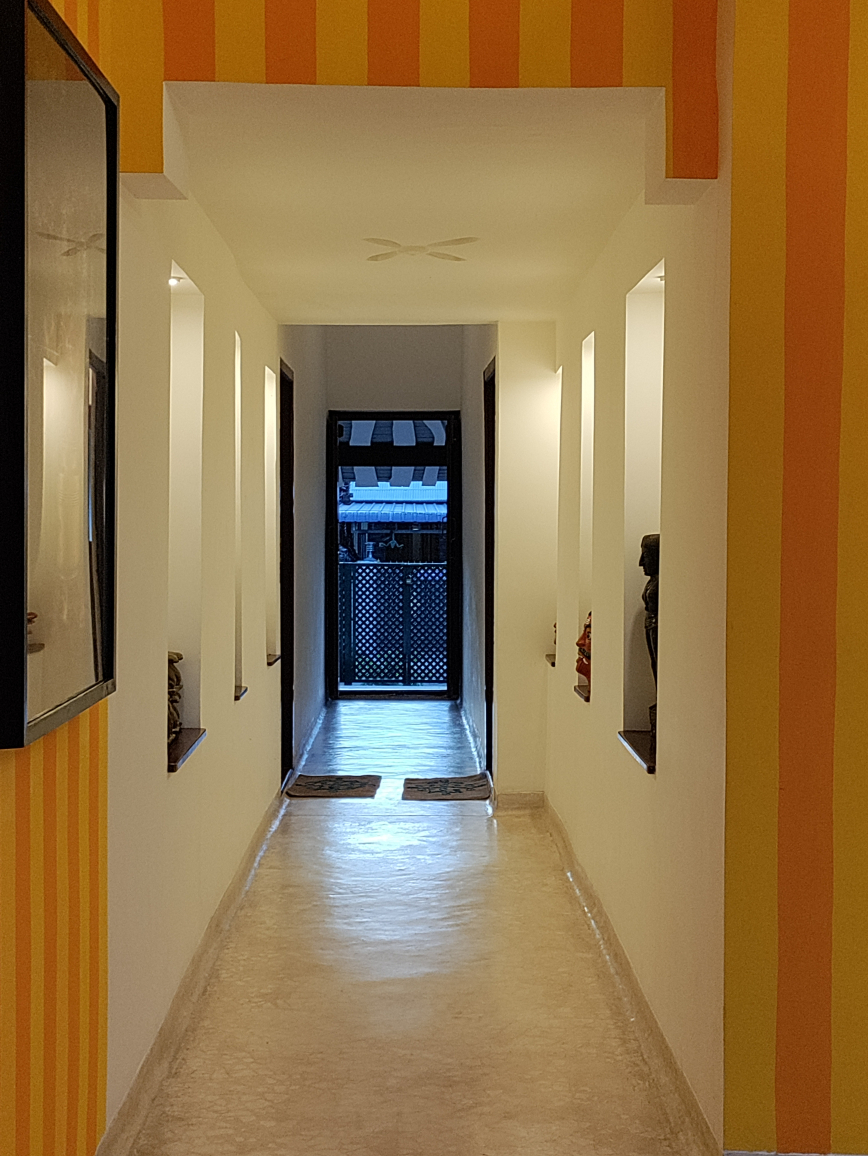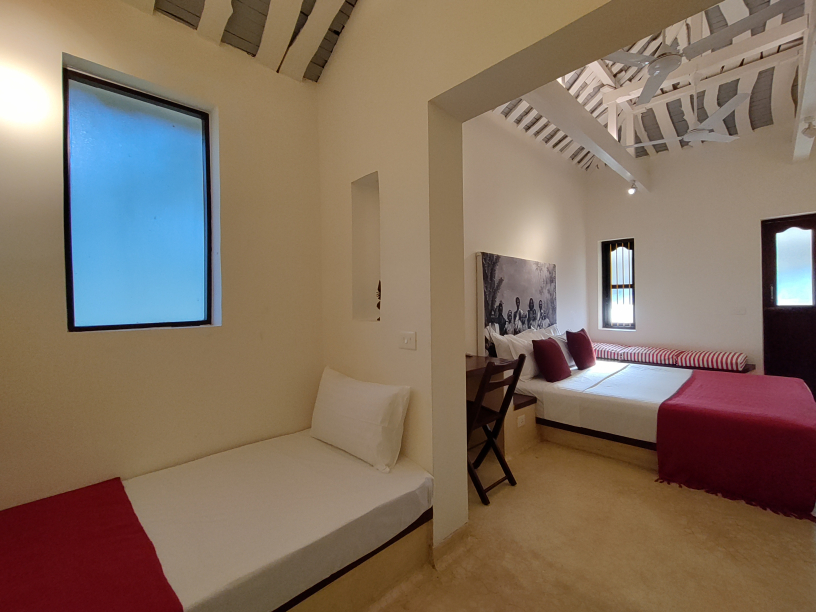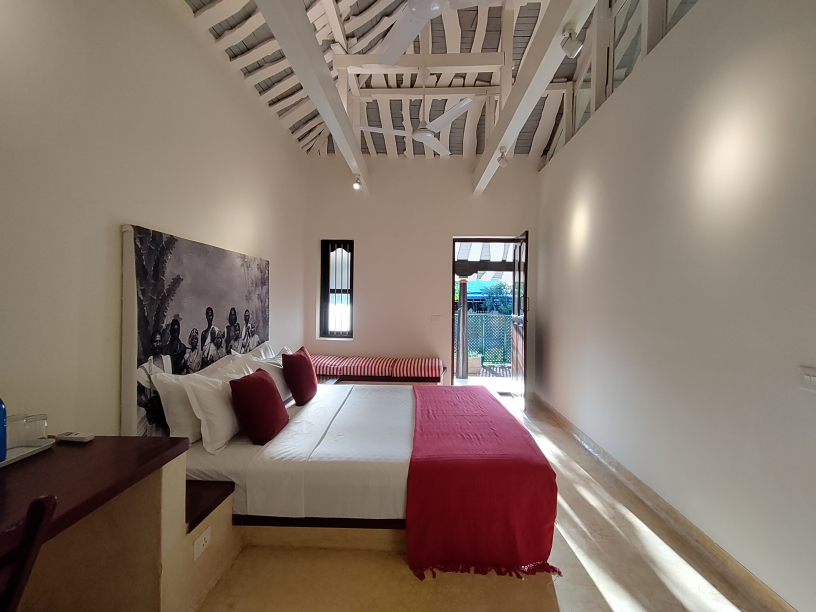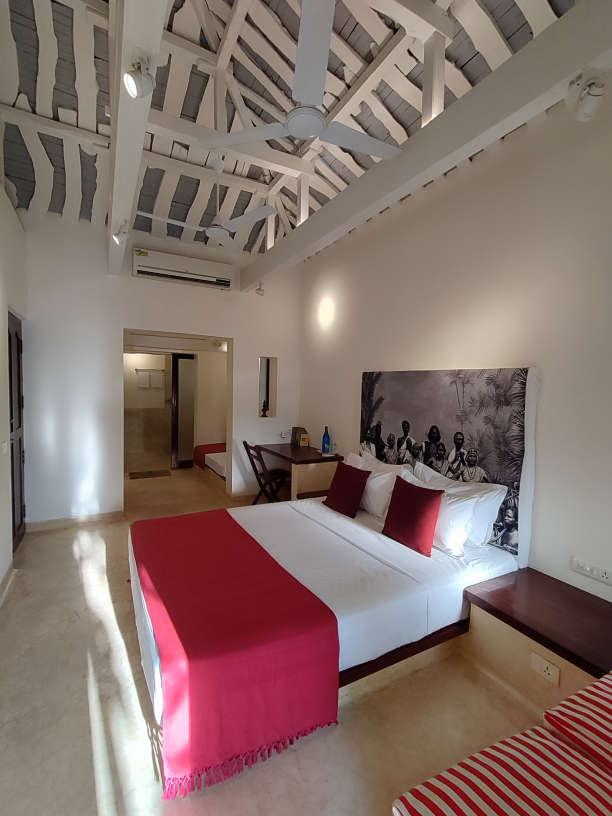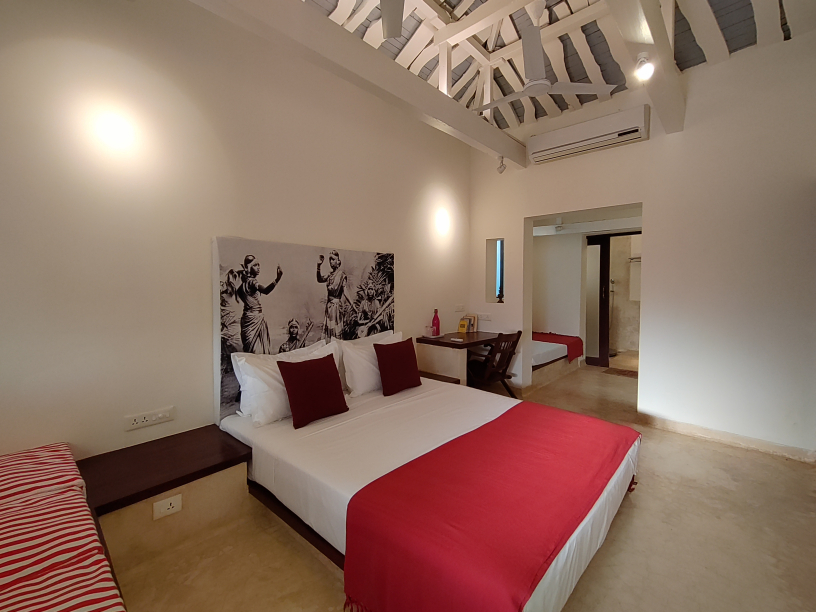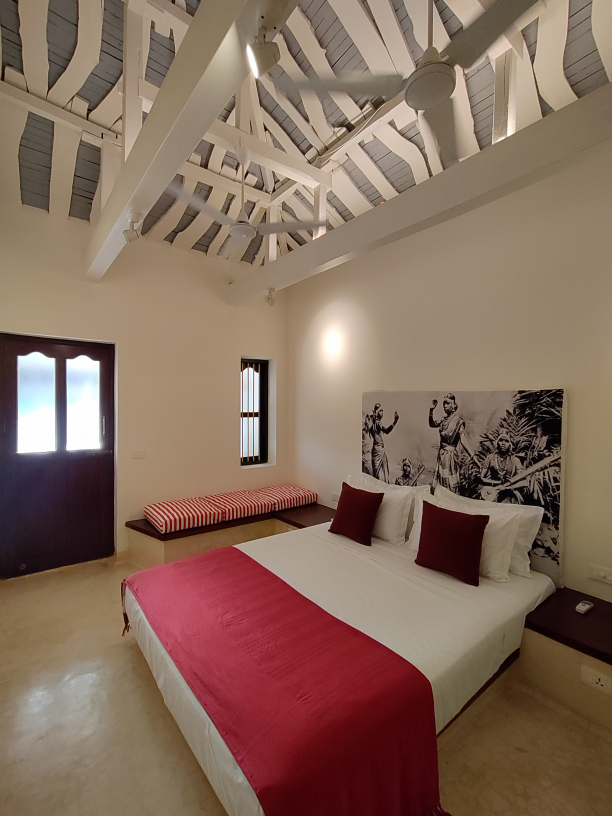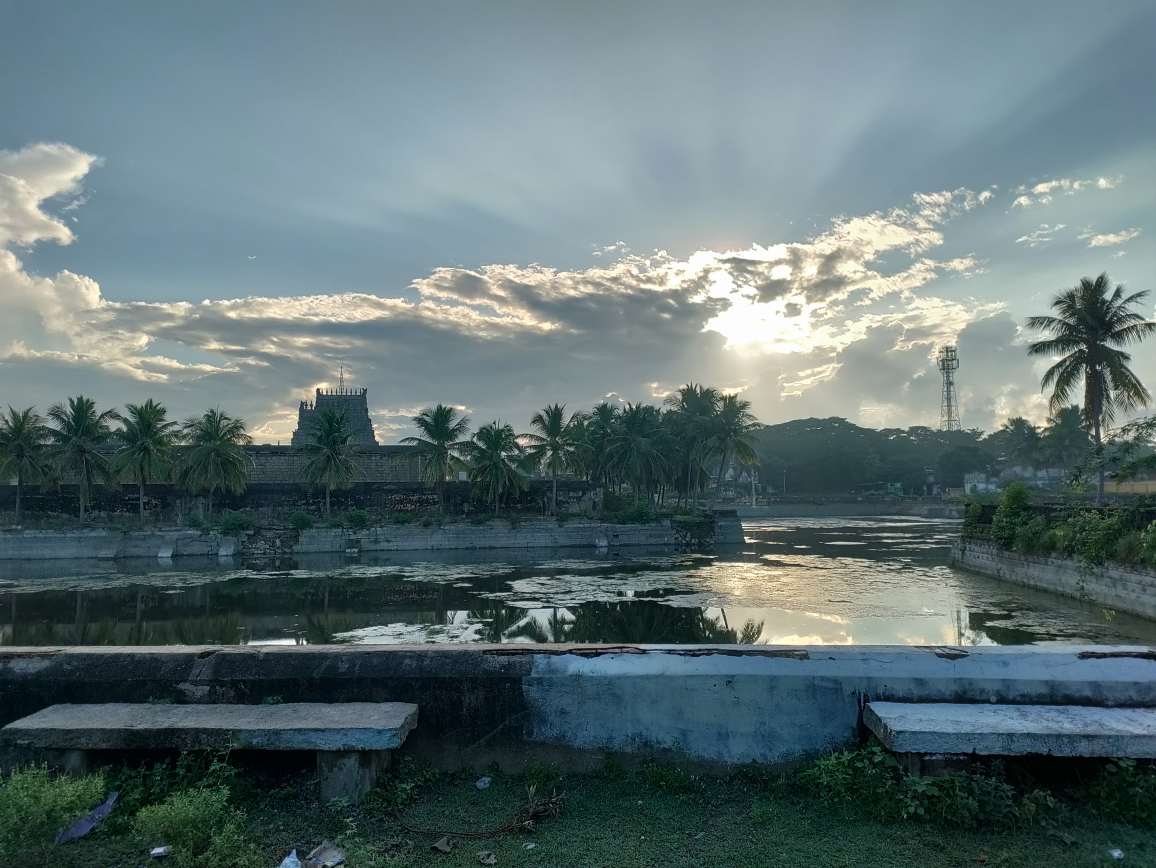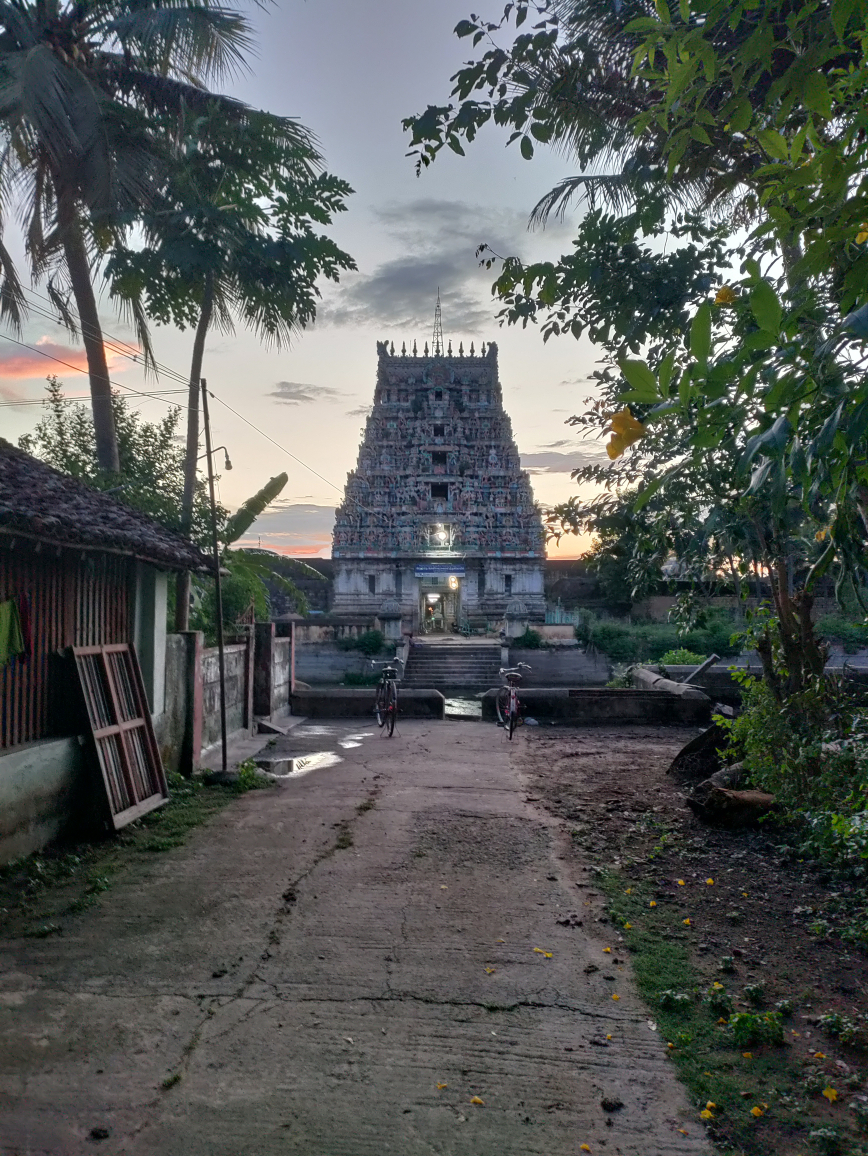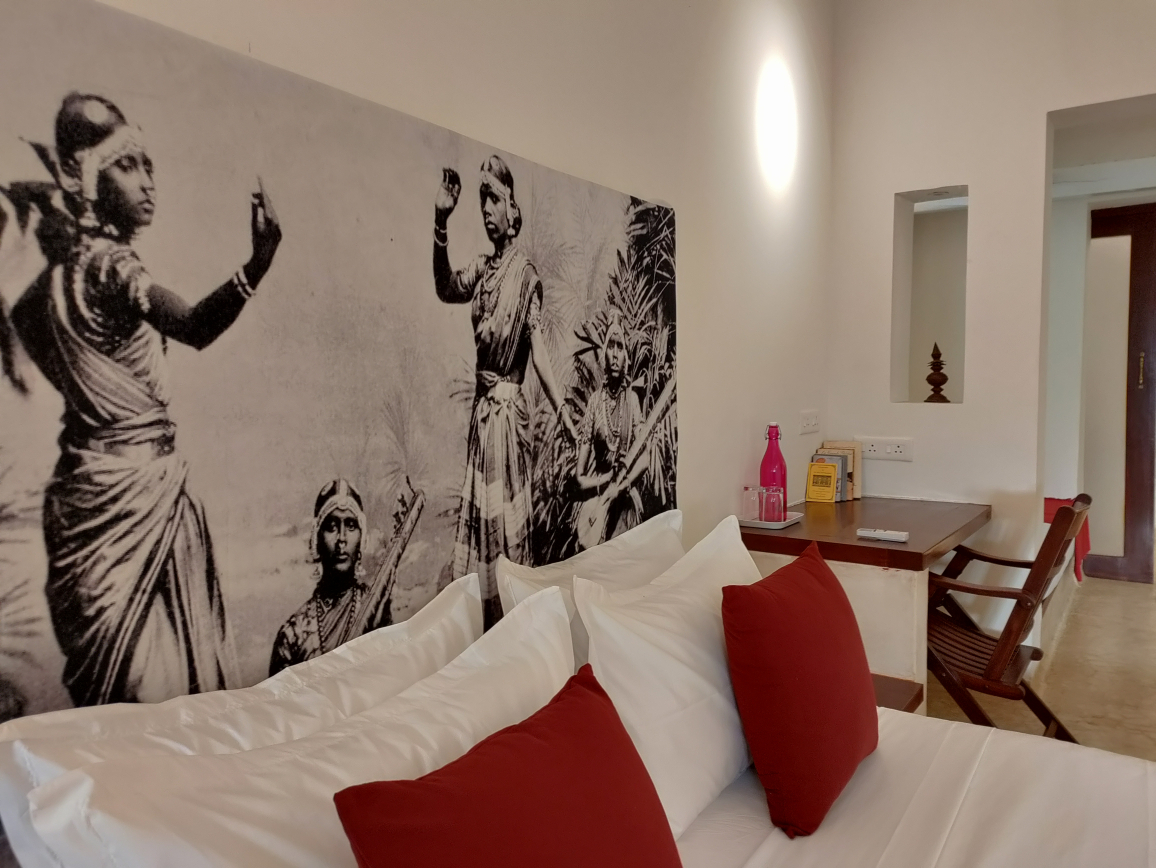 Description
Experience the secret heart of Tamil Nadu at Mangala, a small, beautifully restored 4-bedroom village home in the hamlet of Thirupugalur, 2 hours east of Tanjore.
Mangala is a carefully restored 120-year-old Tamil brahmin home, which is a new avatar, has transformed into a vibrant & contemporary interpretative form while retaining the familiar, natural rhythm of the sounds, fragrances, and textures of a peaceful, quiet agrarian village.
Breakfast and dinner are included in your stay.
Front Block
The front block of Mangala is the original 120-year Tamil house which has been painstakingly restored. The front thinnai (sit-out) and main entrance greet you. As you walk through the beautifully carved main door, you enter the central sunken courtyard of the house surrounded by a running passageway on all sides. The courtyard is open to the sky and is bordered by beautiful teak pillars. On your left is a beautiful inscription by the 7th-century Nayanmar poet-saint, Appar. Gorgeous still-life photographs grace the walls. The ceiling rafters are painted white and grey, lending a cool and contemporary aesthetic to the space.
On your right, is a small, air-conditioned lounge with divans and large cushions that can seat up to 6 guests. Adjacent to this and facing the courtyard is a larger seating area with two large swings – a relaxing space to gossip and while away time. The wall behind the swings is decorated with a collection of antique mirrors.
Behind the courtyard, the passageway is lined with a wall full of small painted pictures drawn on palm leaves. On its opposite side is an old console decorated with artifacts.
Leading from this space are the two Standard Rooms – one on your left and one on your right side, mirroring each other exactly. Each of the rooms has a king-size bed and a thinnai or platform on which an extra mattress can be placed (for a 3rd guest). The highlight of the rooms are the printed headboards taken from old photographs of temple dancers. There is a desk and chair with a small collection of books. Glass doors lead to the bathroom which has a skylight and is fitted out with modern amenities. Mosquito nets are available on request.
Rear Block
A water body with floating steps leads you through a walled portal into the open-air courtyard of the more recently added rear block.
On your left is the Nandi-themed dining area with seating for 6-8 guests. A beautiful etched Nandi panel is installed on one wall. A closer look reveals detailed inscriptions taken from Hindu scriptures. Lining the length of the dining area, are a collection of cast-cement Nandi statues in the colors of the spectrum. A large citrus tree dominates the courtyard.
West of the courtyard is a second dining area with walls painted in orange and yellow stripes, inspired by the red and white stripes of Tamil temples. A powder room is adjacent. The two dining areas share a kitchen, from which delicious local food makes its way out to be served on banana leaves.
A long passageway lined with alcoves filled with folk art leads you to the two Superior Bedrooms. These bedrooms are similar to the Standard Rooms in style and décor. But they are larger rooms and contain a dressing room which also has a built-in extra bed and can accommodate three guests.
Guests have access to the entire house except for the kitchen, where it is restricted.
To stay at Mangala is to be ensconced in a culture in which antiquity and the contemporary are both alive. Mangala is ideal as a base to explore nearby Kumbakonam, Thanjavur, Thiruvarur, Tranquebar, Karaikal, Nagore, and Velankanni. You can experience the unique traditions, local arts and crafts, architecture, village life, and cuisine of Thirupugalur itself.
Mangala is the perfect retreat for curious travelers, long-stay workshops, and residency programs for dancers, writers, artists, historians, and others seeking immersive creative engagements. It is equally perfect for families seeking to explore their heritage and those who are on pilgrimage routes.
Nothing captures the essence of Mangala than the first rays of the sun as it lights up the gopuram (tower) of the Agneeswara (Fire) Temple. Watching this from across the temple's moat-like tank in the comfort of Mangala's thinnai (verandah) is a joy to behold.
The setting provides you with a tranquil, welcoming experience that's very different from hospitality on the temple circuit.
In the immediate neighborhood, you can use Mangala's bicycles to explore your surroundings. For trips further out, you can use your own car or we can organize a car and driver for you. Requests are to be received one day in advance.
Parking for cars is unsecured and on the street outside Mangala. The location is safe.
Please note that there is a refundable security deposit which is mentioned under the "Price details". It will be collected separately by us prior to your arrival after your stay is confirmed.
DETAILED VILLA INSIGHTS
The entry to the house is via the front entrance with a beautiful thinnai (verandah) for guests to lounge in. Parking is streetside, but completely safe in this area.
The house is staffed with a cook, a senior supervisor, and a night assistant. Our senior supervisor will be there to welcome you when you arrive.
The Superior Rooms can comfortably accommodate 1 accompanying nanny or caregiver on the extra single bed in the dressing area. But there is no separate staff bathroom available on the premises. Charges will apply for accompanying staff as per the extra bed rate. The closest inexpensive accommodation available is in Karaikal, the closest town, about a 30-45 minutes drive away.
Mangala does not have a license to serve alcohol. As the property is in the precincts of a sacred site, we do not permit the consumption of alcohol within the premises.
Mangala is a footwear-free zone. Please leave your shoes just inside the main entrance door.
Mangala serves only South Indian Tamil vegetarian food representative of the region, and eggs to order. Other non-vegetarian food is neither served nor permitted to be consumed on the premises. Mangala operates on a fixed daily set menu for all meals. The menu for each day will be displayed in the dining area. Small changes can be done if you have any dietary restrictions. Breakfast and dinner are included in your stay. Lunch is optional and is charged extra. Our lunches are served on a banana leaf.
Laundry is an outsourced service to a commercial laundry about 30 minutes away. A service fee of Rs 500 will be payable in addition to the cost of laundry.
Pet dogs are welcome in Mangala. Kindly bring your own bedding, linen, food ware and toys. Guests who bring pets to Mangala should ensure that their pets do not enter the bedrooms of other residents. Pets should be accompanied by an adult human at all times. Guests should walk their dogs only outside the premises and not within the courtyards. They must ensure that they scoop up and clean-up after their pets.
The house has 100% backup power from a Diesel Genset with the manual changeover. When there is a power failure, the house staff will switch on the genset.
Set in a tropical haven, with lush greenery all around, the house attracts flies, ants, and other bugs. These insects attract bats, frogs, and geckos. Do remember to keep all the doors & windows shut to keep out insects and other critters. Food in the bedrooms or any common spaces also attracts ants and flies.
Smoking is not permitted inside the villa, including in the bathrooms. Smoking is to be done outdoors. Ashtrays are provided. Please do not throw cigarette butts in the garden.
The central courtyard and water body do not have protective barriers – children are to be supervised in these areas. We also request seniors watch their steps.
The main entrance into the house has a very low head clearance. So do watch out when entering or leaving.
Rules & policies
Check-in: 14:00
Check-out: 10:00
Payment with: Cash; Bank transfer; Credit card; Other method;
Cancellation Policy
From 0 to 59 days before arrival charge 100.00 % of total booking amount
From 60 to 365 days before arrival charge 50.00 % of total booking amount
Please contact the landlord regarding your check-in before your arrival.
Tirupugalur
Interesting places near the property:
Chettinad
170.00 km
Kumbakonam, Velankanni
60.00 minutes
Madurai
269.00 km
Mannargudi
90.00 minutes
Pondicherry
136.00 km
Thanjavur, Point Calimere
120.00 minutes
Thiruvarur, Karaikal, Nagore
40.00 minutes
Tiruchirappalli Airport & Station
142.00 km
Tranquebar, Sikkil
45.00 minutes
Mangala Heritage
609704 Tirupugalur, Unnamed Road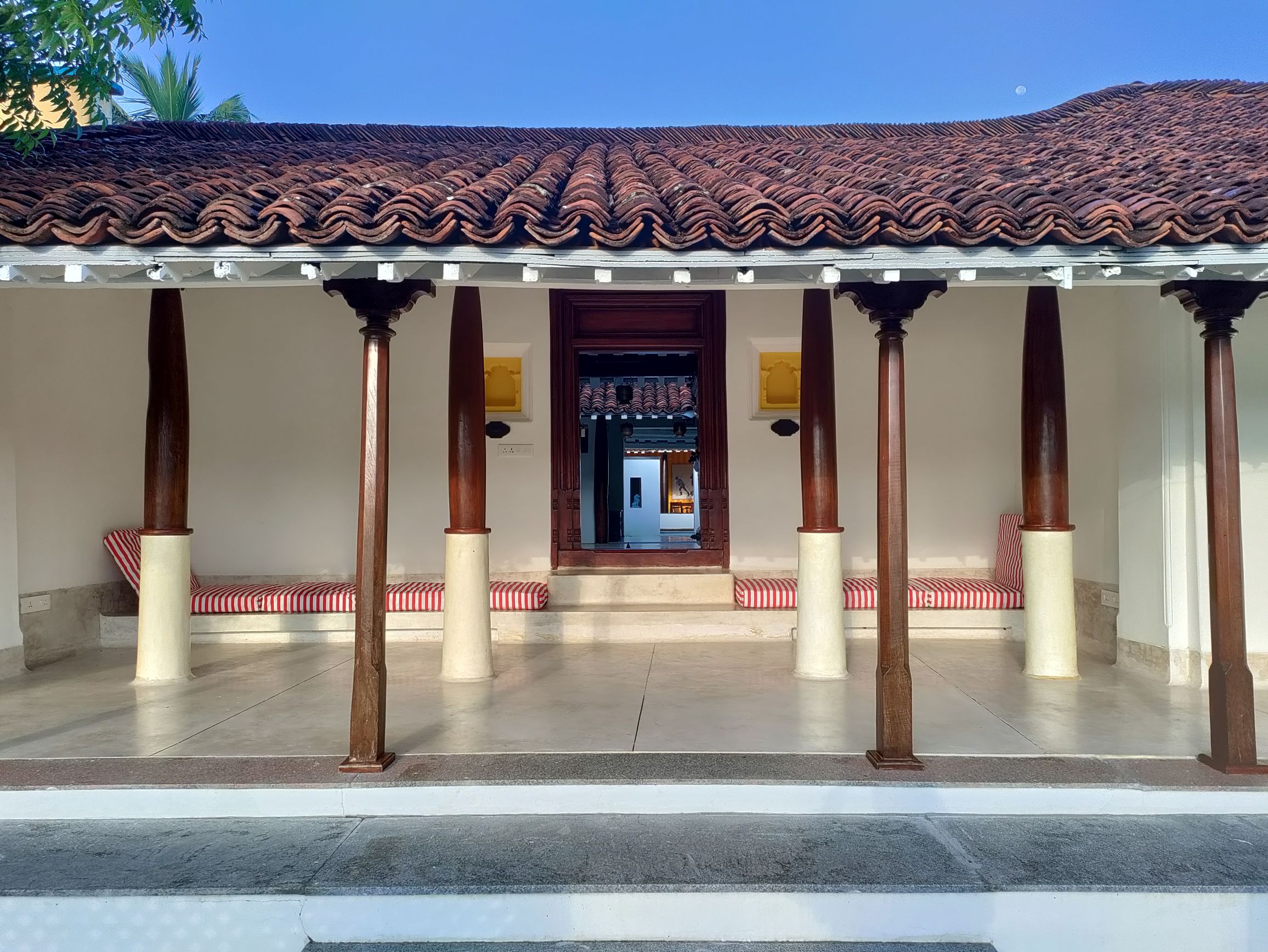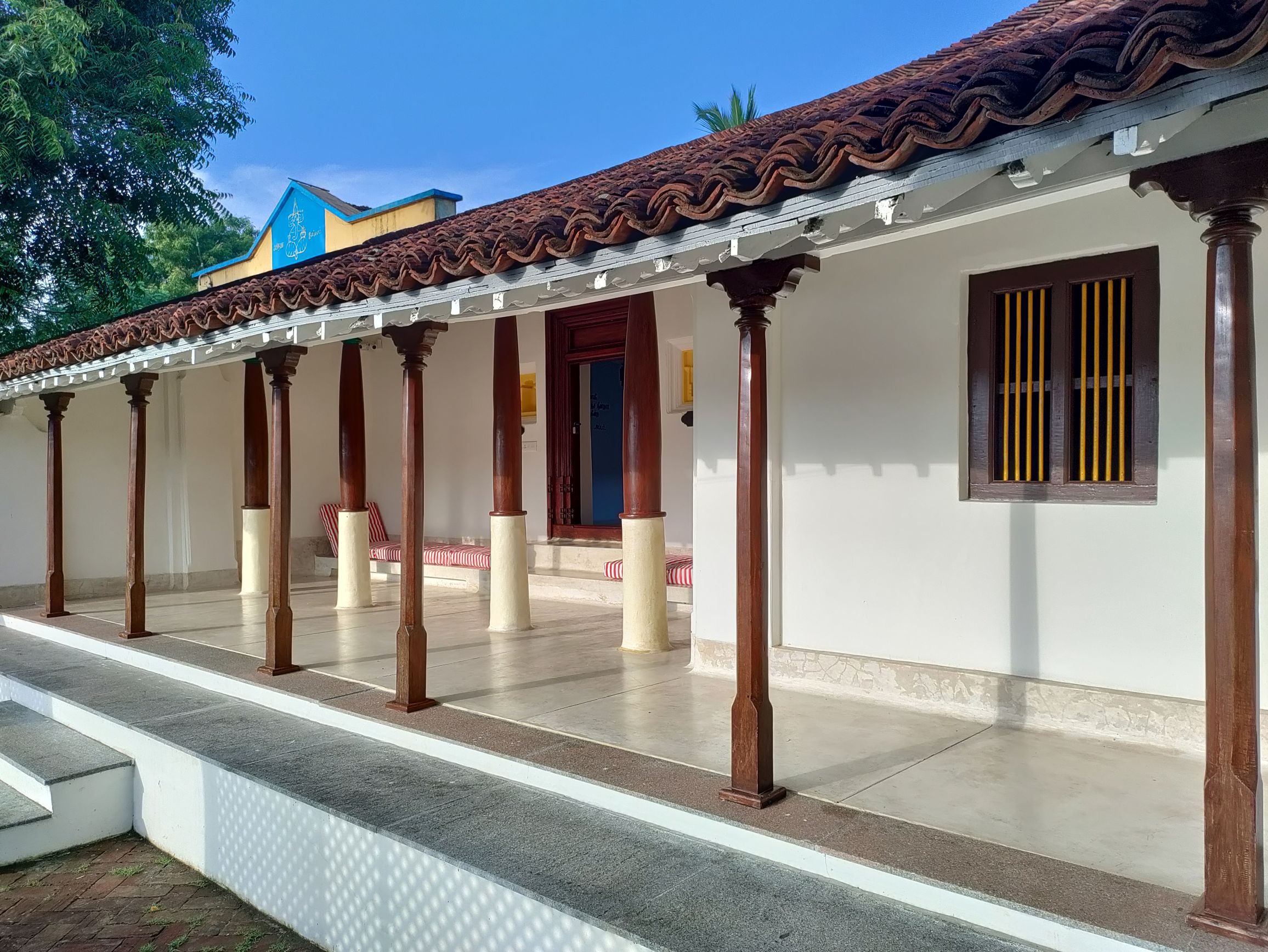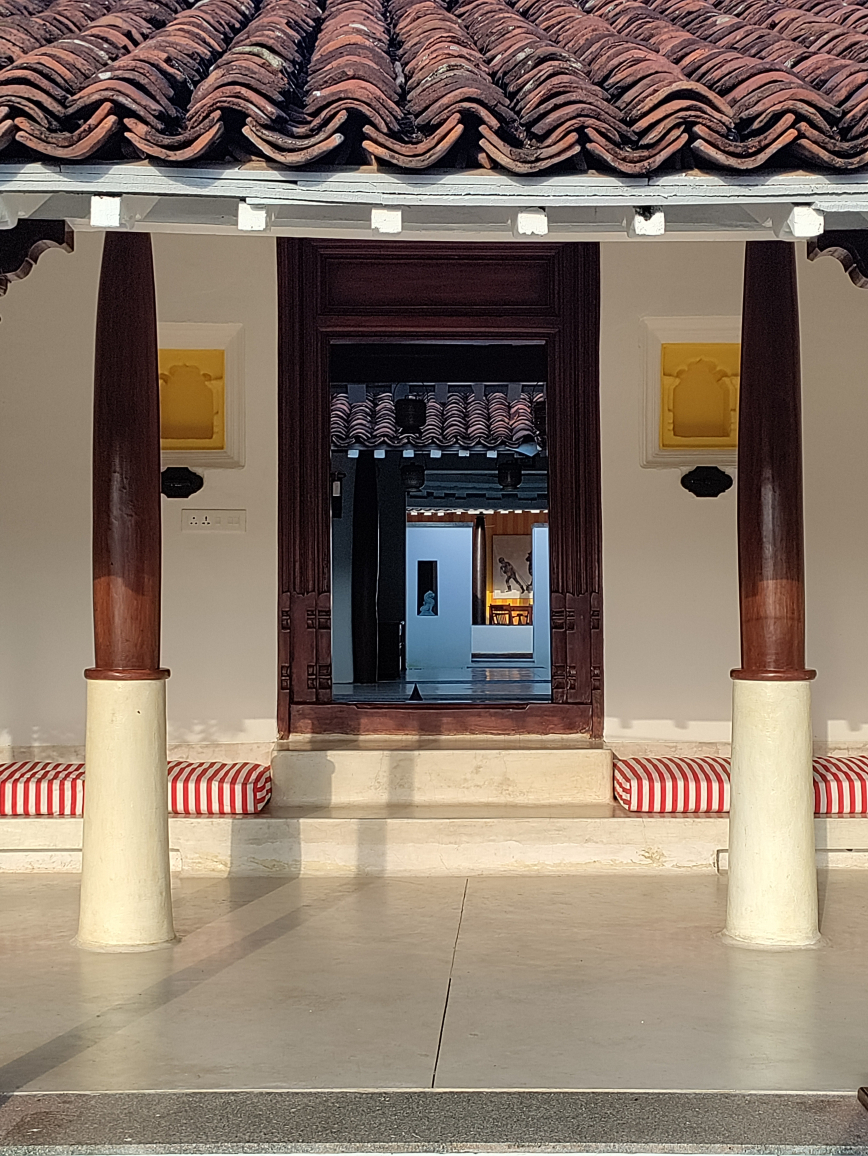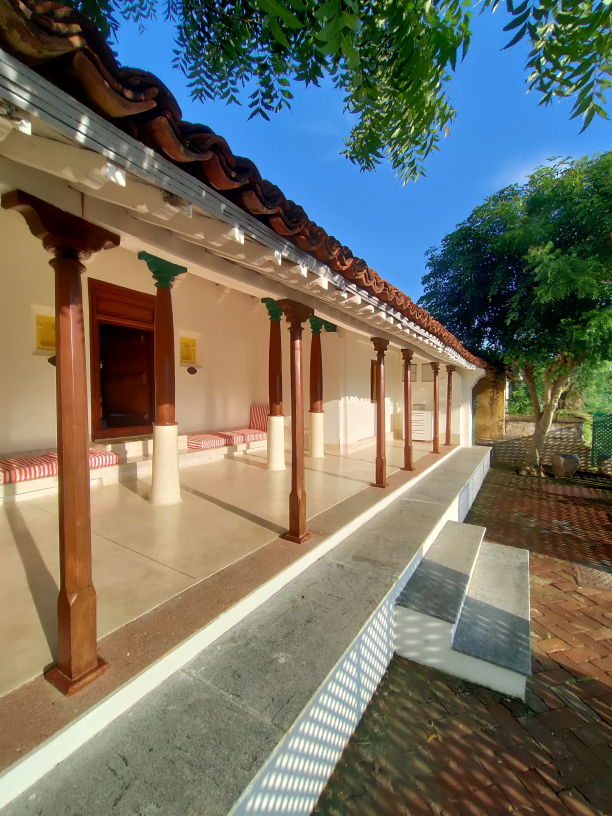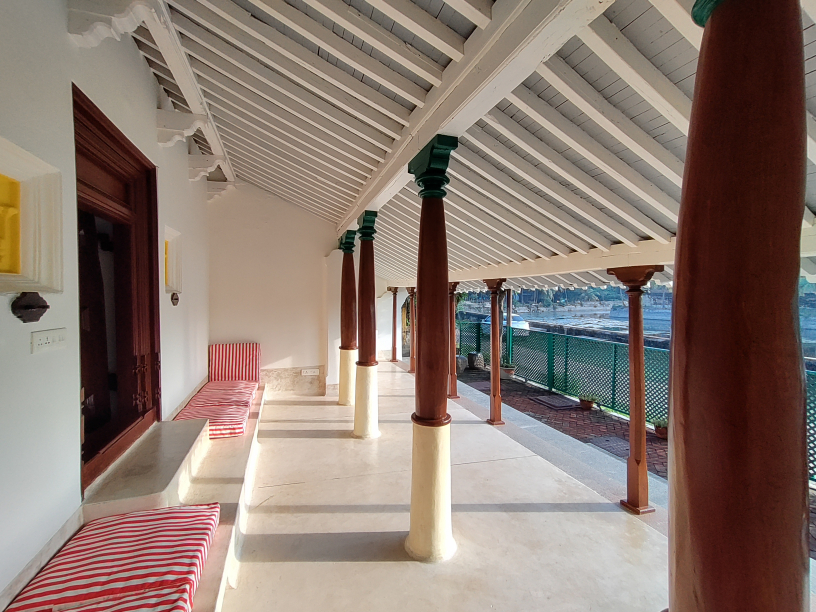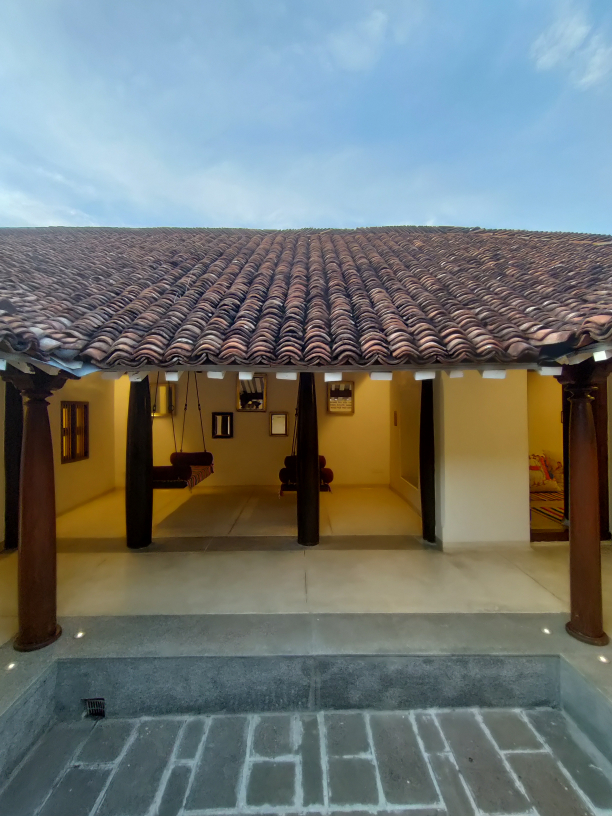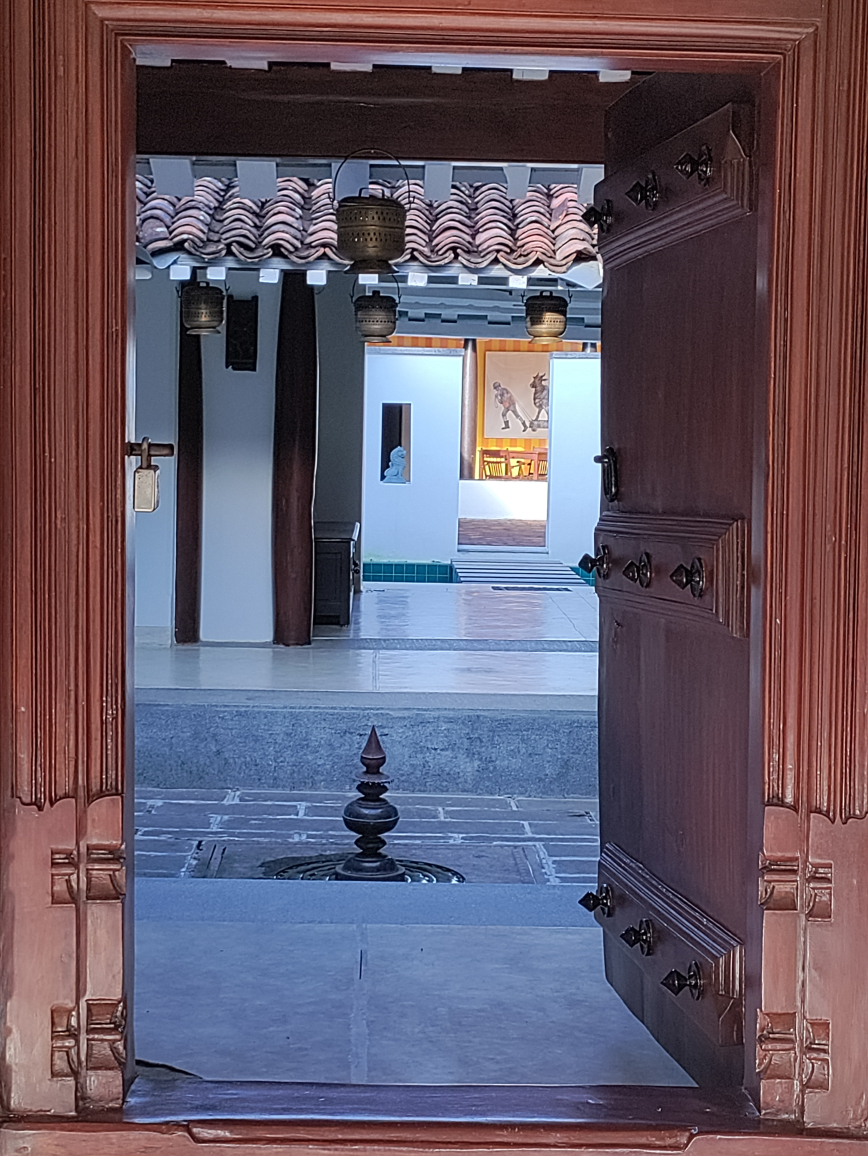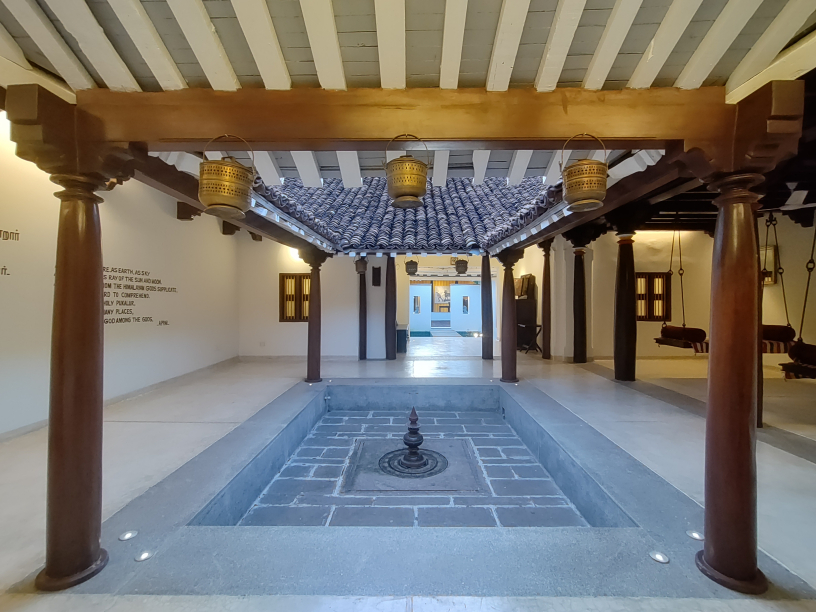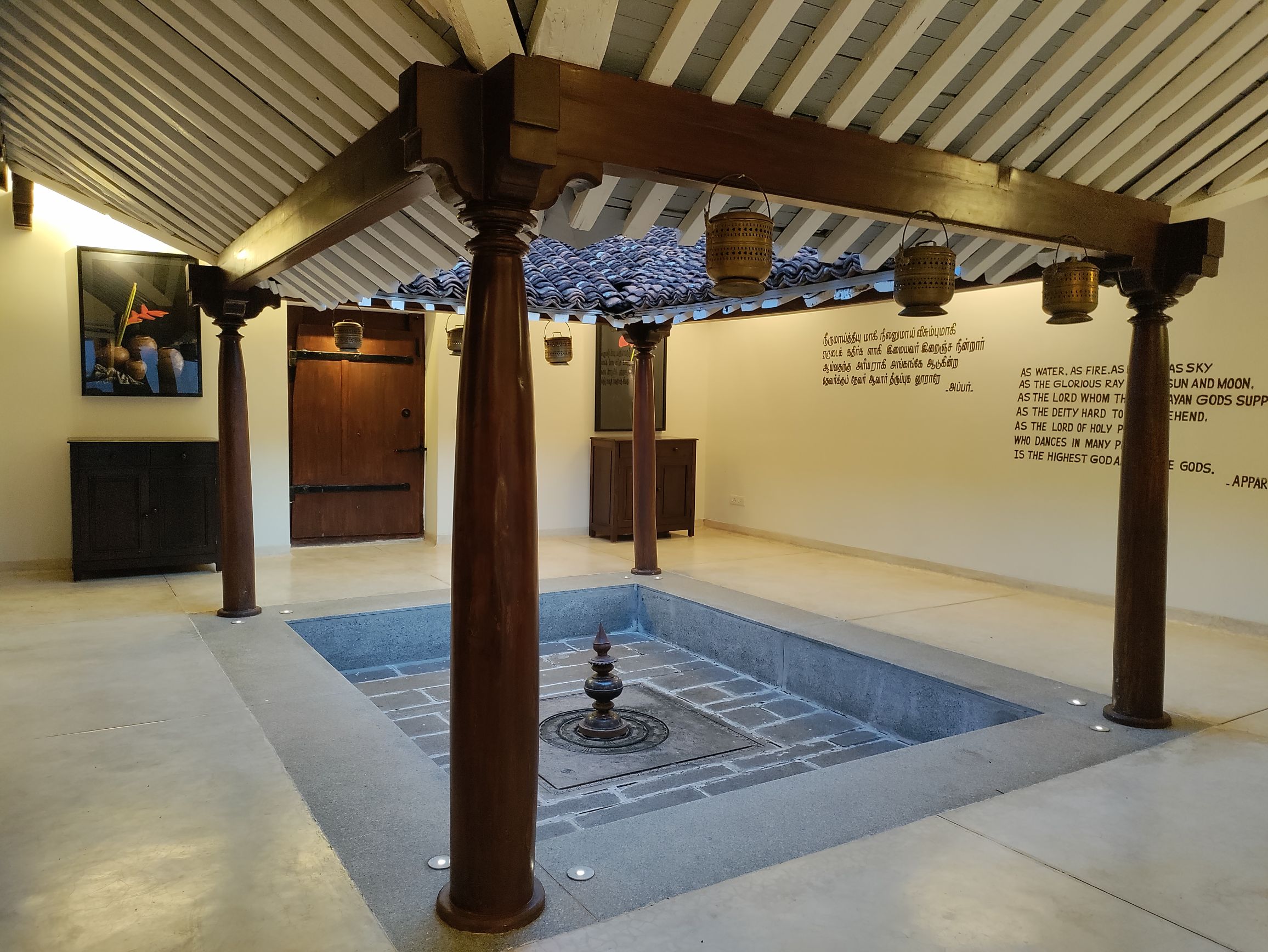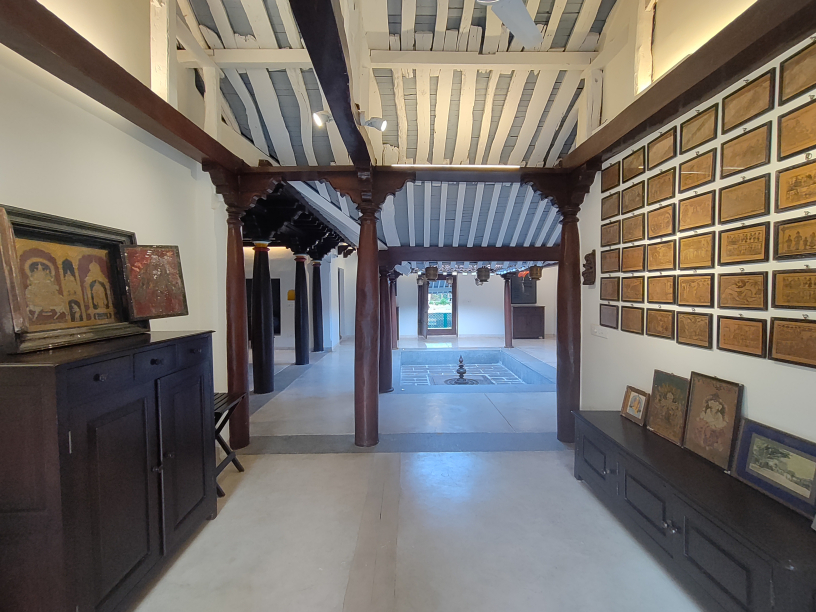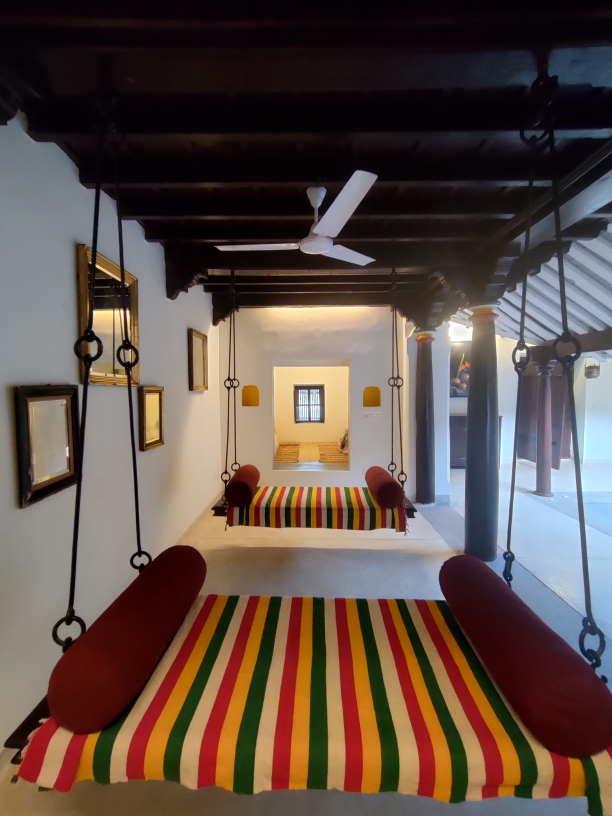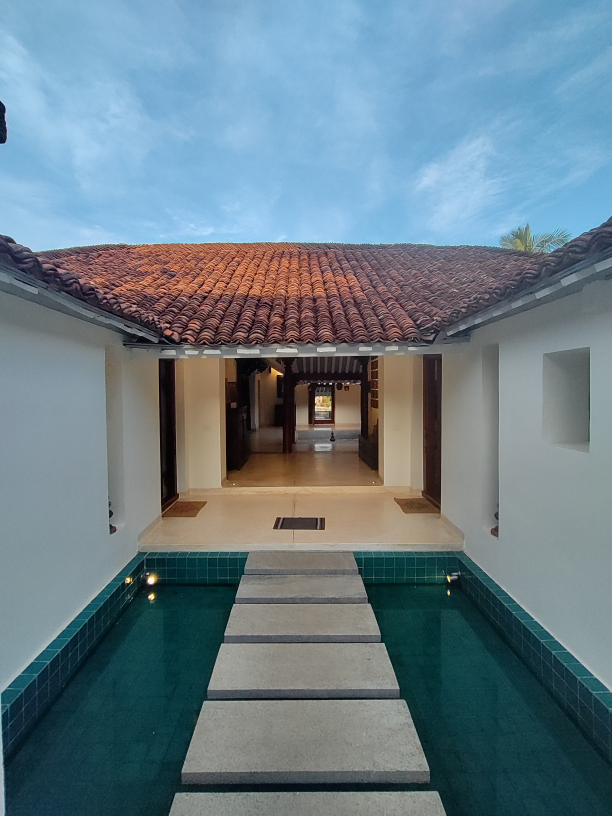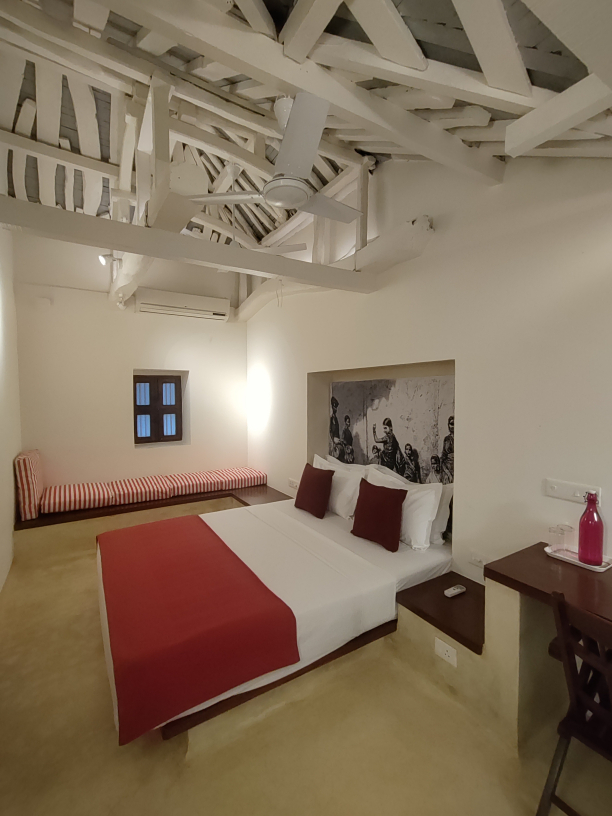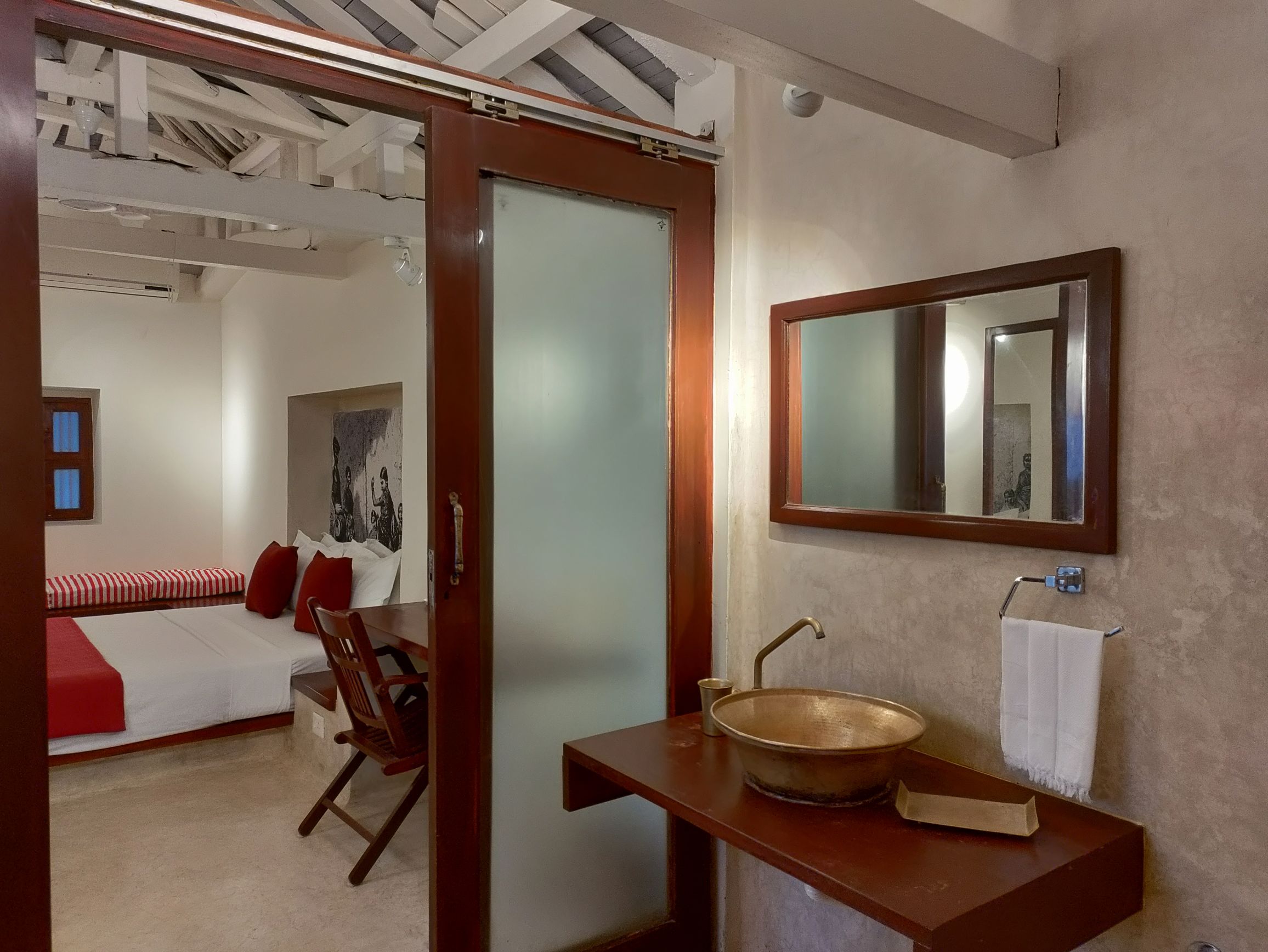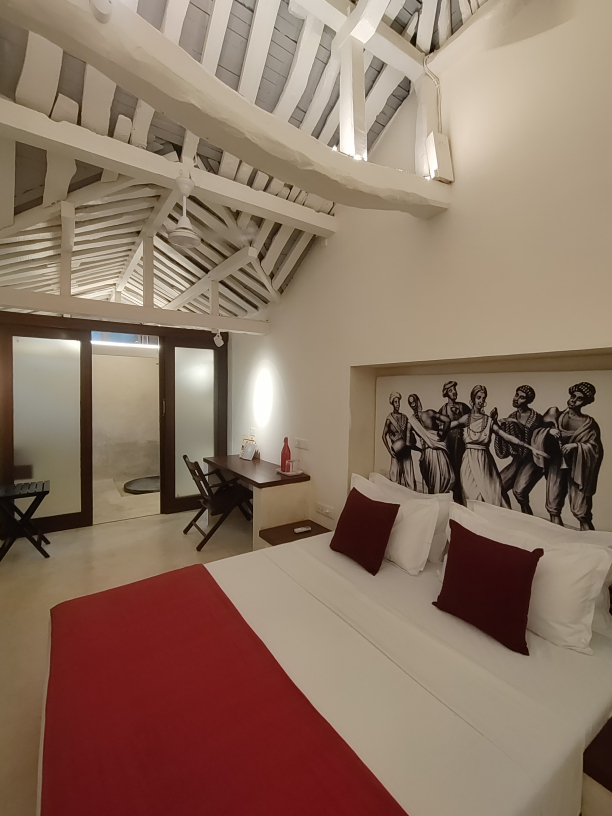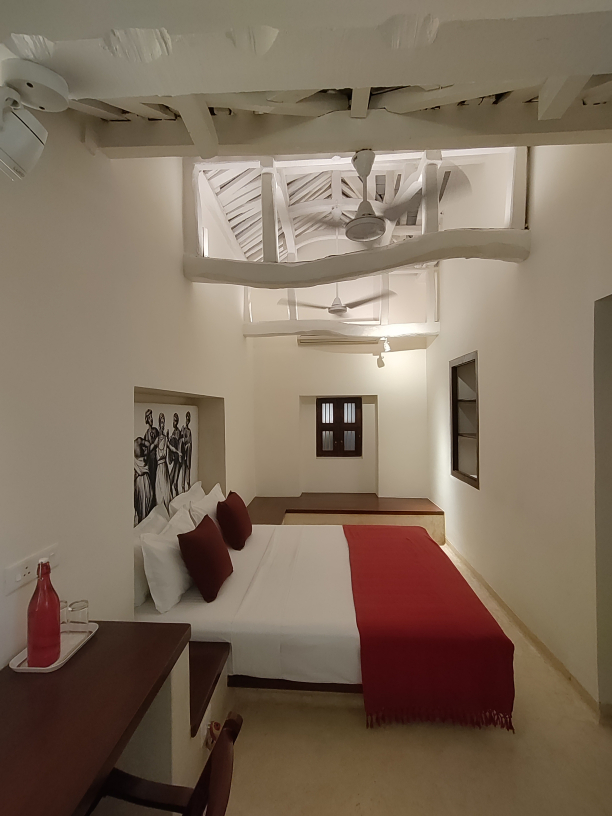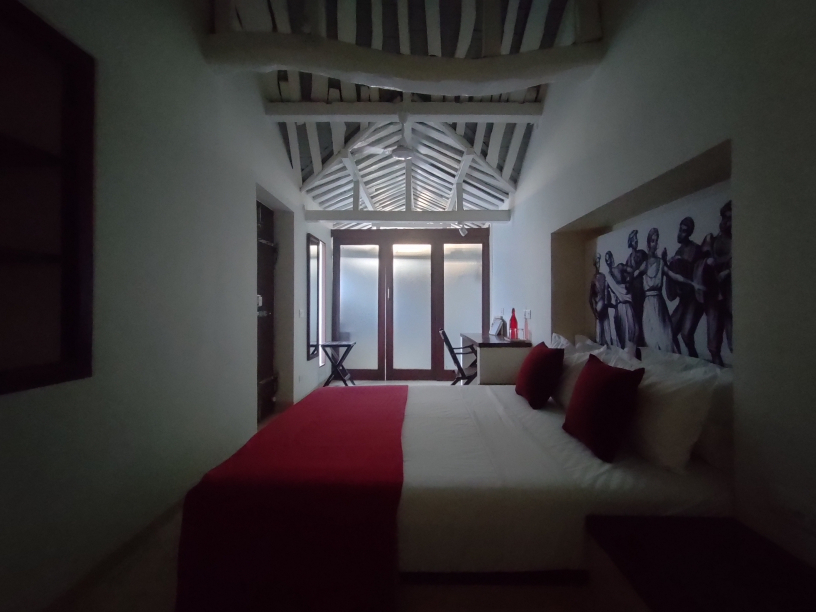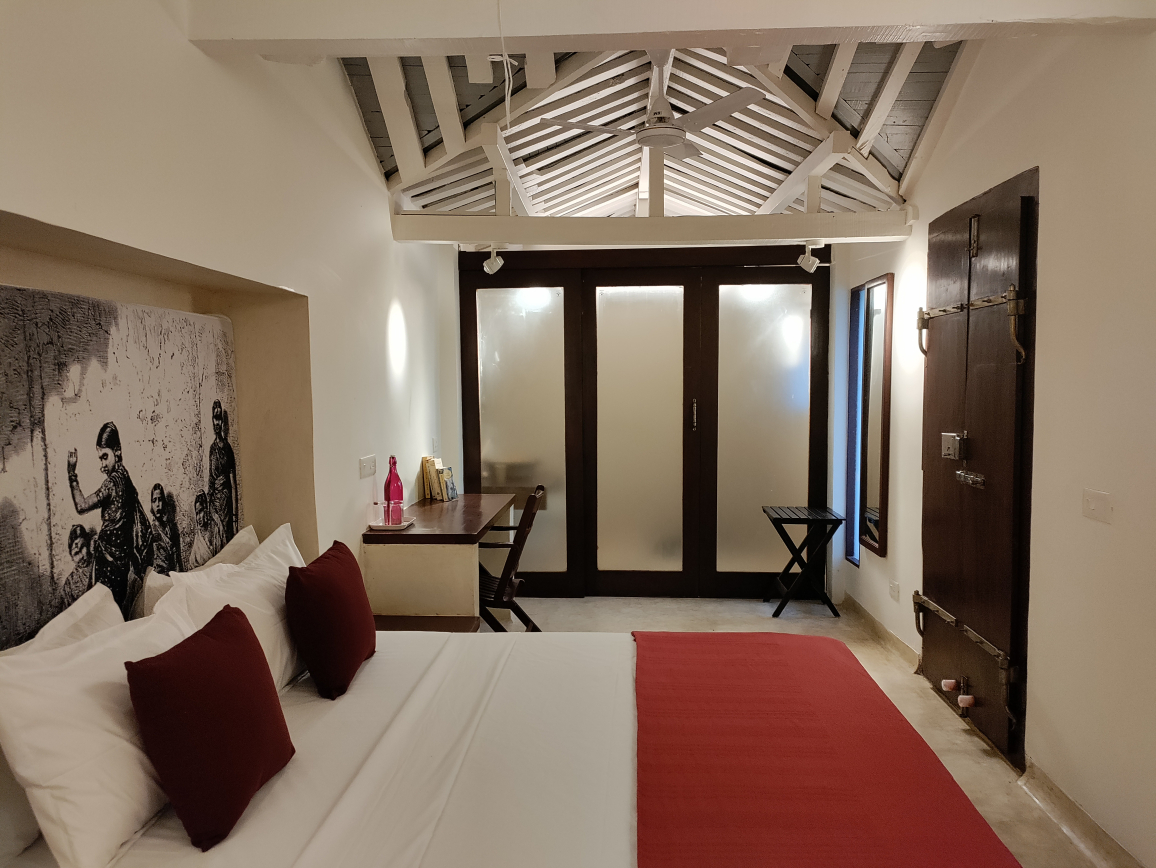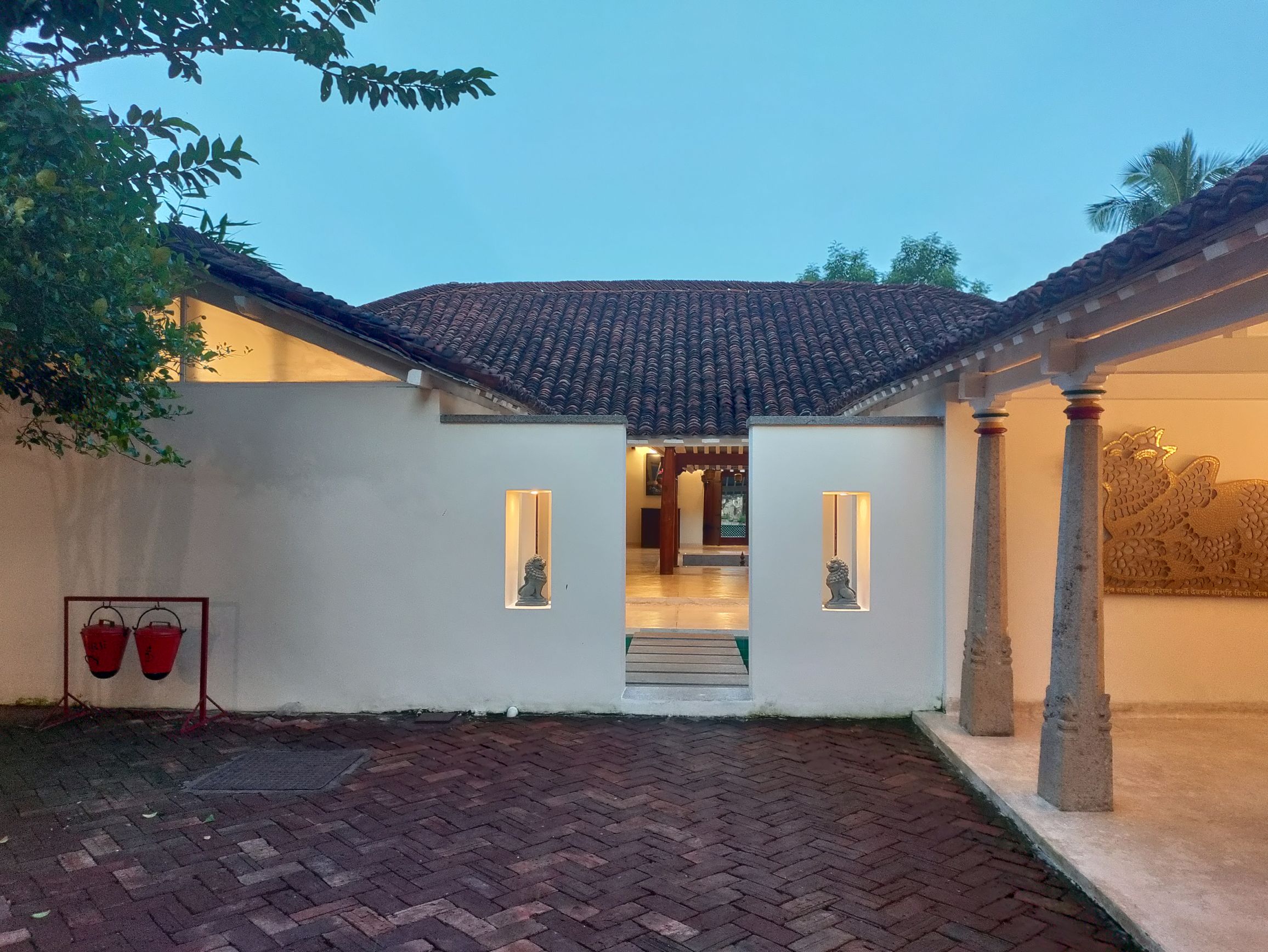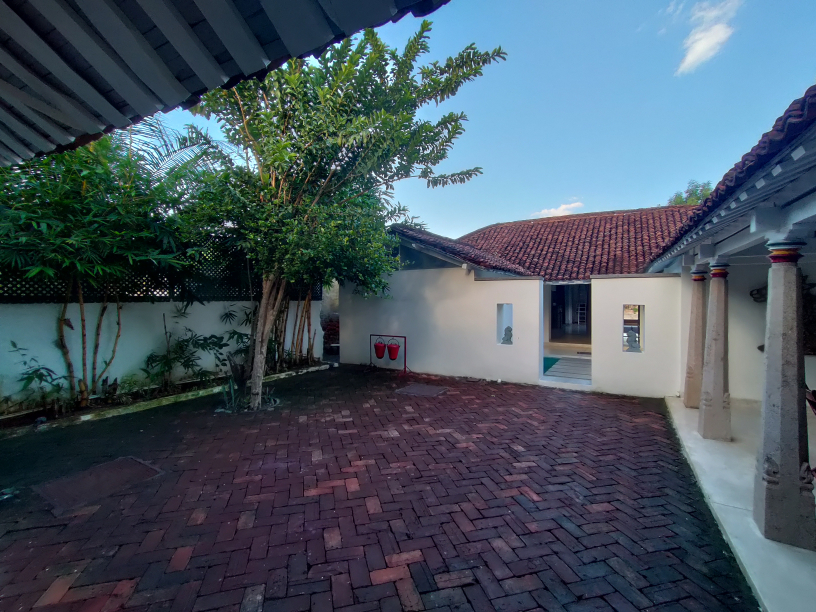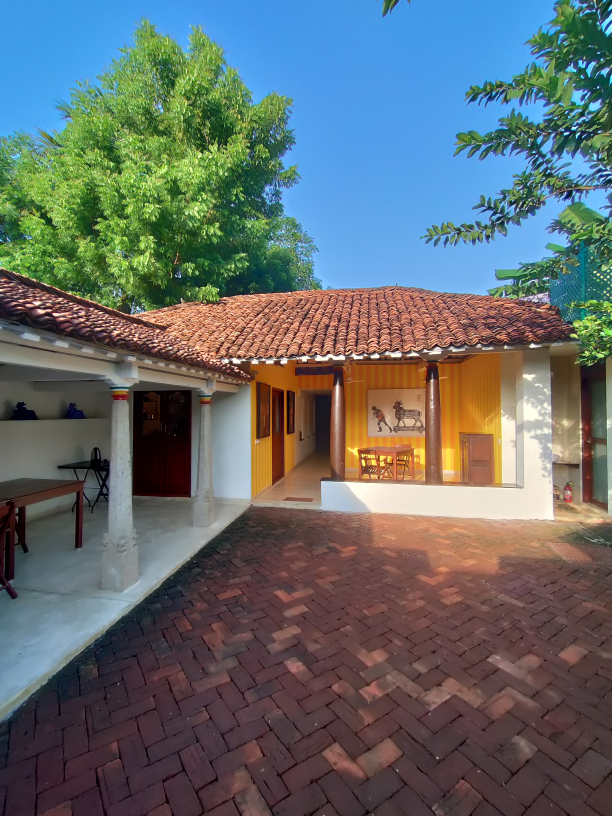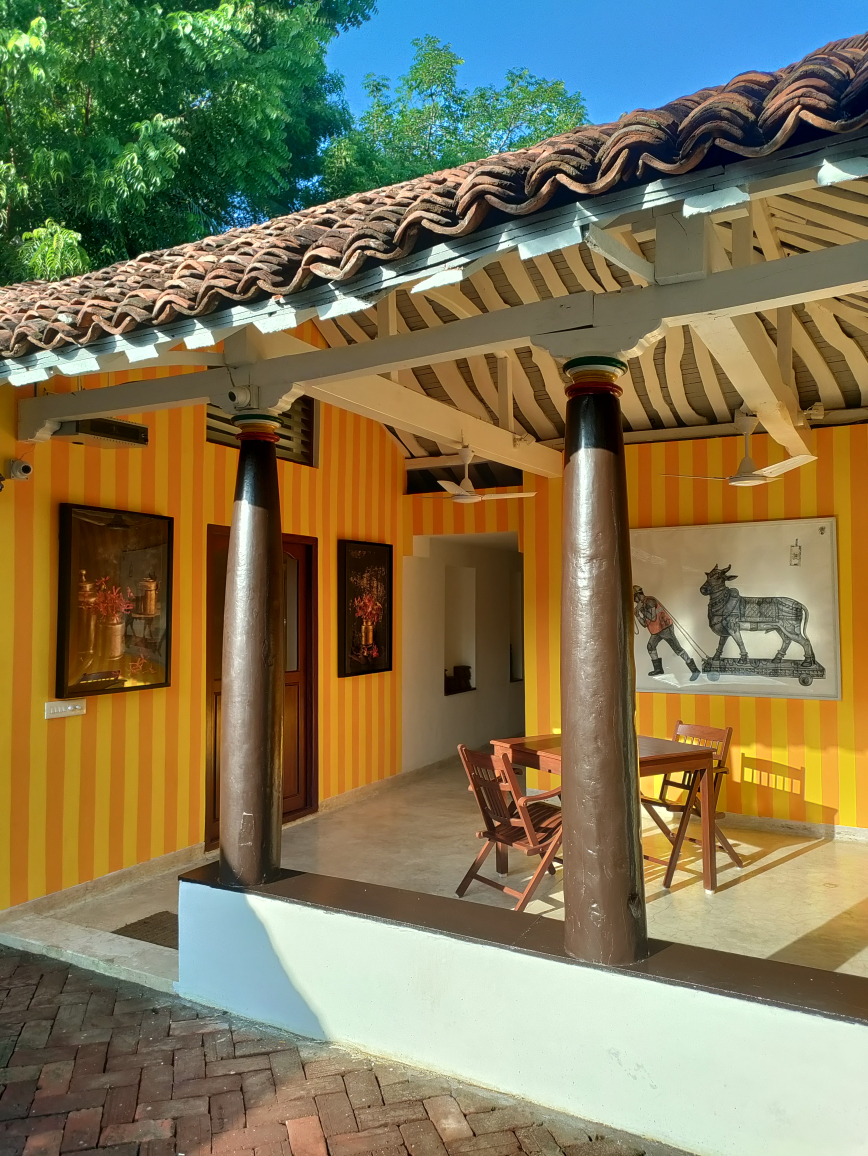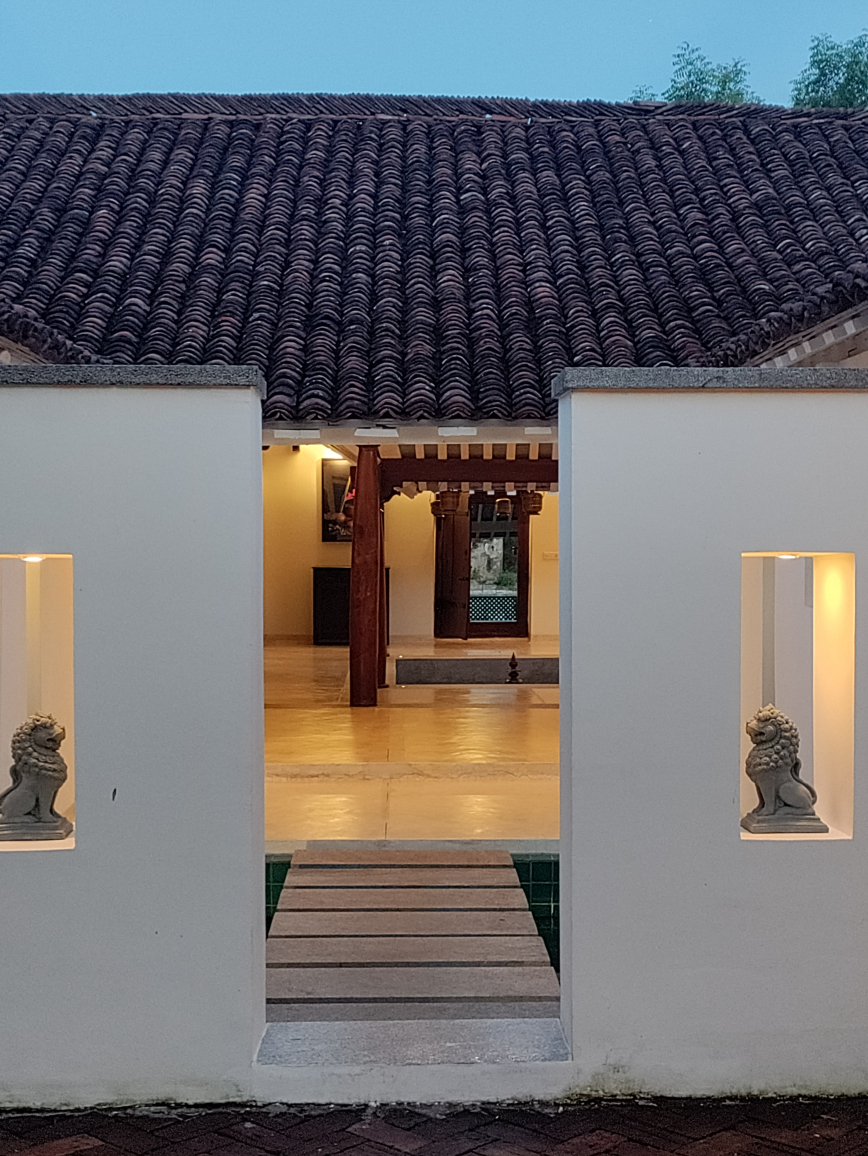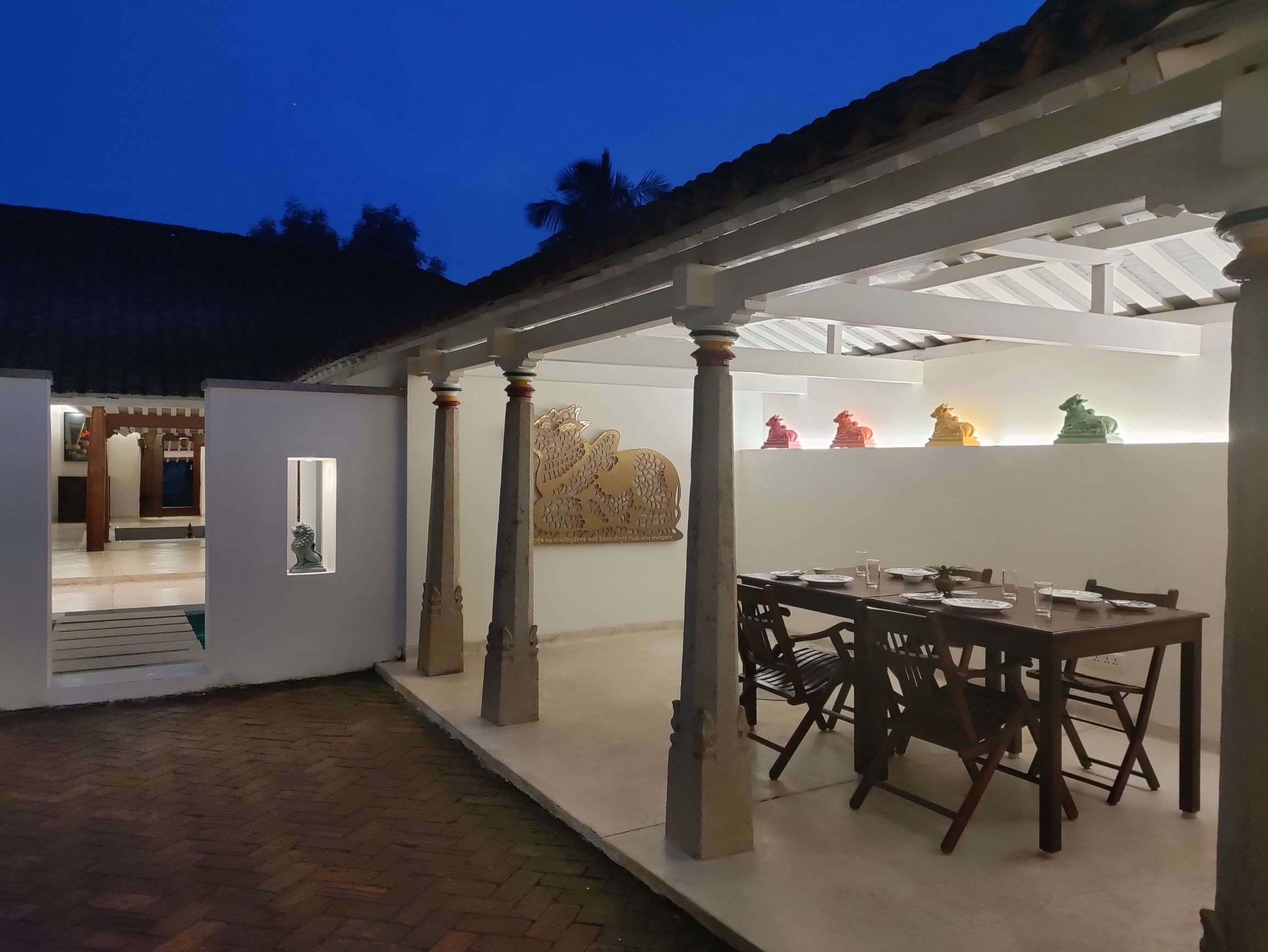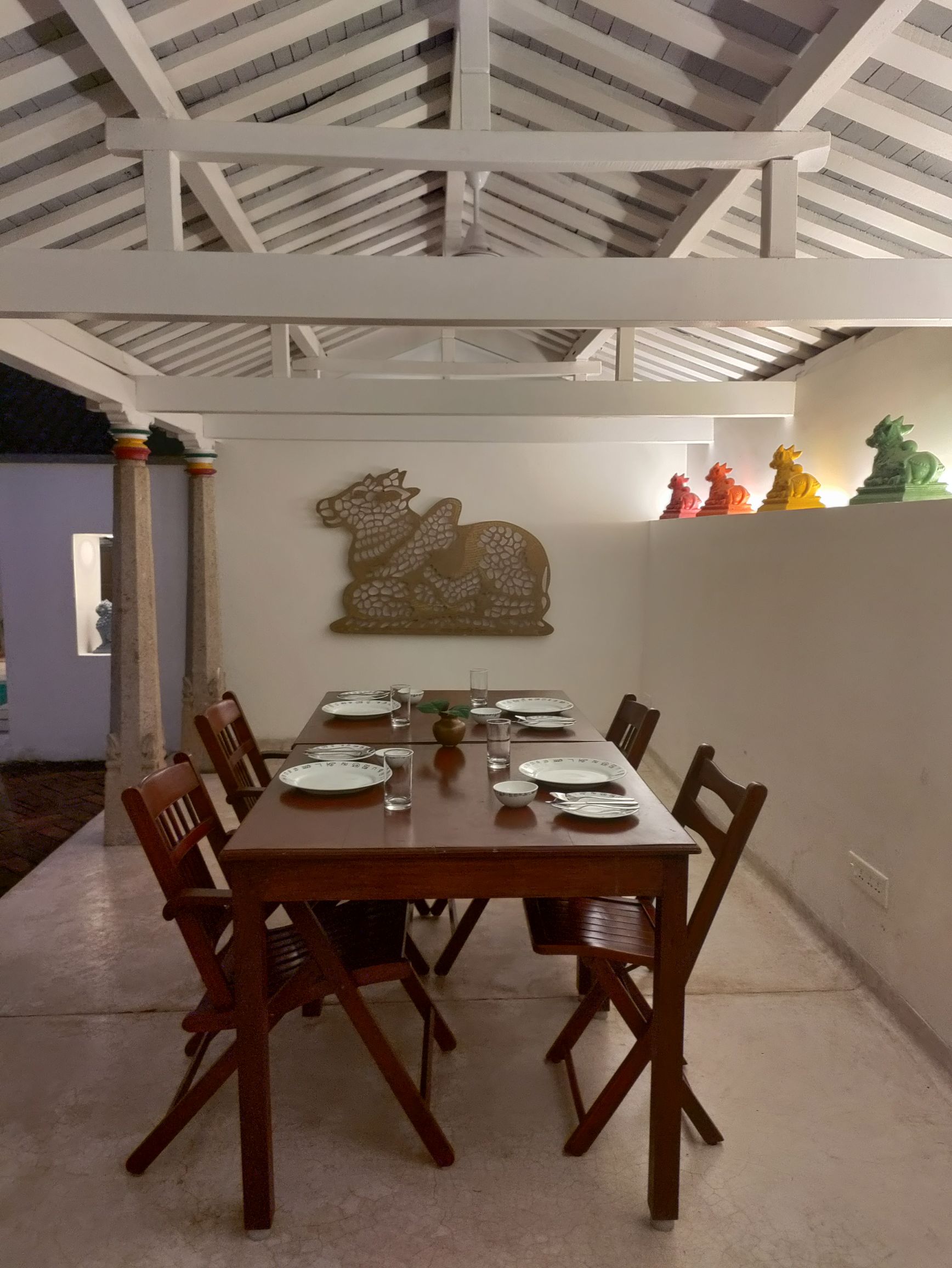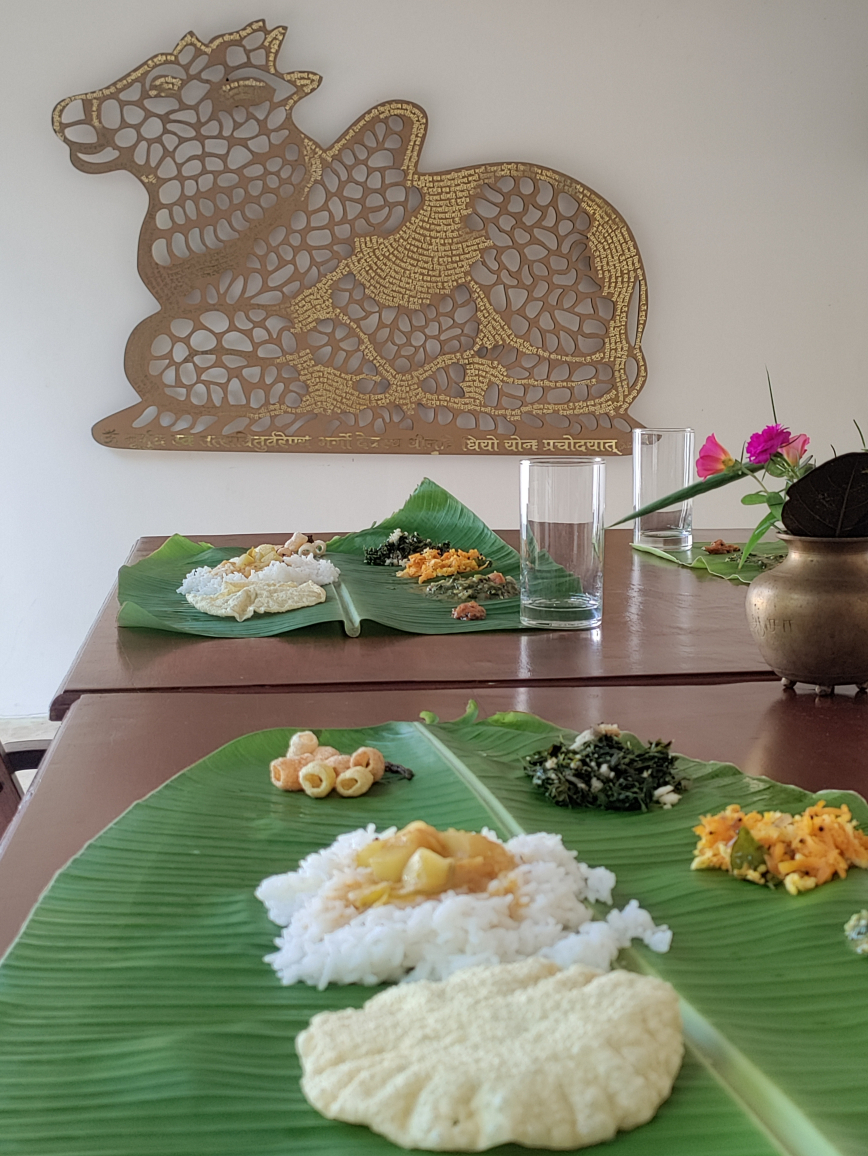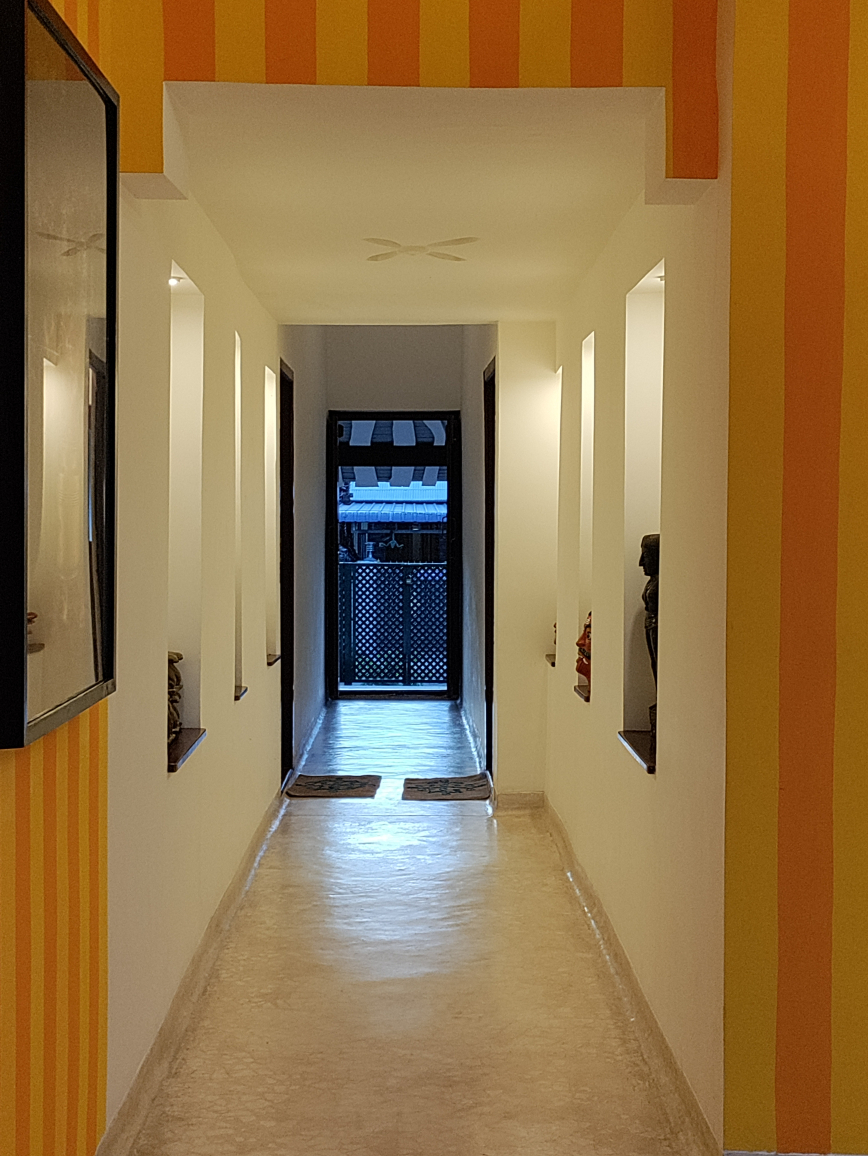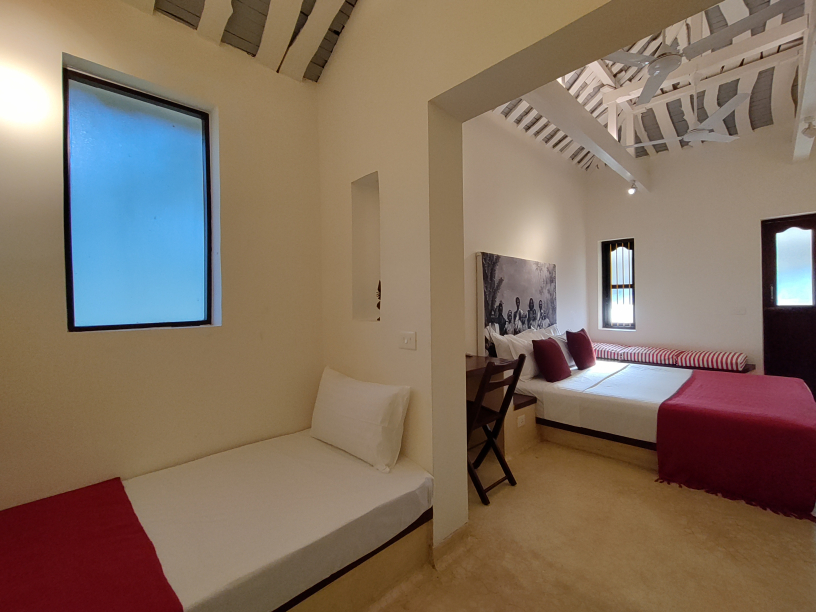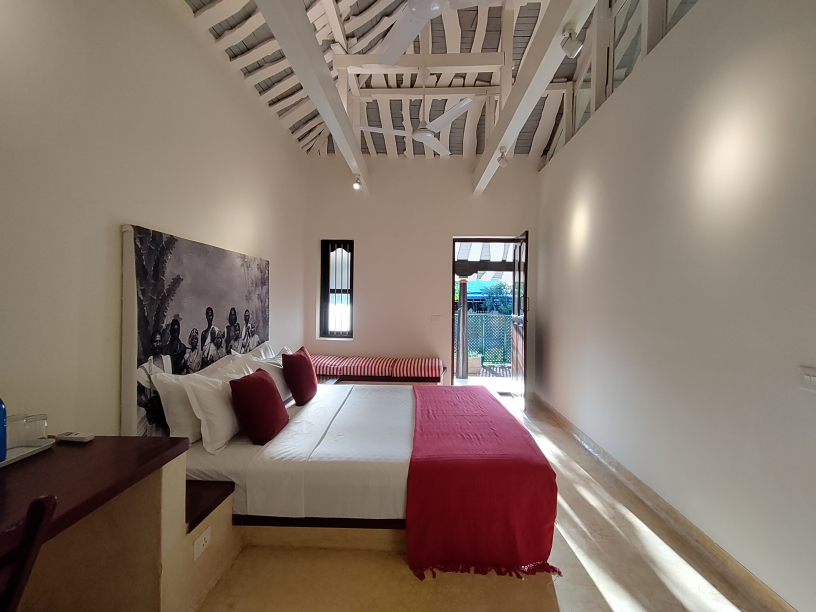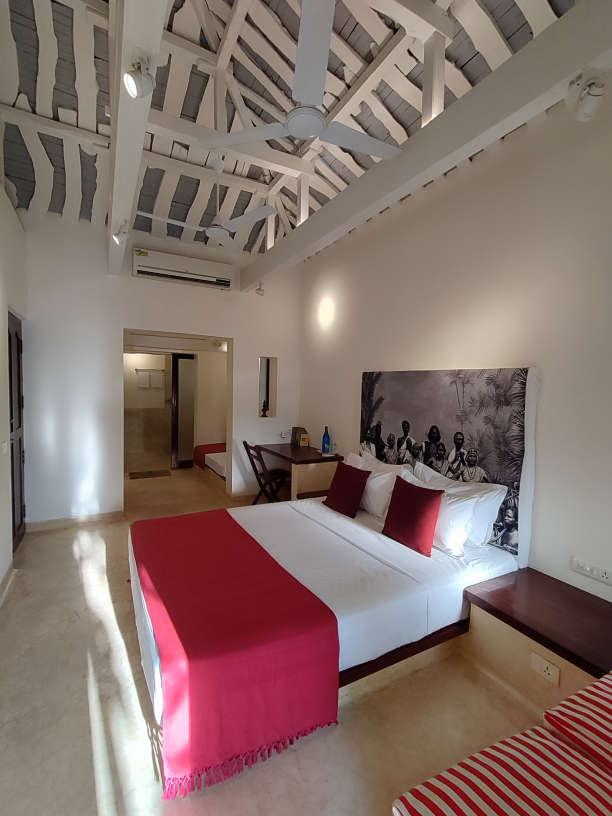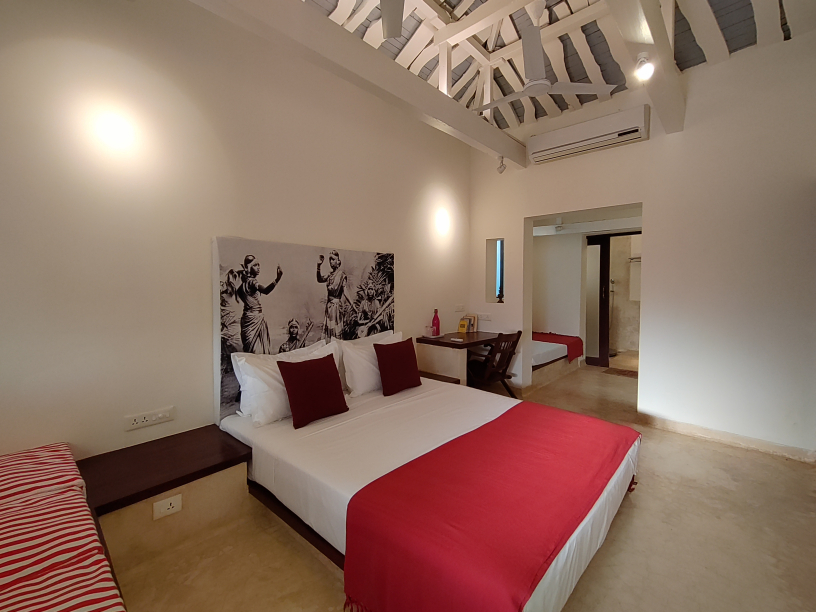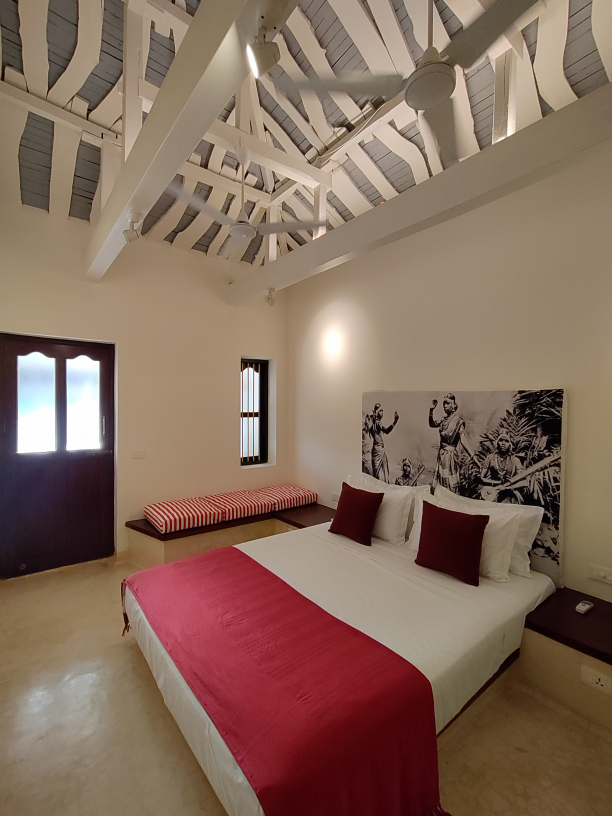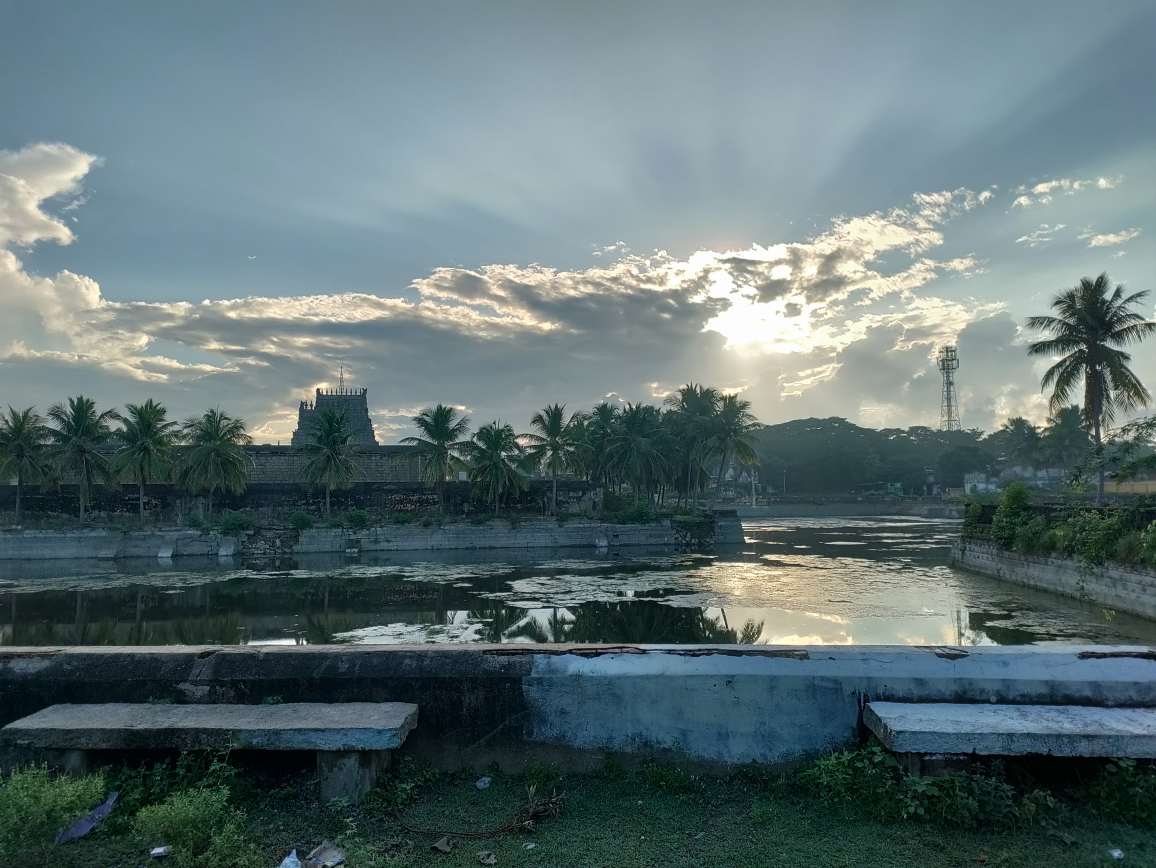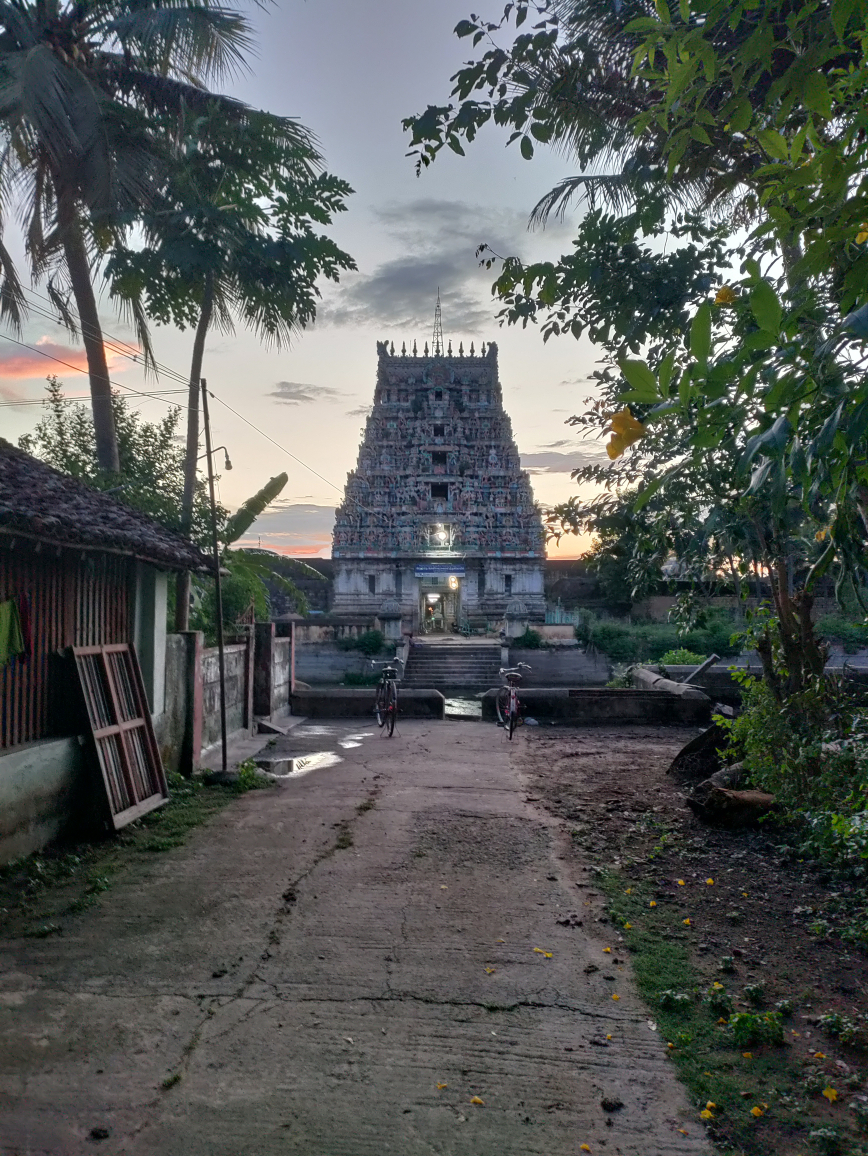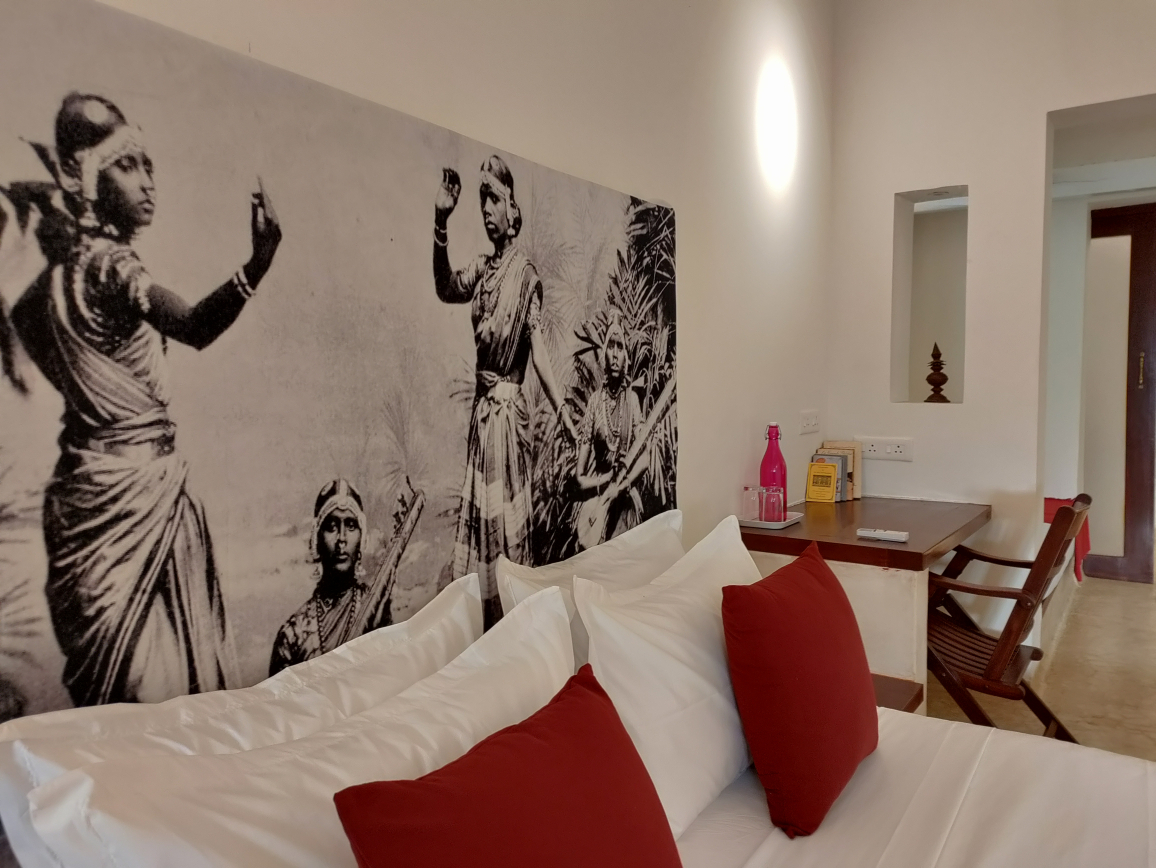 Mangala Heritage
609704 Tirupugalur, Unnamed Road